The old house - Story - Chapter 4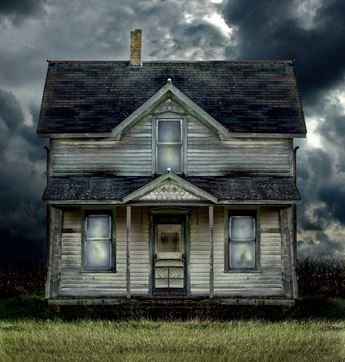 Julia woke up a few hours later. She had a terrible headache and she had no idea where she was. It took a while for her to get used to the light in the room and saw a man sitting on a chair in the corner. As soon as she stirred the man was standing next to her bed. 
"What happened?" she asked while she tried to sit up. 
"Don't....you fell of a chair while painting your kitchen, and you hit your head on the floor and dislocated your shoulder."
Julia lifted her hand to touch her head and felt a big bump on the back of her head. She could hardly lift her arm and it was painful just to use her arm. She felt awful, and felt like crying. Derrick felt really sorry for her. He just wanted to hug her, but he thought that she would be offended.  
The nurse came in and was glad to see that Julia was awake. She took her pulse and checked her vital signs. 
She asked Julia a few other questions and told her that the doctor would be in to see her soon. 
Julia started feeling a bit better and tried to sit up. Derrick immediately jumped up to help her. The doctor came in and he was satisfied with her reactions.  
"You are a very lucky lady. The ex-rays looks clean, so at this stage there is not much to worry about. I'm going to send you home. Mr Barkley, if there is any change in symptoms, please bring her back to the hospital immediately. Just take it slow for a few days and please, no more painting." 
He smiled at Julia and held out his hand to greet Derrick.   
Julia wanted to explain that Derrick was not her husband, but Derrick just nodded to the doctor and promised the doctor that he would look after her. 
He pushed her outside in a wheelchair and one of the orderly's took the wheelchair back inside. Julia felt a little awkward alone with Derrick but felt even worse when she got into the car and saw what a mess she was.  Her face was covered in paint and her hair was bright yellow on the one side. Even her eyebrows were covered in yellow paint, and if her head didn't hurt so much she would have actually laughed at the sight of herself. 
"Thanks for saving me. I can see the headlines in the newspaper.....woman killed while painting her kitchen." 
Derrick smiled. "I'm just glad you're okay. Are you hungry?  You haven't eaten anything all day."
"I don't really feel like eating. I have a terrible headache. Perhaps I just need to take the pain tablets and get to bed....after I've taken a shower."
Derrick laughed.  "You do look somewhat....hmm yellowish. I think the color suits you well."
Julia grinned.
 "It must have been quite a sight when you found me. At least I didn't slip in the shower,  that would have been far more embarrassing."
"You can't drink medication if you haven't eaten.  Let me pick up some burgers... or are you a vegetarian?"
Julia shook her head. She has only known Derrick for a few hours, but it felt as if they were old friends. Derrick stopped at the drive-through and picked up some burgers.  
They drove home in silence and when he stopped in her driveway, she thanked him again, thinking that he was about to leave. 
Derrick opened the car door for her and unlocked the door.  He had the keys with him because he locked the door after the ambulance left.  
"It is late, I'm sure you would want to get home Derrick. I promise you...I'm fine."    
"There is no way that I'm going to leave you alone tonight. As your "husband" I promised the doctor that I would look after you tonight."
He entered the house behind her and locked the door. 
The kitchen was a yellow mess.  
"Go take a shower, and then we can eat.  I will help you clean this in the morning."
When Julia came back, the kitchen was already halfway cleaned up. Derrick had sorted himself with linen for the spare room. 
Julia felt totally safe with Derrick there, and after they finished eating, she went straight to bed. For the first time since she arrived in Litton, she slept like a log.     
To be continued