Tricks to keep your breath fresh and intact

shutterstockimage
Bad breath is medically called halitosis which is characterized by an unpleasant odour of the mouth. This is usually simple and preventable. Halitosis can be a chronic condition majorly caused by some sickness such as diabetes, dental caries, xerostomia known as dry mouth, gastroesophageal reflux
disease, Sinus infections and gingivitis. It may be caused by foods a person eats and poor oral hygiene.
Bad breath is something most of us are worried about. However, everyone has to worry a bit about bad breath once in a while, even if it's just the typical "morning breath." There are things you can do to eliminate or reduce the possibility of this bad breathe, causing people to make a distance while you talk.
---
You can try out some of these simple tricks to keep your breath fresh and intact.
1. Brush And Floss
When a person does not brush or floss his/her teeth regularly, food particles remaining in the mouth can rot and cause bad odours. Poor dental care can lead to a build-up of plaque in the mouth, which causes an odour of its own. Plaque build-up on the teeth can also lead to an unhealthy condition called periodontal (gum) disease. When plaque hardens, it is referred to as tartar (calculus). Tartar holds bacteria that can irritate the gums and lead to gum disease. But remember that it says brush and floss. Brushing is something most of us probably do, but it's easier for people to just blow off the flossing part. It's a bit more complicated compared to brushing and might seem unnecessary, but it really helps because it removes food from between the teeth that tends to be an excellent place for odour-causing bacteria to gather and multiply.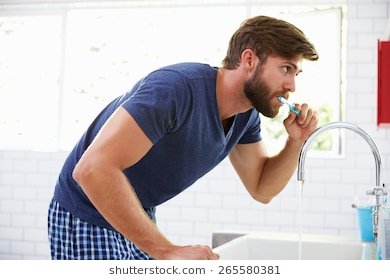 )
shutterstock image
2. Clean Your Tongue Regularly
Cleaning your tongue when you brush your teeth is very important. Brushing is something we have all heard about endlessly but what about cleaning your tongue? It turns out that the tongue is another place that's particularly attractive to bacteria which are expert at hanging around and causing unpleasant odours due to the fact that bad breath in the morning is very common. Saliva production nearly stops during sleep, allowing odour-causing bacteria to grow, causing bad breath. It's quite easy to simply brush your tongue while you are brushing your teeth, and if you want to get really serious about it, you can pick up a tongue cleaner in many of the same places that sell toothbrushes.
3. Stay Hydrated Daily
Simply means taking a lot of water. Staying hydrated is known to be important for your overall health. It keeps the salivary gland hydrated to produce more saliva but not everyone knows that a dry mouth is a friendlier environment for those smelly bacteria. Saliva is nature's way of keeping your mouth clean and it even has antibacterial properties. Since we are less likely to be aware of how dry our mouth gets when we are sleeping, we tend to awaken with a dry mouth frequently and the accompanying "morning breath" along with it.
4. Candy, Mints and Gum
These can be great temporary solutions to a bad breath problem but they all wear off pretty quickly unless you keep shoveling a steady supply into your mouth. The problem with these solutions is that they simply mask the odour of bad breath and don't do anything to actually stop it. In some cases, the sugar that is contained in these things will actually feed the bacteria in your mouth and make things worse. When you're out and about, these things can help, but there is no substitute for a clean mouth. Taking a sugar free gum to keep your busy and saliva rolling Continuously.
5. Food
What you eat can have a tremendous effect on the freshness of your breath. While it's not a surprise to anyone that things like garlic can cause bad breath, there are other foods to watch out for that might not be so obvious. Meats are a good example. They are famously good at getting stuck in between teeth and after a while the odour that is produced as they begin to break down is definitely not something you want coming from your mouth. So getting your rinsed at every meal is also very important.
6. A Quick Rinse After Every Meal
Believe it or not, taking just a few seconds to rinse your mouth with plain water after eating can help reduce bad breath. It not only helps flush out some of those food particles that can promote the growth of bacteria, it can also help get the pH levels in your mouth back to normal which help to keep the bad breath at bay.
7. Natural Solutions
I no this will not be a burden to the ladies except the men, because you can easily put this in your hand bag. You can carry a little bottle of mouthwash around with you all day and freshen up your breath periodically but a lot of those store-bought solutions have chemical ingredients and other things that you may not want to be putting in your mouth all day. Green tea is an excellent alternative which you can keep with you to sip all throughout the day. Green tea contains natural antibiotics that help control the population of germs in your mouth. if you're a hardcore natural food fan you can even chew on things like basil, cilantro, dill, mint, or parsley, which all contain chlorophyll, which fights bad breath.
8. Visit The Dentist
Some people have fear of seeing the dentist that borders on panic attack territory. But you you find out that things are getting worst or out of hand, you must give yourself a quick response seeing a dentist. Still, there's no getting around the fact that good oral health and hygiene are the best defence against bad breath. There is no better place to ask questions and find answers to problems like bad breath than from your dentist. For more serious cases of bad breath, dentists can prescribe special toothpaste and mouthwash that can improve the symptoms of bad
Thanks for reading.
You can kindly upvote, comment and resteem