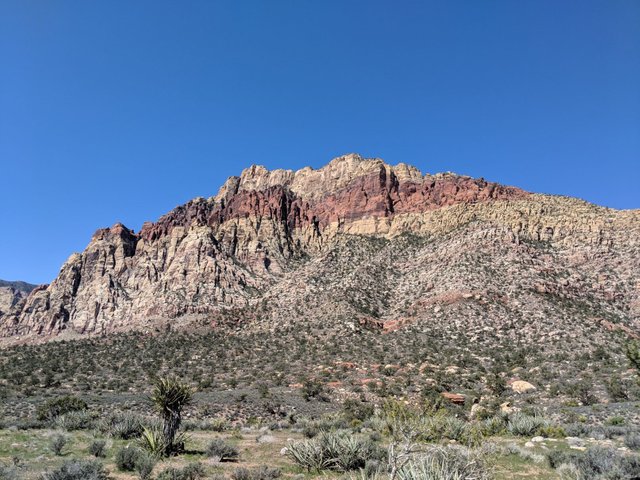 I'm not going to mislead you, this post is going to have a lot of pictures. I am sure you would probably rather look at those than listen to me yammer on anyway.
Edit: It appears I did indeed yammer on and have decided to split this post into two parts... I am also going to submit this to the 7 World's Continents Challenge since today is "North America Friday".
If you are just stumbling onto my blog because of the killer opening shot or the awesome title, you might not know that my wife @mrsbozz and I recently took a trip to Las Vegas for Spring break.
You can check out some of the past posts here:
https://steemit.com/busy/@bozz/wednesday-walk-vegas
https://steemit.com/busy/@bozz/bozz-eats-vegas-edition-i
https://steemit.com/busy/@bozz/bozz-eats-vegas-edition-ii
https://steemit.com/wednesdaywalk/@bozz/wednesdaywalk-mob-museum
After spending a late Friday night on the strip and a long Saturday around the pool and downtown on Fremont St., @mrsbozz and I decided to escape the city on Sunday. I downloaded the Enterprise rental car app and proceeded to get our ride booked. Luckily, the hotel/casino right across the road from our resort had an Enterprise location inside. That kept us from having to go back to the airport to pick one up.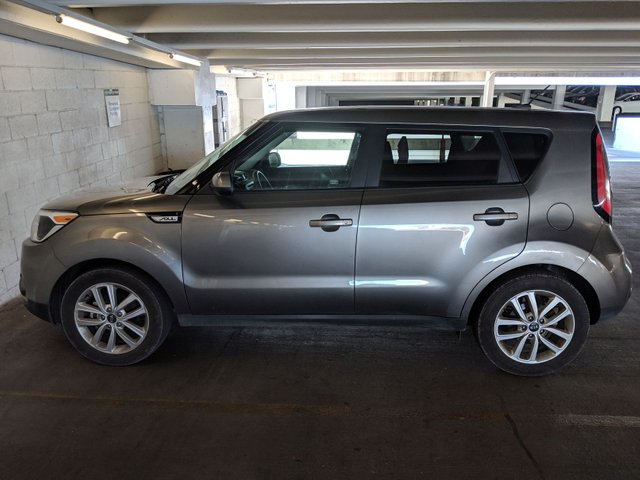 After a short walk and a little bit longer wait, we found ourselves in the parking garage looking at our sweet ride for the day. If someone knows a lot about rental cars, please educate me here... I rented the car from 9 AM in the morning until 8 PM at night with unlimited miles for $55 USD. The vehicle class that we were supposed to get was a Volkswagen Jetta or similar. I have to be honest I was a bit disappointed when I first set eyes on the Kia Soul we ended up with.
To be fair, it ended up being a good and faithful ride, but I would like to know who sets up the "vehicle classes" and what determines which type of vehicle falls into each class.
The Soul had 3/8 of a tank of gas and the guy told me to just make sure it came back with at least 1/4 of a tank. I don't think he realized just how far @mrsbozz and I were planning to go.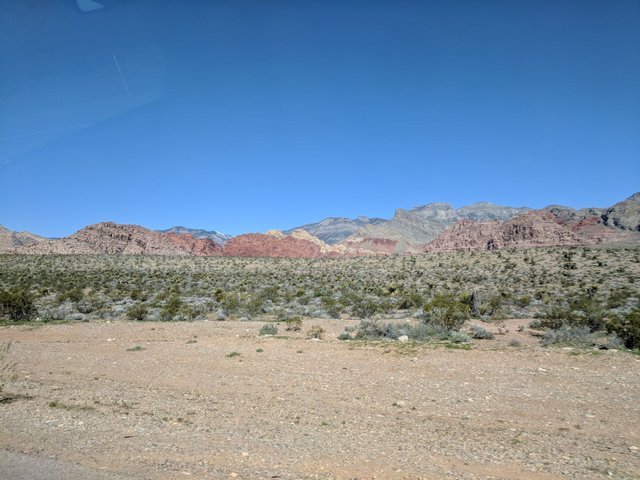 @mrsbozz had been doing some research online and had decided that she definitely wanted to drive through Red Rock Canyon Las Vegas. The pictures online looked beautiful, so I was more than willing to make the trip. After a missed exit that lead us through a part of town with (homeless people?) and pup tents all along the sidewalk we eventually made our way to the park entrance.
Red Rock Canyon is seriously only about a half hour drive from the city(depending on where you are starting). The fact that something so naturally beautiful is so close is really impressive to me and I wonder how many people actually take the time to appreciate it.
The park has a 13 mile scenic drive that runs through the key areas, with a cost of $15 per car, we figured that was our best bet. As we pulled up to the entrance traffic was lined up onto the road outside the gates. We were really worried it was going to be super crowded in the park, so after paying we chose to skip the welcome center and just get on with the drive.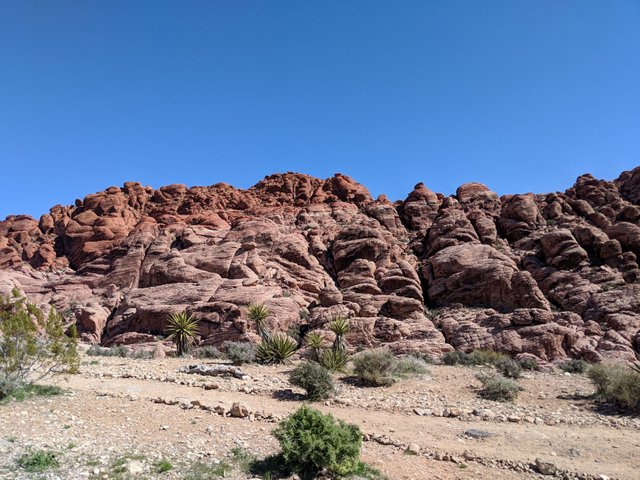 The scenic road through the park has a maximum speed limit of around 35 MPH. That didn't keep people from riding our tailgate and flying around us when the road became wider. At first we were really perplexed as to why someone would want to rush through something so beautiful. As we looked at the map, it eventually occurred to us that there are many "staging areas" throughout the park. There are 26 different hikes/trails that you can spend all day exploring as well as a campground. No doubt the people flying by us on the road were trying to reach one of these areas to start their long day of hiking as soon as possible.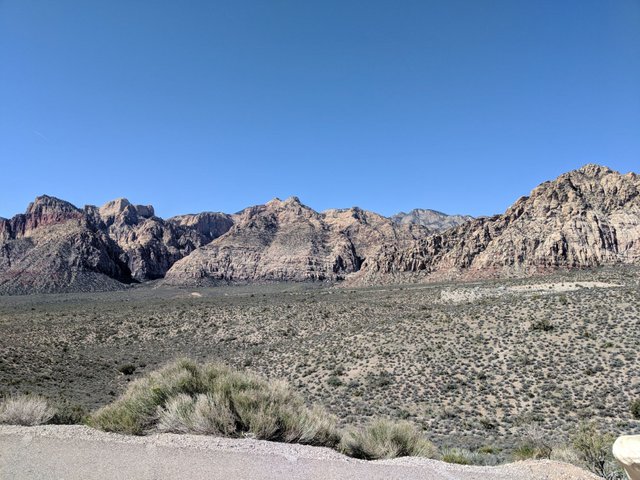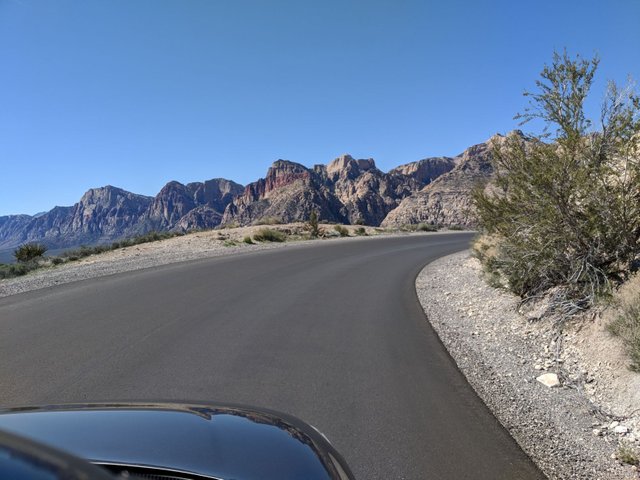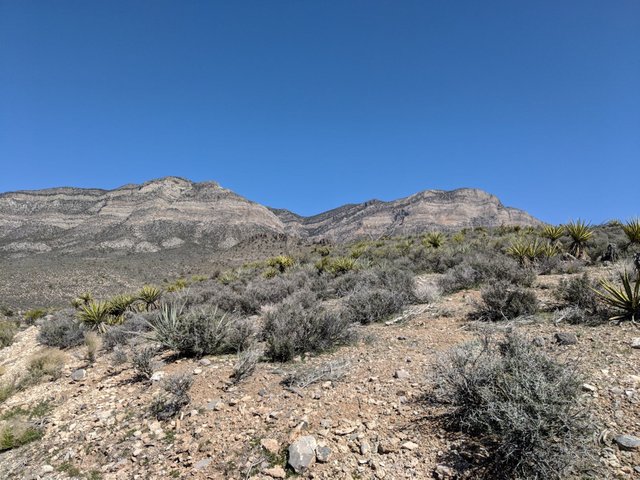 About halfway through the drive, @mrsbozz got sick of me saying "that would be a good picture", so she made me pull over and she drove the rest of the way through the park so I could focus on taking pictures. I was a little bummed because some of the roads through the canyon looked like they would be fun to drive on, but my desire to take some nice shots was much stronger than my desire to drive a "switchback".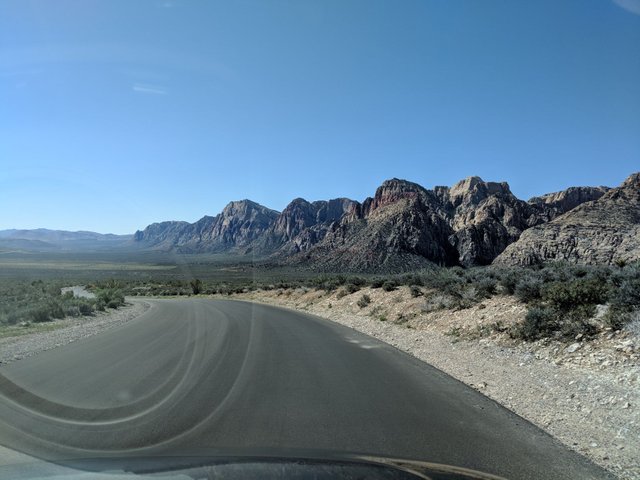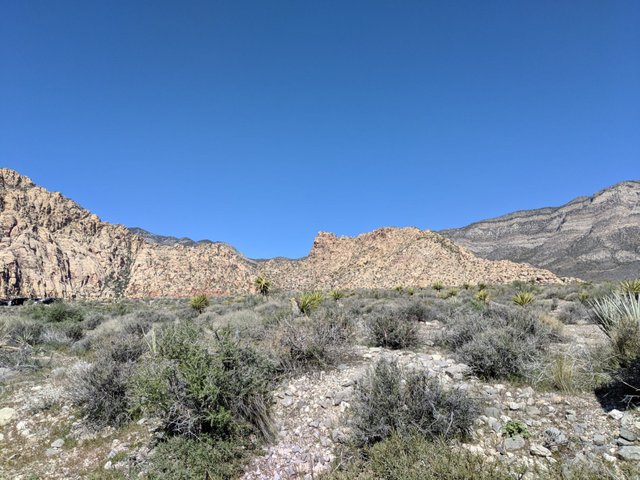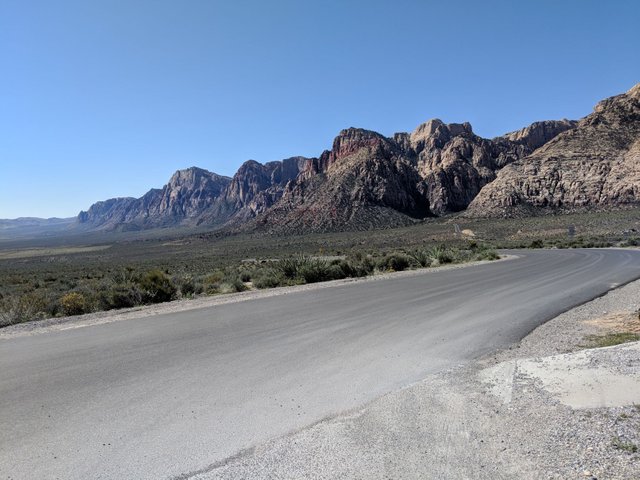 I think in the end, it was a really good choice to let her drive. I feel like I got some really awesome shots. These are all from our cell phones by the way. I had brought my Sony digital camera on the trip to take some pictures, but it wasn't until we were almost out of the city that I realized I had left it in our hotel room.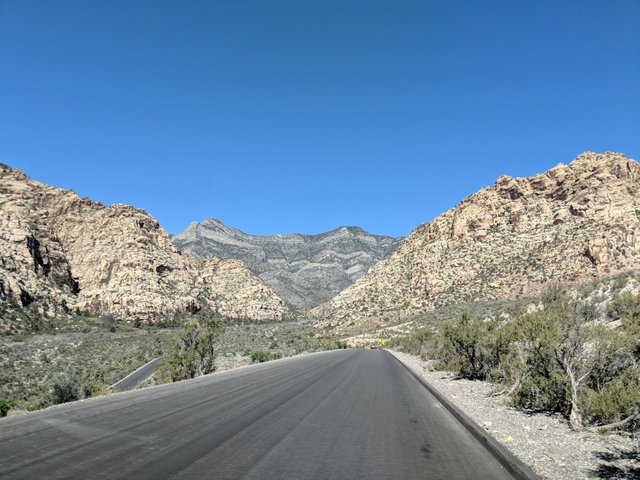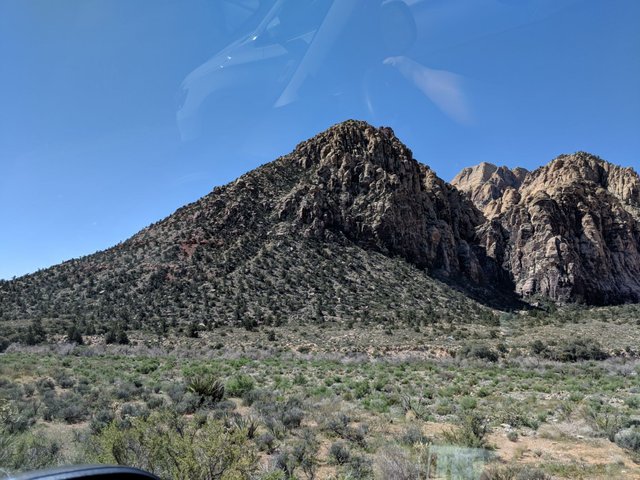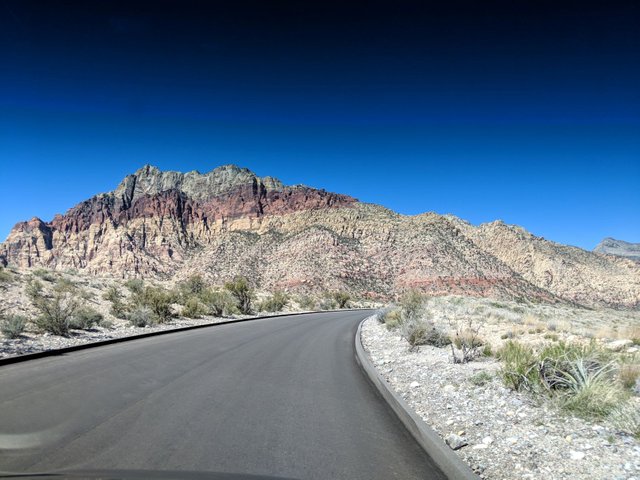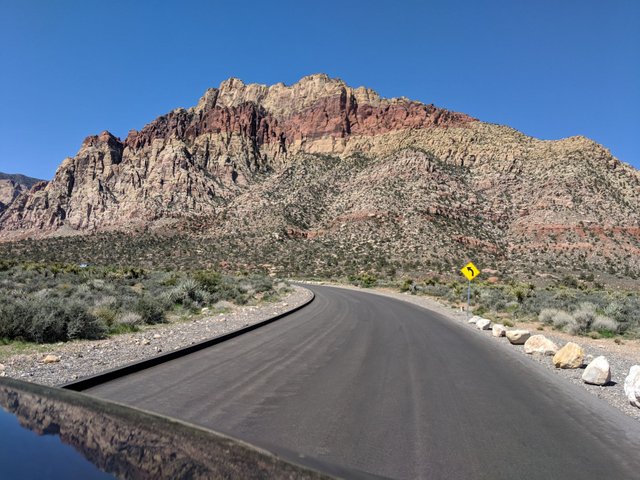 We finally made our way to the end of the scenic route and as we stopped in a parking lot to switch back to me driving, we decided to take a selfie!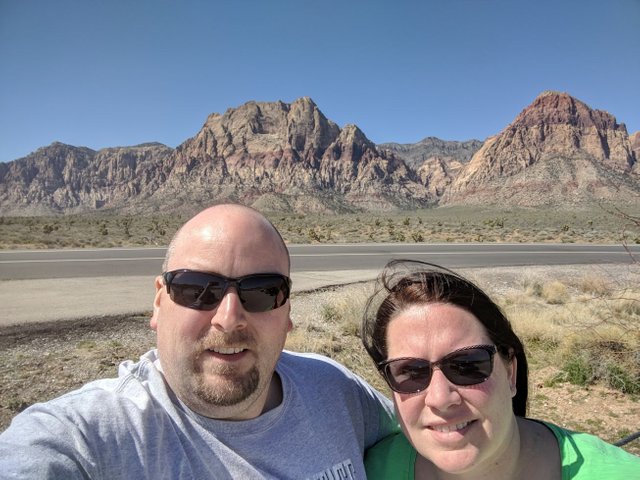 Red Rock Canyon was truly awesome to visit and if I were in better shape and not terrified of rattlesnakes I would love to hike on some of the trails one day. By the time we had gotten back to the road and passed back by the entrance to the park, they had closed the gates and were not allowing new visitors in. Apparently the park was at capacity so it was a good thing we got there when we did. I have heard that sunset in the park is a pretty amazing thing, but I imagine it gets full during that time as well.
When @mrsbozz had expressed an interest in visiting Red Rock Canyon, I started exploring other things we could do in that area. I was immediately drawn to Mt. Charleston and after viewing some of the satellite photos I found an awesome picnic area near the summit. I thought it would be really awesome to drive through the canyon, then grab some food along the way and take it up to the picnic area for lunch.
I started looking at the State park website for the picnic area and noticed that the camping area doesn't open until May 1st. Wondering if the camping area included the picnic area, I called the park to talk with one of the employees there. Silly me, in looking at the satellite photos I didn't realize that those were probably taken in the Summer and since it is still Spring the park in absolutely covered in snow that they aren't even sure they will have plowed out by May 1st. The person on the phone mentioned that there was a picnic area further down the mountain, but after I looked at it I determined it didn't offer the views of the other one.
It became clear to me we needed a new plan. The drive through Red Rock Canyon didn't take that long and we had a lot of daylight ahead of us. I turned the Kia Soul back East and we set off on a new adventure! This post is getting long though, so the rest of our day trip will be a story for next week!
All photos were taken by me or @mrsbozz