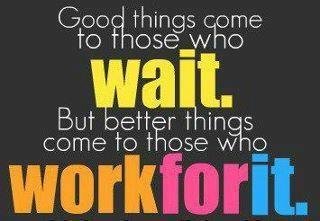 This morning I was running around helping organizing some business 'friends" getting their molds into the factory.This is a deal that isn't huge,but opens more doors. Sometimes we have to do these things in order to land something bigger. I strongly believe in helping others when I can help and if nothing comes my way it's just another good deed.
If every action we did was about profit then nothing would ever get done. Strengthening business relationships can sometimes be way more important than the bottom line. No one knows what the future may hold and all these things we do now could pay off handsomely further down the line.Tomorrow one of those things I did over 8 months ago will come to fruition.What do they say, good things come to those that wait.
Many things that we do every day can be compared to how we act on the block chain.Supporting an account that has a small amount of Steem Power doesn't mean they will be small forever.It is important to find like minded users who are here for the long term as they will have value at some point.
If we look back over the last few months how many accounts have powered up and are now Dolphins. If you joined a year ago the users you know around you who have struggled along are worth a lot more these days. This is natural growth and your support base is stronger making you stronger.
Patience is key as it is not about today,but tomorrow.
Image source jokideo.com