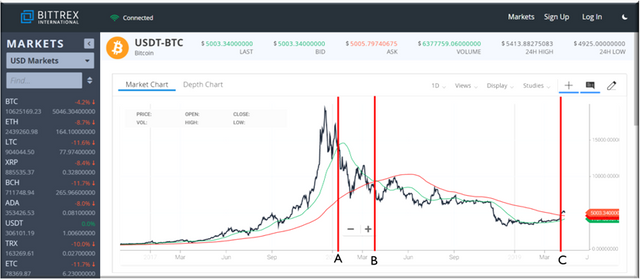 Courtesy-Bittrex
Above is the chart for BTC/USDT.
Black curve - Day close price of BTC
Green Curve - 50 DSMA for BTC
Red Curve - 200DSMA for BTC
Point A - Start of latest bear phase with close crossing below 50DSMA
Point B - Confirmation of Extended Bear Phase as 50DSMA crosses below 200DSMA
And this phase continued all the way till the mid of January 2019. Since the mid of January the market is in uptrend.
The buy signal was already picked up by my methodology and same was reported in We Got a Buy Signal after 8 months of bear phase - is it going to be correct prediction on 19th Jan 2019.
Poin C - close crosses above 200DSMA. Start of Bull Phase.
Point D - Yet to come in few days. When 50DSMA crosses above 200DSMA. And that will further confirm extended bull phase.
So not to worry with daily up/down moves but time to start investing and building crypto portfolio.
Note - I do it as my interest in predicting stock and crypto markets. I take no responsibility for any losses incurred by anybody.