Introducing QuickSteem - Create Steem Accounts with Ease!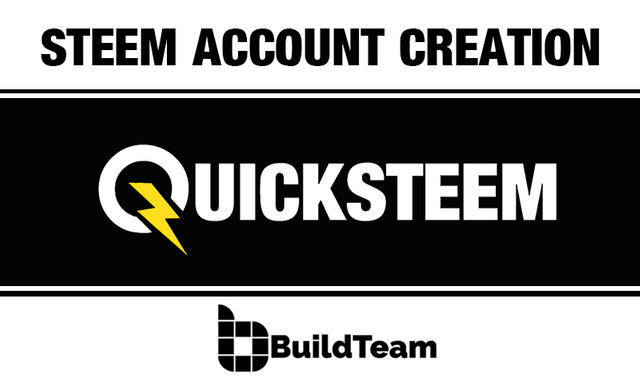 ---
Hello Steemians! @upheaver here bringing you exciting news about a BuildTeam product launch!
Today we are launching QuickSteem. It's an easy to use app for creating pre-funded STEEM accounts using cryptocurrencies like BTC, ETH, LTC and several others.

---
Using the QuickSteem App
Actions speak louder than words, so let's jump right in and walk you through the process of creating a new STEEM account with QuickSteem.
QuickSteem can be accessed by:
a) going to https://quicksteem.com
b) Or by going to the new BuildTeam Apps portal and selecting "QuickSteem" from the "Utilities list".
Both will redirect you to the correct url for QuickSteem App, where you will see a username prompt and a list of currently available currencies: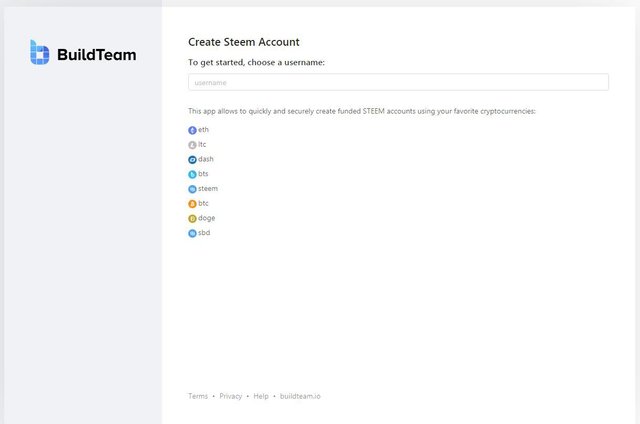 Let's start by thinking of an account name and entering that into the username field. QuickSteem will automatically check if the the username you want is valid and has not been registered by someone else on Steem.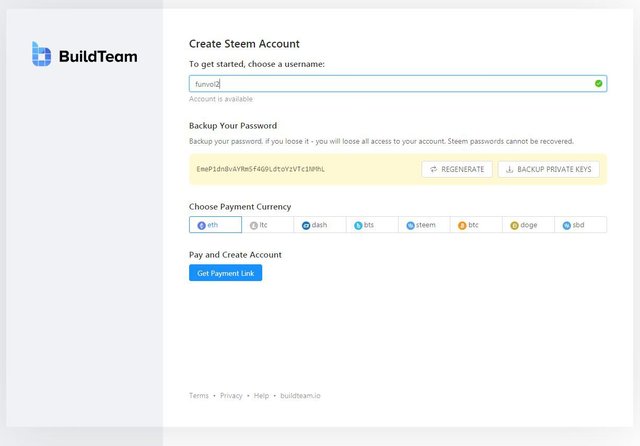 As you can see, the name 'funvol2' was available - lucky me!
Most important task when creating a new account on STEEM is to make sure you don't lose or forget your password.
In QuickSteem you can either copy your master password and store it in a safe place (1password vault for example) or download a backup file containing both your password and private keys for your Steem account. I recommend downloading and backing up the entire set of private keys offline.
Next step is to choose a payment currency.

QuickSteem App offers several cryptocurrency options depending on wallet availability. For the sake of this tutorial I'm going to use Ethereum (ETH) as the payment option.
Once I have selected ETH, I click on the 'Get Payment Link' to proceed to the payment instructions.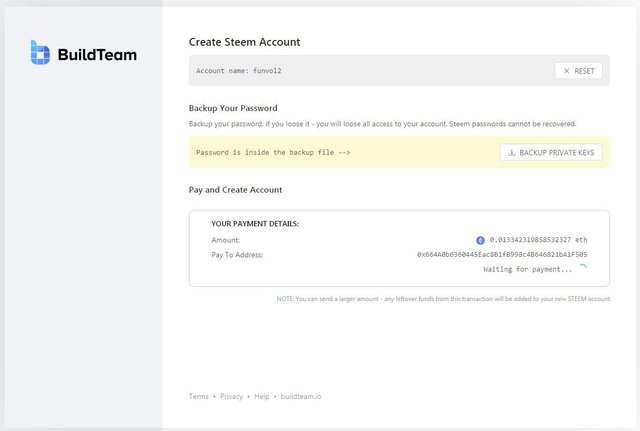 I can can now see the payment instructions page with the minimum amount of 'ETH' required for the account opening and the address to which it must be sent. The status indicator under the 'ETH' address says 'Waiting for payment'.
NOTE: If you choose to send a larger amount than indicated in the "Amount", it will get converted to STEEM and deposited into your newly opened account.
For the sake of this tutorial I am going to send ETH from MyEtherWallet.
Let's fill out the transaction details inside MyEtherWallet's interface: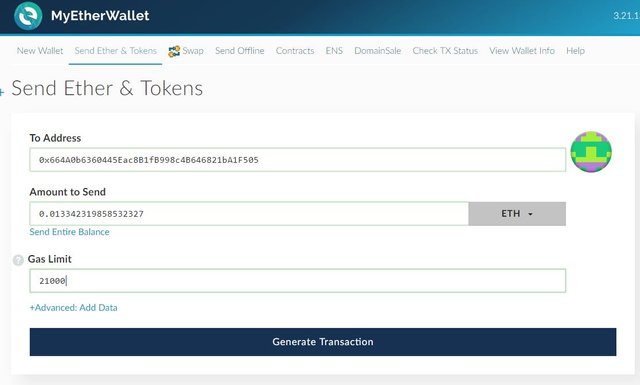 As you can see I have entered the "Pay To Address" and the correct amount of ETH required to make this transaction. I set the gas Limit at 21000 and click on the button 'Generate Transaction' to proceed.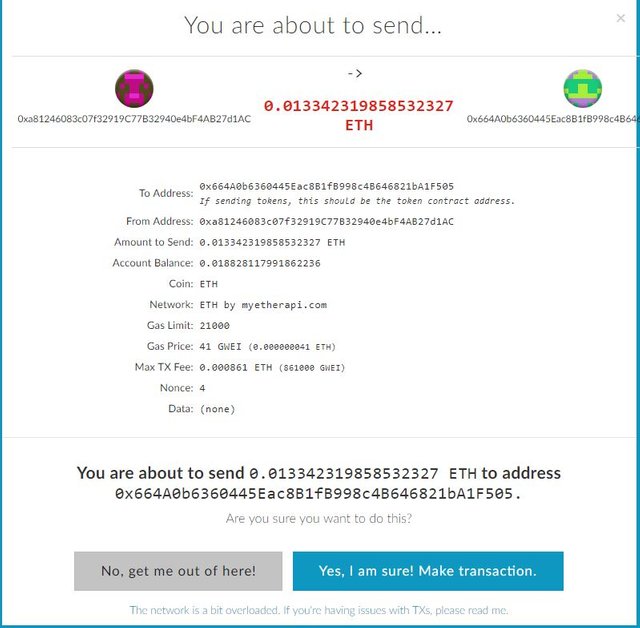 Finally I can confirm the transaction and send it off to blockchain.
I switch back to QuickSteem App and can now see the status has changed to 'Confirming... (1/5)'.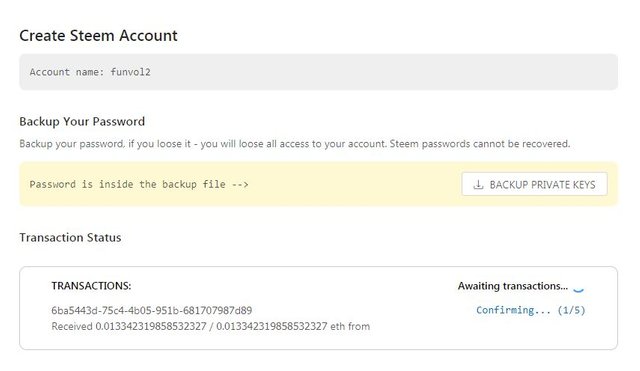 NOTE: Depending on the currency you used the transaction confirmation might take anywhere from a few seconds to a few minutes. Be patient, the website will refresh automatically.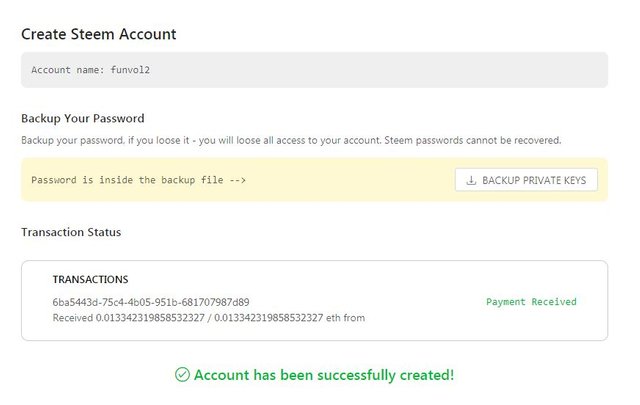 After just a few brief moments the account creation process has been completed and I am able to log in to my new account using the cretentials I backed up in the previous step.
That's all! Quick and easy to use.
---
What's Next?
I hope you enjoyed this product release as much as we at BuildTeam enjoyed bringing it to life, please let us know if you like QuickSteem's user experience in the comments below.
QuickSteem is also the first of many new products of services we are launching in the upcoming weeks and months, stay tuned for more BuildTeam 2.0 announcements!
---
Join our Discord chat
Get support and connect with us and other BuildTeam fans!

---
We are always looking to improve @buildteam and try to keep you up-to-date whenever something changes. If you have any suggestions about what we should change or add to @buildteam, then please drop by and let us know!
---
Missed the BuildTeam announcement? Here's all the juicy details.
---

---
Visit our flashy new website BuildTeam.io!
---
Set @buildteam as your witness proxy today and contribute to building a better tomorrow!

Want an easier way? Use our SteemConnect proxy link!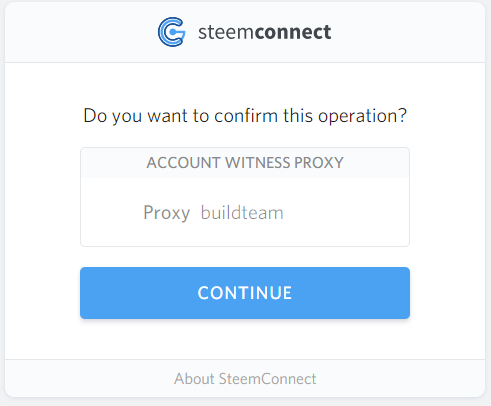 ---
This is a @steemvoter subscription payment post. Thank you to Steemvoter customers for allowing us to use your Steem accounts to upvote this post by virtue of your free subscription to the Steemvoter.com bot service. @steemvoter is proudly a @buildteam subsidiary and sister project to @steemsports and @minnowbooster.