Something changed my view today. This drop doesn't fit my patterns, so I had to review the higher timeframe, which in this case is the daily chart.
From the daily chart perspective I discovered two things:
1. On the daily chart it looks like a perfect ABC pattern (5-3-5 ZigZag). It does not get better than this one.
2. In the past (going back down to 3,000$ BTC) there has never been a triple correction on the daily chart like the WXYX2Z correction, that I pointed out recently. So why have one now?
This got me thinking... Why did BTC drop today, when it was not expected at all? Then it hit me.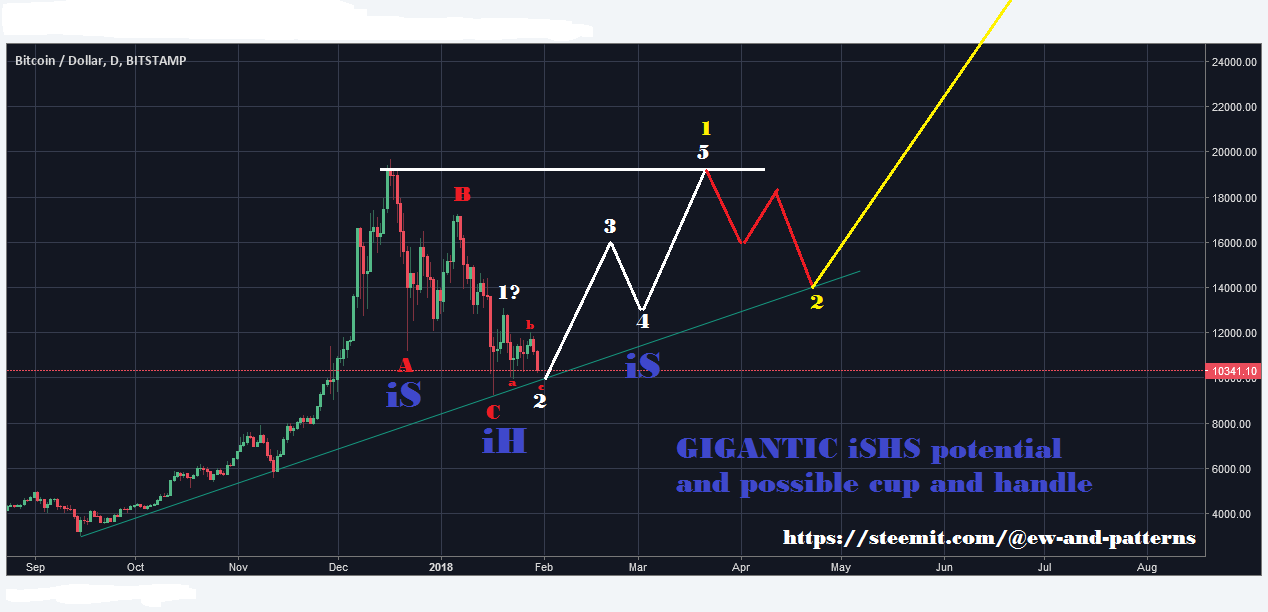 The correction might be over already. This could easily be white wave 1 and 2.
The trendline that I have drawn today might play a huge role for this theory. If we see a bullish retest, while not breaching the low @ 9,222$, I will be confident that white wave 3 is next.
A breach of 9,222$ would invalidate this count, which is now my primary count until proven wrong.
If this count is right, we will likely see a huge iSHS pattern forming, which might easily develop into a cup and handle for double bullishness. The target of this iSHS pattern would be 30,300$...
So I changed my view from bearish to bullish today. Watch this trendline and the invalidation point very closely... and stay tuned for more...
QUICK UPDATE: BTC @ 10k and close to the trendline: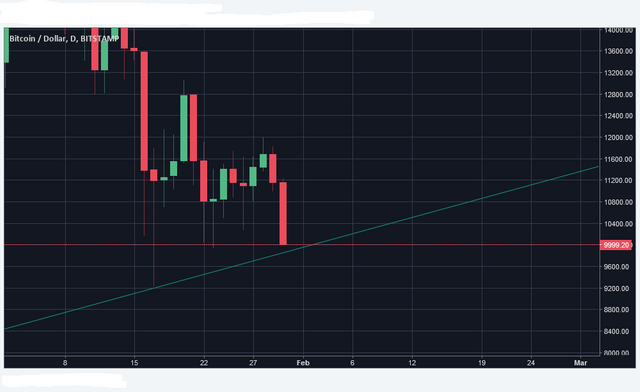 UPDATE 2: If the daily candle closes as it is now, we will have the bullish wick ;-)


If you think this to be useful information:




Feel free to use and share my charts, but please mention me, @ew-and-patterns as the author. Otherwise it is considered plagiarism and I will flag you and advise my friends to do the same.



MUST READ!
DISCLAIMER: This post / analysis serves general information purposes only. I am not, and never will be a financial adviser. The material in this post does not constitute any trading advice whatsoever. This is just the way I see the charts and what my trading ideas (from my personal experiences) are. I use chart pattern and Elliott Wave analysis for my trading ideas.
For full disclosure: The author of this post is holding positions in this market at the time of this post. Please conduct your own due diligence, if you plan to copy anyones investment decisions!
If you make any trades or investments after reading this post, it is completely in your own responsibility. I am not responsible for any of your losses. By reading this post you acknowledge and accept to never hold me accountable for any of your losses.
Please consider leaving a comment, like or resteem, if this post entertained you or helped you see things differently...
Have a nice day :-)