It becomes very difficult to single out just one book that you find very close to your heart. Following are few books which had the greatest impacts in different stages of my life.
1. 'The Alchemist' by Paulo Coelho
This book originally written in Portuguese has been translated into many languages. Although many literary scholars don't rank the English version as one of the finest works.  It should be mainly observed as a philosophical book which have impacted many lives all over the world.
It is a fascinating tale of a shepherd who had the courage to pursue his dream in spite of any consequences/ hardships he had to face in his journey. The idea which is often repeated in the book and I always try to live by is as:
"When you want something, the whole universe conspires in helping you to achieve it"
Fear of failure is what keeps most people away from success. This book has really helped me during my gloomy days of failure and disappointments. 
2. 'Grapes of Wrath' by John Steinbeck
I regard John Steinbeck was one of the most unique and underrated giant of American Literature. He had a sarcastic way of dealing with human nature for his characters in most of his works which contained dark humor. 'Grapes of Wrath' is slightly different from all his other works and seemed to have written with lot of passion. Human emotions and mental struggles are played to the extreme level in this book based in the 1940s. It is an important event in American history and the author has presented that period before the readers by showcasing the struggles and aspirations of one family and their members.
3. 'Malgudi Days" by R.K Narayan
This book gives accurate description of Indian society day-to-day affairs and the mindset of people in post colonial era. It is a great reflection on the way of life during those times and some of the issues addressed are still prevalent in today's society. We marvel at how the author takes detailed note of the people around him and weave a story around a character like magic. All stories in this book are unique in its own way and cover a range of genres from drama, satire to outright comedy and dark humor. Just open any chapter for complete entertainment and get hooked to the book till the very end.
4. 'Tom Sawyer' by Mark Twain and 'Harry Potter' Series by J.K. Rowling
'Tom Sawyer' was the very first novel I had ever read as a child. This book was an excellent gift given to me as I could relate to Tom and his sense of adventure at that young age. It is a very fancy tale of a boy who along with his friend was a witness to murder and had thrilling escape after getting lost in a cave with a girl. I must have read this book at least hundred times just as an escape to a world of boyish adventures. Its sequel 'Huckleberry Finn' is regarded as one of the greatest works of Mark Twain but is intended for a much mature audience. ' Huckleberry Finn' was a much better book than its prequel as it covered issues of slavery and discrimination on basis of color, which were very prevalent in American society in that era. I was not able to understand its significance at that very young age.
I have always considered myself very lucky to be born in the era where fantasy world of witch and wizards was created for my age group. I have always admired the intelligence and imagination of J.K. Rowling while creating her own wizarding world. Her own life story before and after publishing the first book of the series is very inspiring too. The ultimate plot of triumph of good over evil was the basic theme of all books in the series but presented in form of spells and magic. Even after the last book was published way back in 2007 I have read the entire series at least thrice and I am sure it is going to stay with me till the very end. Another fantasy series I am similarly intrigued with is of course ' The song of fire and ice' but the rate at which each consecutive books are published I highly doubt it will ever get completed.
Other notable books which I have read recently include 'Rich Dad Poor Dad' by Robnert Kiyosaki and 'The Shining' by Stephen King. I know this books are very old but I am glad I was finally able to read them.
As you can see books of varied genre can have different kind of impacts in our life. To apply learnings of any one book will be an insult to other great minds. My opinion is to take something from each book, make it simple and then apply it to our everyday life.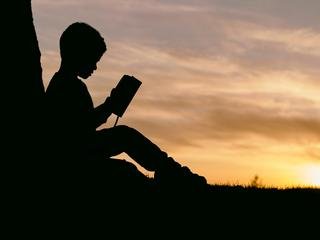 Photo by Aaron Burden on Unsplash