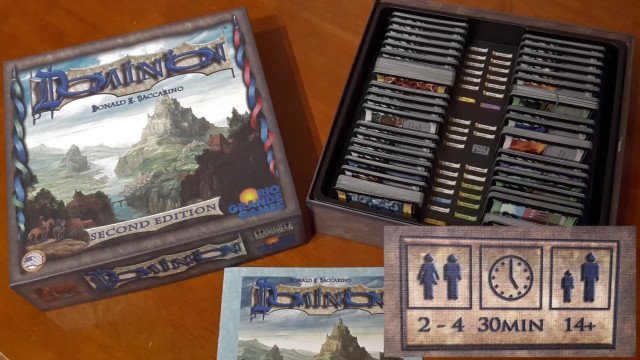 What's in the box? Cards. Lots of 'em.
The box advises 2 to 4 players with a minimum age of 14; a game should take 30 minutes. I'd say 3 or 4 players and allow 45 minutes.
Dominion is one of, if not
the
first deckbuilding games, first released in 2008. This is a fairly new strand of game, but has flourished over the last decade. It's nothing like Steem Monsters - that's a whole other card genre of collectible fighting card games that pre-dates deckbuilders by 15 years.
A deckbuilding game involves players starting with a small deck of cards (2 hands-worth) and through obtaining cards from the table increase the size of their deck. The initial cards will have a low value and little sophistication. As the game progresses the players obtain cards with greater value and abilities to adjust their deck and possibly other players' decks. The person who ends with the most points (not necessarily the most cards) wins.
This isn't the first deckbuilder I bought, but being the oldest I'm starting here. Note that it's published by Rio Grande Games, who also gave us the original Carcassonne and are a trusted name in euro-gaming.
In Dominion the aim of the game is to expand your lands by buying green VICTORY cards. To buy them you need money, which comes in the form of TREASURE cards or money points on ACTION cards.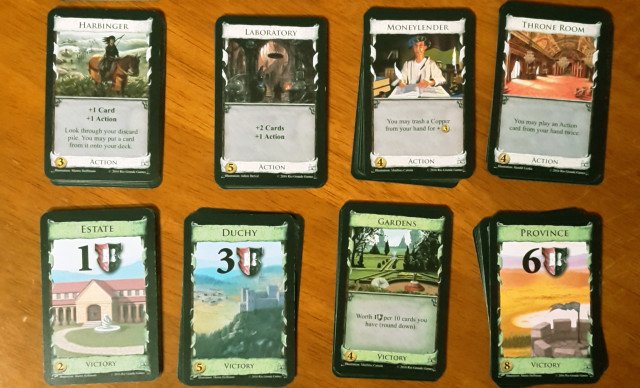 Some ACTION and VICTORY cards. GARDENS are treated as pool cards, so not always used.
HARBINGER: +1 card; +1 action; Look through your discard pile. You may put a card from it onto your deck
LABORATORY: +2 cards; +1 action
MONEYLENDER: You may trash (put back in the box) a COPPER in your hand for +3 [treasure] points
THRONE ROOM: You may play an ACTION card from your hand twice
GARDENS: Worth 1 [victory point] per 10 cards you have (round down)
A player starts the game with 10 cards - three ESTATE cards worth 1 victory point each and seven COPPERs worth no victory points, but 1 purchase point each.
On the table are ten ACTION card stacks (from a pool of about 25 types), and piles of TREASURE and VICTORY cards.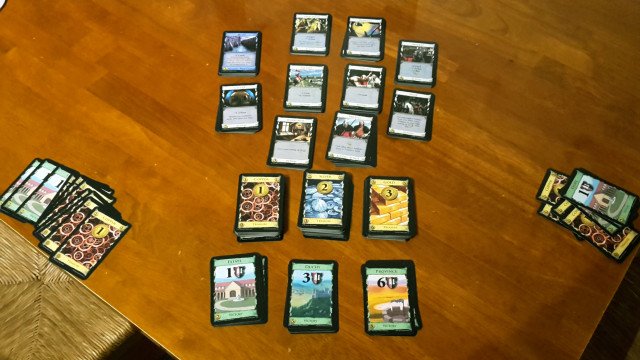 Starting layout for a 2-player game
The player shuffles and deals themselves five cards. They then use the COPPERS to buy a card from the centre, at a price they can afford. The price of a card is written on the bottom left. The VICTORY cards have no use in the game play - they just clog up your deck - but you need them to win.
You can only buy one card in a turn, and if you can't afford anything useful, you can pick up a COPPER, as they cost nothing (presumably a lot of the people in this Dominion spend their time stealing bits of plumbing).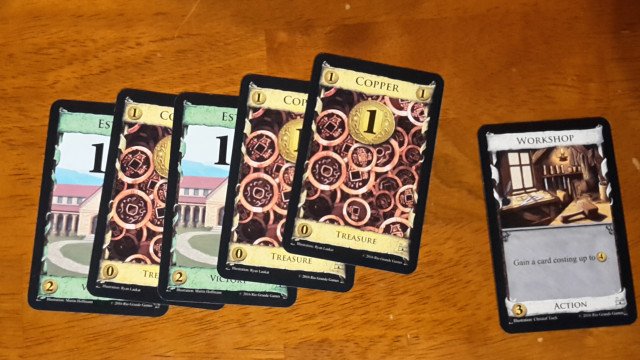 A first hand: two ESTATE cards and three COPPERS. With the COPPERs I bought a WORKSHOP. When this ACTION card comes back around I'll be able to take a card from the stacks that costs 4 treasure or less. Nice card to have - a DUCHY (2 victory points) or a SILVER costs 3 treasure and ACTION cards cost up to 6 treasure.
The cards you've played and purchased go into a discard pile. Once your draw deck is empty you shuffle your discard pile and it becomes your draw deck.
After a couple of turns your first ACTION cards appear in your hand. In the same way that you can only buy one card in a turn, you can only play one ACTION card.
ACTION cards allow you to do interesting things, like draw additional cards, play additional ACTIONs, buy additional cards or perform other activities. The aim is to have a nice balance of different ACTION cards to allow you to build up a hand with lots of TREASURE and thus buy VICTORY cards. A PROVINCE is expensive, but good value, and the fewer VICTORY cards in your deck, the more useful cards will appear in each hand.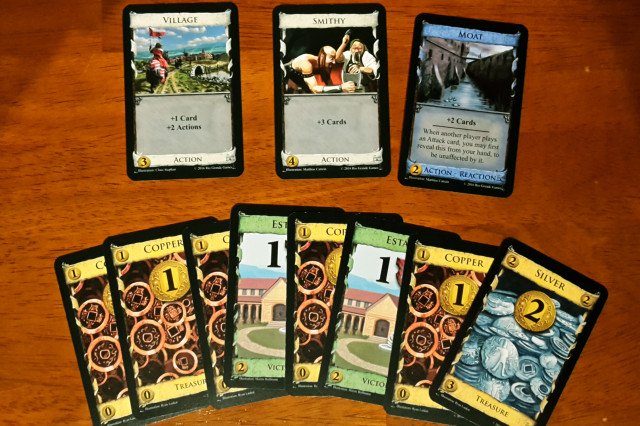 A more complex hand. It started with 3 COPPER, 1 ESTATE & a VILLAGE.
The VILLAGE allowed me to draw another card - the SMITHY and have two more action.
My second action was the SMITHY and I drew 3 cards - COPPER, ESTATE and MOAT.
My third action was the MOAT, and drawing a COPPER and a SILVER.
With seven TREASURE points I couldn't buy a PROVINCE so bought a DUCHY (five VICTORY points).
The game ends when all the PROVINCEs have been purchased or three other stacks have been emptied.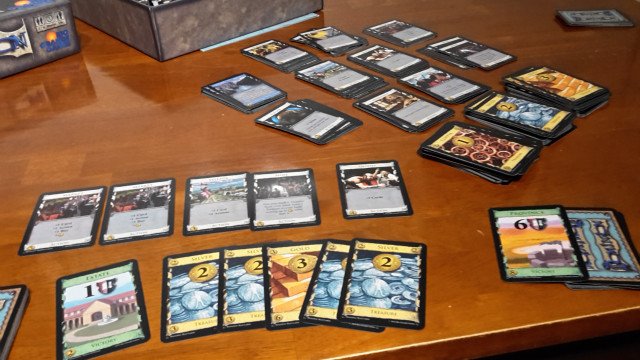 This game ended when I bought the last PROVINCE, which was also the third stack to empty. I still lost: 49 - 37.
Verdict
We bought this game after playing it with friends, and as a 3-4 player game it's great fun. Less so as a 2-player game - the balance of play is uneven and there's not enough interaction between the players compared to other games.
We have, however, improved the game in 2 ways:
The rule book features suggested sets of 10 cards to make a balanced selection. Play the suggestions once to get the hang of the game. Going forward, pick stacks at random. We created a deck of one card from each stack and use it as a random stack generator. This creates more interesting combinations of cards, forcing more sophisticated play.
Take four cards from each of the 27 stacks, shuffle them together and then deal 5 cards in the centre of the table, using this master deck instead of 10 stacks. This means any card could appear, but your immediate choice is limited. This makes Dominion more like Ascension and a few other more recent deckbuilders. It can also make it very difficult to play if the first 5 cards are very expensive.
So, if you're mostly a 2-player household, I'd say skip this and come back for more recent deckbuilders like Ascension or the games published by Cryptozoic. I'll be posting more reviews in the next few weeks.
Other game reviews
Carcassonne - Under The Big Top expansion
Ion: A Compound Building Game
Thunderbirds Board Game
Covalence: A Molecule Building Game
Hangry Blobfish From Mars Card Game
Subatomic: An Atom Building Game