"Breakfast Bunny Bowie Blondie" by Richard F. Yates
Howdy Humanoids,
My name is still Richard F. Yates, and I am writing to you because I like to write, and it's more fun to pretend I'm writing TO someone rather than just talking to myself. (I'm usually kind of mean when I answer myself, so I'd rather talk to you folks.)
Today, I started off with BREAKFAST: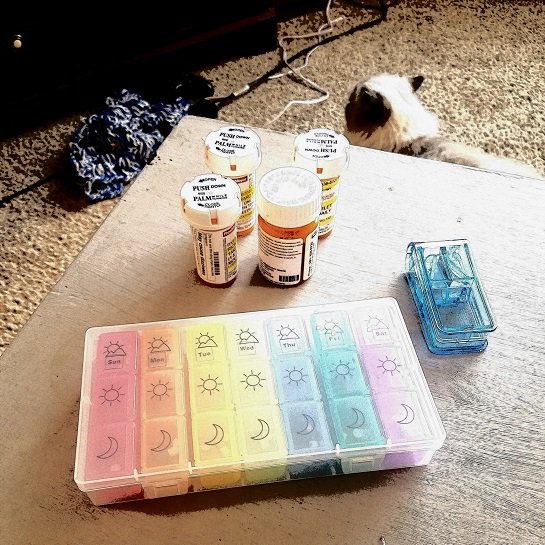 It's not the most filling way to start the day, but it does help keep me out of the emergency room! Handful of pills, banana, and a bowl of dry cereal (Honey Nut Cheerios and a few biscuits of Frosted Mini-Wheats.) I've lost 16 pounds since the nasty day when I found out I had high blood pressure (like DANGEROUSLY high---over 200 diastolic!) Turns out, a lot of the stuff I loved to eat was BAD for me. (Too much salt. Too much sugar. My cholesterol was okay, though, which is weird…) HOWEVER!!!! I'm not letting these newly discovered health issues destroy me!!!
Moving on!
To set the TONE for today, I decided to put on one of my favorite films of all time, How to Draw a Bunny.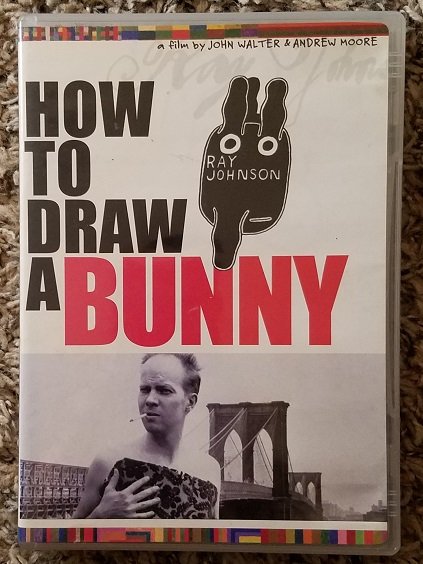 This is a documentary about (sort-of) Pop Artist, Ray Johnson, who was friends with a lot of folks in New York back in the 1950s, '60s, and '70s, but who committed suicide (by drowning) when he was 67 years old. Johnson was a unique spirit, a collagist and a postal artist, who LIVED his art (and, possibly, died for it as well.) Unfortunately, although many of his friends and acquaintances ended up making a lot of money and becoming famous, (Warhol, Christo and Jeanne-Claude, John Cage, etc., etc…) Johnson never seemed to crack into the popular consciousness. Which is horrible. His work is fascinating, funny, and bizarre, and it's made from detritus and debris and pop culture scraps, making interesting images out of nothing---out of garbage.
Interestingly, Johnson actually DESTROYED a lot of his own work during his lifetime, but he did it for a reason:
"It gets to some point where---what can you do with it after you've done it? That's why I began putting everything into envelopes. I had this stockpile of materials, so I just put them into envelopes and mailed them off to everybody, everywhere…What does one do with one's sculptures or one's paintings or one's drawings? I solved that problem by chopping them up into little pieces and mailing them to people…" (Ray Johnson from How to Draw a Bunny).
The film is fantastic (I'm watching it for the second time, today, already---and I've seen it a hundred times before this), and it includes interviews with dozens of well known artists, producers, curators, photographers, and even the police chief in charge of solving Johnson's death. It has a mystery vibe to it, but it's also completely about the ART. One of the best documentaries about an artist I've ever seen.
Some Non-Com updates, if people haven't noticed yet, I've added an image gallery to the site that collects drawings, digital works, photos and other stuff into an easy to navigate format. I think there are about 50 or 60 images in there already. I've also finally connected a "Books We've Made!!!" link, so all you great (and wealthy) people can buy all the Primitive Entertainment books you could ever want! (They make wonderful gifts for arty types, or confusing and annoying objects that you can give or send to people who you don't like and want to cause great distress!) I've also updated the "Upcoming Events" page with all the out of town trips, concerts, and other happenings we've got scheduled for the next few months. If you're going to be in the area where we'll be adventuring, feel free to send us a note, and we can try to find a coffee shop or bar where we can get together! Might be fun to put some faces to a few names!
LAST, Mariah and I have finally purchased to "newest" works by David Bowie, Blackstar (2015), and Blondie, Pollinator (2017).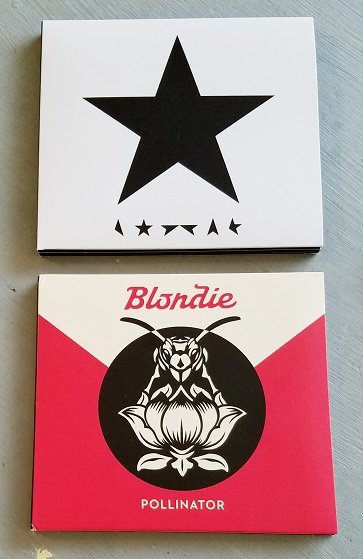 The Bowie was his last work before his death, and it's DARK. I expected it to be, and that's the main reason I waited so long to get it. In TONE, it's very similar to Low and 'Heroes' (which I reviewed a few weeks ago), but with a touch of trip-hop or something similar in the mix. It almost sounds like Tricky or Massive Attack were an influence, and maybe Twin Peaks or some other David Lynch score, were melded to the experimental, dreamy, dark, and aggressive Berlin era materials. The Blondie album, on the other hand, is much more upbeat and fun. It has a rock 'n' roll flavor, but still has a lot of synths in it, and Debbie Harry's vocals are still strong, though her voice is deeper now, and almost has a biting hiss to it, similar to the delivery style that Beth Gibbons uses in some Portishead tracks. The Bowie CD might take a few listens to get used to, but the Blondie is fun right off the bat. I recommend both but be prepared for a deep trip with Blackstar, and expect more of a party feel with Pollinator!
That's it. I've got to try and write a BOOK REVIEW, now, before I have to get ready for work!!!
Later skaters!
---Richard F. Yates
(Primitive Thoughtician and Holy Fool)
SUPPORT INDEPENDENT FOLKS WHO ARE JUST MAKING STUFF BECAUSE THEY LOVE IT!!!
https://steempeak.com/@richardfyates
https://noncom.art.blog/reviews-books-movies-music/
https://makersplace.com/store/richardyates/
https://primitiveentertainment.wordpress.com/