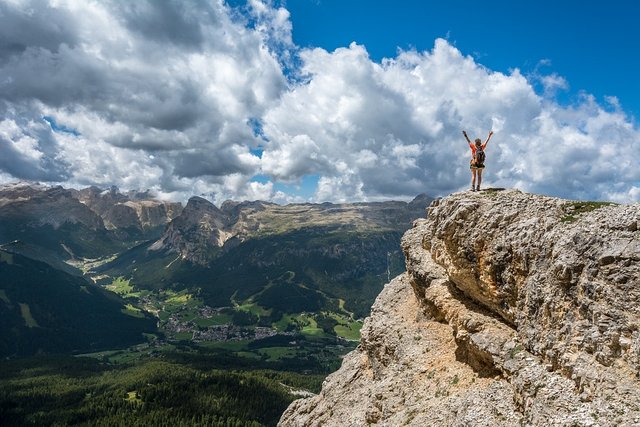 I'm not the kind of person who spends an obnoxious amount of time scrolling through social feeds. The majority of time that I spend on other peoples' content is focused heavily on a select few who I know produce great content on a regular basis.
These same people are practitioners of what they do - they are world-class at the craft they have chosen. Gary Vaynerchuk is someone I've mentioned frequently in my posts because he is the embodiment of the type of person that I look up to and follow.
You won't catch me scrolling through my Instagram feed 15x a day like the average user, but you will find me checking my feed 1-3x a day which is heavily focused on just a handful of users.
This, I think, is the key to using social media effectively and not wasting time. Too many people are subscribed to, following, or otherwise dumping content into their brain via too many channels and too many people.
As Gary would say, going deep is better than going wide when it comes to social media. It's better to learn as much as you can about a few particularly extraordinary people than learning a little bit about 1,000 randoms.
With that said, I checked my IG feed (I'm following about 10 people) and I saw Gary's recent post from yesterday.
This is the essence of what I'm talking about. The reason why following a handful of people can actually be beneficial to your life. This advice that Gary gives is so relevant and so practical to my life that I just had to share it and write about it.
Here's the post: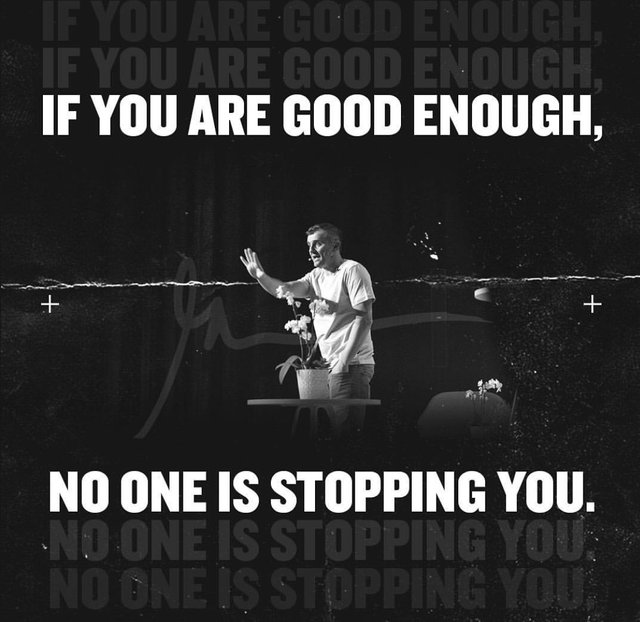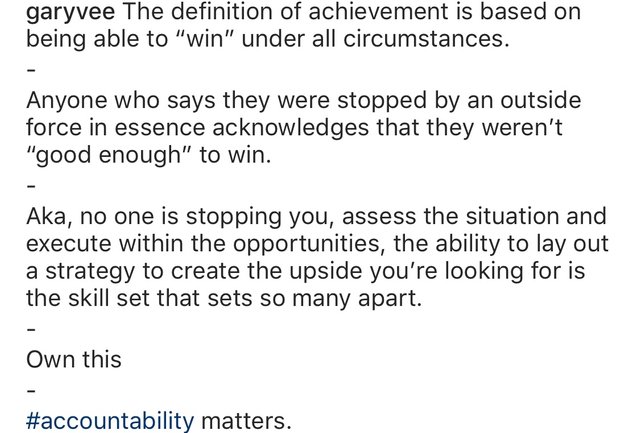 If you are good enough - that is, if you have purposefully spent time and energy honing your craft and becoming good at what you dream of doing - then nothing is stopping you from achieving your dreams.
No matter how bold and no matter how audacious, you can achieve any dream you have as long as you put in the work to be world-class. Talent and the work speak for themselves.
---
The Defeated Mindset
A lot of people carry this defeated mindset. This mindset and inner voice that tells them that circumstances outside of their control are what contribute to whether or not they are successful in life.
This mindset is terrible. It's the worst mindset that anyone who's trying to accomplish anything could have.
It's a mindset that causes you to fail before you even begin.
How do you know if you have a defeated mindset?
If you ever catch yourself complaining about your circumstances and say that X, Y or Z reasons are out of your control and are preventing you from achieving G (your goal), then you have a defeated mindset and you need to reverse your thinking.
Reverse your thinking so that you don't list reasons why you can't achieve G, list your own points of failure - the reasons and the shortcomings that are within your control and that are actually the root causes for not achieving your dreams.
---
"Assess the Situation and Execute Within the Opportunities"
This is my favorite part. It's so true and so practical and so immediately implementable into your life. No matter what circumstances or situation you find yourself in.
There are opportunities any way you slice the onion. The world is so multi-layered and multi-faceted. There are endless ways to achieve G.
Blaming your failures and shortcomings on external circumstance is the equivalent of putting a blindfold on.
When you blame external circumstance, you're blocking your own mind form coming up with solutions and spotting the ultimate opportunities for growth in your life. The opportunities that will ultimately land you your dream life.
It pains me to see so many people blaming circumstance for their own shortcomings.
If only they could see that nothing and no one is stopping them from achieving their dreams. If only they could realize that opening their mind to the world of infinite opportunities will allow them to find solutions rather than problems.
---
Start your search for solutions. Don't wait until tomorrow. Don't wait for an external circumstance. Don't wait for the weather to change.
A warrior does not worry about what is outside of their control.
---
Question(s) of The Day
What have you been blaming for your shortcomings and will you start blaming yourself and holding yourself accountable for your own actions?
Will you make the decision to be responsible and do what it takes to achieve your dream?
Will you decide that nobody is stopping you but you? Let me know in the comments what dreams you are chasing and what opportunities you can see in front of you. Think outside the box and spend some real time thinking about it!