When the earth shakes, you learn things. One of them, perhaps the most important is:
You should not sleep naked.
It's a terrible idea, even if you live in an oven like me. In theory it sounds good, light clothes, not too hot, so without any clothes then you should never be hot, right?
But it's not the best idea, Even though it may seem that everything is good - freshness, comfort, freedom.. But did you ever wonder:
What happens if the floor shakes while you sleep naked?
No, of course not. No one asks that question before undressing and surrendering to Morpheus. Nobody imagines that he has to run naked through the middle of the street. Waking up in the middle of a chaos with doors opening, crystals clattering, with the sound of a thousand ogres doing crossfit in the corridor and the earth moving like a runaway foal.
I say it from experience. There I was, sleeping carefree, helpless, with just a sheet and my shame underneath. Was I dreaming? I can´t remember, what I can say is that I was drooling on the pillow. And then it began... A horde of ogres jumped in the hallway, the furniture rumbled with each jump, the air became dense and I woke up in the middle of that pandemonium.
I jumped out of bed, it took me a moment to assimilate that the floor was trembling. I shouted like an imbecile, it' s quaking! Genius, as if it were necessary to shout for people to realize that the floor moves like jelly.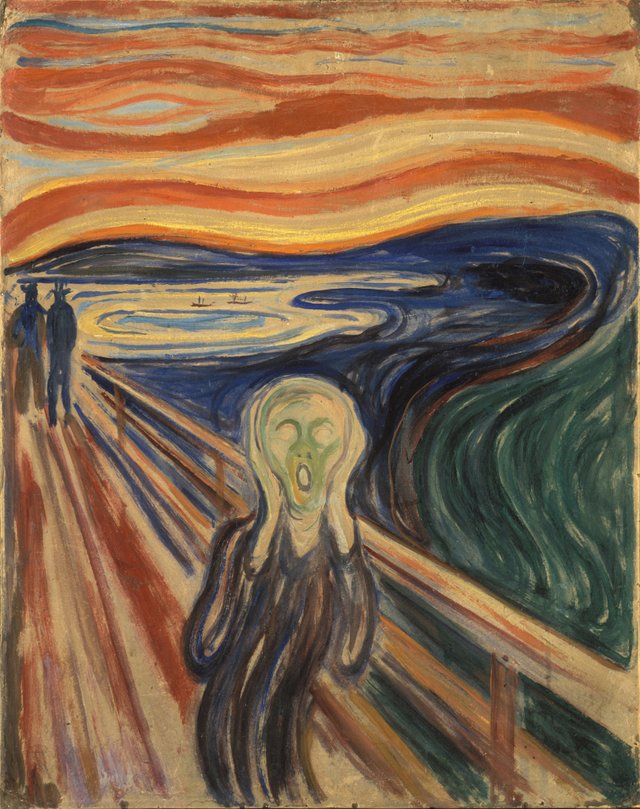 Source- The Scream by Edvar Munch
---
I tried to open the door. It had a latch. Can you imagine if not? After that scream everyone would be awake, in panic, and I would run with my little shames bouncing to the rhythm of my run.
But fortunately the latch was on. It took me an eternity to think. While the ogres continued their orgy in the hallway, I was a naked madman screaming and trying to open a door with a latch.
The floor barely moved anymore, and I had almost ripped my shoulder off trying to get through the door, when I began to start thinking rationally. How can I open a door that opens inwards by pushing outwards? How am I going to open the door without removing the latch? Should I run outside with my tiny penis shrunk even more than normal because of the fear? why am I still screaming like a little girl?
And it stopped. The ogres ended their unbridled intercourse, I heard the groan of an ogre in ecstasy (or maybe I imagined it). I looked around. I saw my underwear on the bed. I looked down. I saw myself naked, trembling with Calerito in his slightest expression, as if I had been swimming for hours in cold water. You know? Fear made me shrink, a lot! 
And I was going to run out, naked, shouting, it' s trembling! What would the ogres in the corridor have said? They would laugh out loud and with good reason, how far would I have gone naked and screaming like a child? What would the satisfied ogre in the corridor think when she realized the size of my shrunken penis?
In the end, after an eternity contained in three seconds the tremor passed, I dressed and came out as if nothing had happened. People looked at me strangely but I think I dissimulated well; hopefully, they will think they imagined my screams. I beg they never know for sure that it was me who shouted like a little girl, but it is not my fault, seriously, I never imagined that my testicles had the terrible habit of disappearing when the tremor begins.
---
Posted from my blog with SteemPress : http://jcalero.vornix.blog/2018/10/28/when-the-tremor-begins/
---