Hi, guys!
Here I continue the post I started yesterday. It was too big to fit in one single publication:) 
 Sometimes I don't write things I need to do, but just use sticker instead. I love doing it cause it immediately makes my planner a brighter pace to live in. As an artist I love visual effects, so using stickers is kind of necessity for me. I have different ones, for sports or for home routines, and sometimes make my diary brighter with them. A page with no stickers at all looks boring to me. At first I tried to draw things I need to do, but it was taking too much time and in general was meaningless. It's not a travel diary after all, so using stickers is more effective for me.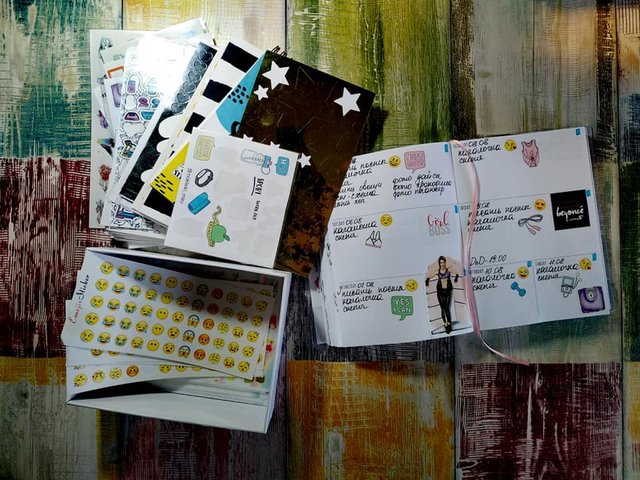 I said that at the moment my plans live in more, than one place, and want to mention some of them as well. At the moment I created a separate planner for my posts, where I fix if I already wrote a post for particular day and if I already made photos for it. Yes, I mostly write my posts in advance. Sometimes I have a lot of writing inspiration, sometimes I don't have it at all, so I'll better use inspired days and will not suffer and make myself write something on days when I have no writing inspiration at all. I'll better use them for drawing, or something different. In general philosophy of not pushing myself takes more and more space in my life and I'm glad to welcome it. So:  
 It's a huge pain for me that platforms like Steemint and Weku yet don't have an option of creating a deferred posts. I write my extra posts in Word, save photos separately, and than each day when posting time comes I gather them together as constructors and put them to the blogging platform. I really hope that one day such option will be added, it would make my life much easier, and I would have more mood for commenting and reading other bloggers posts, cause sometimes after posting I feel super exhausted of internet in general and want to hide somewhere with no connection.  
 But anyway to remind myself how many posts and photos do I have I have this separate monthly planner sheet on my wall. I already mentioned that I don't post on YouTube and Instagram every day, and my YouTube is mostly speed paints of my drawings, so they're not listed here, but I believe that once I'll become so confident and organized that all my blogs will have a mention in this kind of planner.   
 And the last, but not the least – tiny planners I discovered for myself only a few days ago, but I think they will play their role in my efforts to change my life. These are author's planners created by my fellow illustrator Alexandra Dikaya. She's a very cozy artist, and her artworks are always a shelter and inspiration for me, so I bought these cute planes for super saturated days.  
 Despite the fact that I always try to be punctual in my work deadlines and rush happen sometimes. And these are times when I can use a hand of more perfect planner, that has more lines and can help me more in organizing my time. I never abandon taking care of my house and myself (and my animals. Of course!!!) at 100%, so I need to list things I do of this kind. And of course I need to list work stuff. My general planner (at the moment) doesn't have enough space for deadline times, so I have these little helpers just in case.  
So, I think it's everything I wished to tell about my planning system (of course not), but I make such posts time to time anyway, so if I forgot something be sure it will come in the upcoming posts soon .
See you in the next post!
Love, Inber