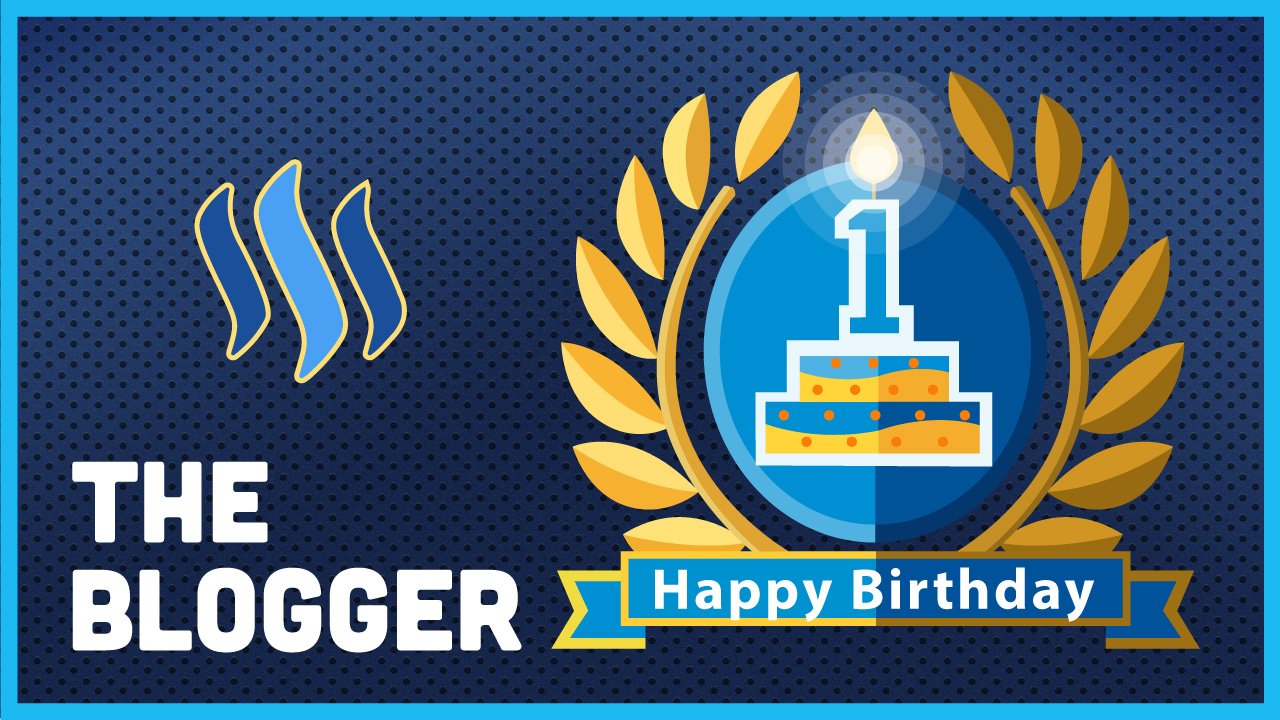 Last 19th of August, SteemitBoard has awarded me a personal award, my 1st year here in Steemit! It's my birthday! I can't believe that it's already been a year since I've joined Steemit and get to be a steemian myself.
What SteemitBoard does is rewarding in some ways for bloggers. I felt really honored to receive this award from somebody. I know it's been a year for me but it's different when somebody knows it too.
They have been supporting bloggers by rewarding badges. These awards will be presented to you in what they call board of honor. From posts, comments, upvotes, replies, upvoted, etc; they have many badges for you to collect. It's like in a game where you need to complete quests.
If you're devoted and passionate about what you do, SteemitBoard keeps you updated of what have you reached so far by blogging in Steemit. You can visit Steemit Board of Honor to see your awards. They do a good job in keeping a good game for Steemit authors.
Blogging in Steemit for a year
I actually can't tell you a story of success over my one year stay here in Steemit because I have been inactive on and on in the platform. I had my disappointments before in my first few months and I couldn't just seem to make it work. Some earn pretty nice rewards but I can't seem to find them worthy of my upvotes. Why is it so?
Then there's me who take time to write and read my write up, double checks and proofreads for grammatical errors but I can't seem to make a decent amount. I don't know why but I felt not appreciated every time I make posts. Then I was thinking, maybe because of my posts, or my topics, or maybe because I don't have much knowledge about what I do.
I've began thinking and thinking until I can't do anything properly. There were lots of ideas going on in my head and I can't come up with a clear thought of what should it be. What should be in my blog? What should I write for? What can I do to have readers? Those were some questions that I was asking myself looking at my blog.
I've heard this to a lot of authors and they always suggest, maintain a quality post. What is a quality post to you? I asked this myself. To me this post might already have quality but to some, it may not. Maybe it's the reason why I don't get much upvotes because my content lacks in quality.
What my inactivity in Steemit only brought me was I missed the chance that I could have already done in my stay here in the community. Right now I might have achieved this and this even just slowly. I should've not let my worry control my productivity. If you have read my previous post about why you should grow an organic following, you can relate more in what I am saying here.
Learning from mistakes is tough to accept but it sure does clarify everything. Although, I've made mistakes before, it is not too late to go in, start anew to try to reach the goal. And the goal is to be a successful author.
Here's to another year to the blogger
Authors who welcomed me before told that perseverance is the key. Now that the situation of steem isn't that great, you can tell, dedication is more needed to let you stay on track and not lose the chance to get noticed to more new steemians.
There are lots of possibilities and you should take chances to start believing you can make it. I am starting to and I hope you are too. When things don't seem to come into place, you might want to reach out to everybody, find inspiration and surround yourself with positive persons. They can help you think positive in the process.
So, as you all know I revised how I deal with my blog. I changed how I present my write ups and began giving more effort into what I write here because you will be reading them and I will owe it to you.
I have A Daily Dose where I write a story which I hope could inspire someone as it inspires me. The Blogger where my thoughts where posted like these post that you're currently reading. Opinion Outpost which I want to become a discussion place for public opinions, I hope it'll work out. And In Mobigraph where I post photos.
You can check them out in my blog. I have started a few and will do more. So If you want to exclusively see more of my content, if only it interest you, you can go ahead and follow me. I'll be seeing you to my future posts then.
Let me introduce myself to you again
Hi! I am @imawreader. In case you know nothing about me, I write about inspiration, story, life, blog, steemit, discussions, and photographs. You can visit my blog to clearly understand what I mean here and see what my contents are.
I've made these series to categorize my write ups since Steemit don't provide such feature now. For future posts, I want to have readers who are engaging and appreciate what I write about. Just like what I said to one of my readers, it is always a pleasure to find someone who appreciates your work.
I can't say that I will not make mistakes again in my blogging years (cheers for the years!) here in Steemit because we are humans and we can't avoid committing mistakes. It's not bad because it only shows that you still have lots to improve.
Growing as an author is what I dream and I hope to get to reach that goal along with my readers. Nothing comes easy as they say, so embracing positivity can be of a great help. See you around!
© imawreader | I am a Writer and a Reader | Image source