Honored to everyone after a long break!
In the last entry I described my story and that of my beloved Zoltan dog. If you missed it, you will find the link below.
https://steemit.com/life/@hellhouse/amstaff-the-begining
For a long time after his dead I was broken. I kept saying to myself that I didn't want to have a dog any more. And I didn't really want to.
I noticed Zee by accident. I was browsing the ads out of pure curiosity and a desire to learn how puppy prices were developing because I hadn't been interested in this subject for a long time.
At one point I noticed an announcement with a puppy, which caused my heart beats harder. Why? I have no idea.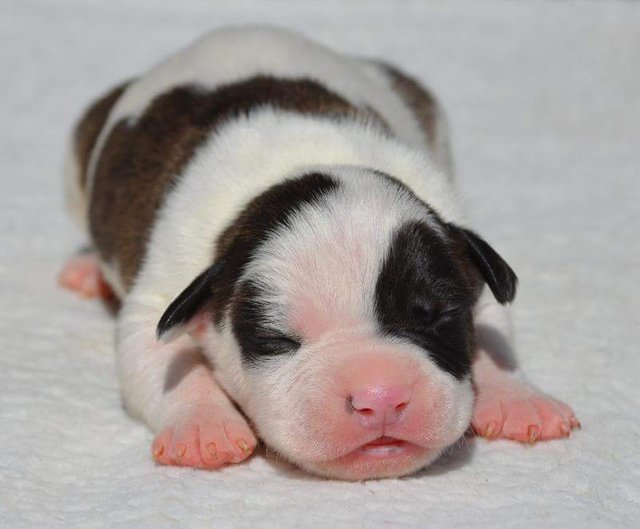 So I had no job then, so the price that would be for me was always too high. But at night I couldn't sleep. I was thinking about him all the time. I got up, took a computer and wrote to the breeder. Rather out of pure curiosity.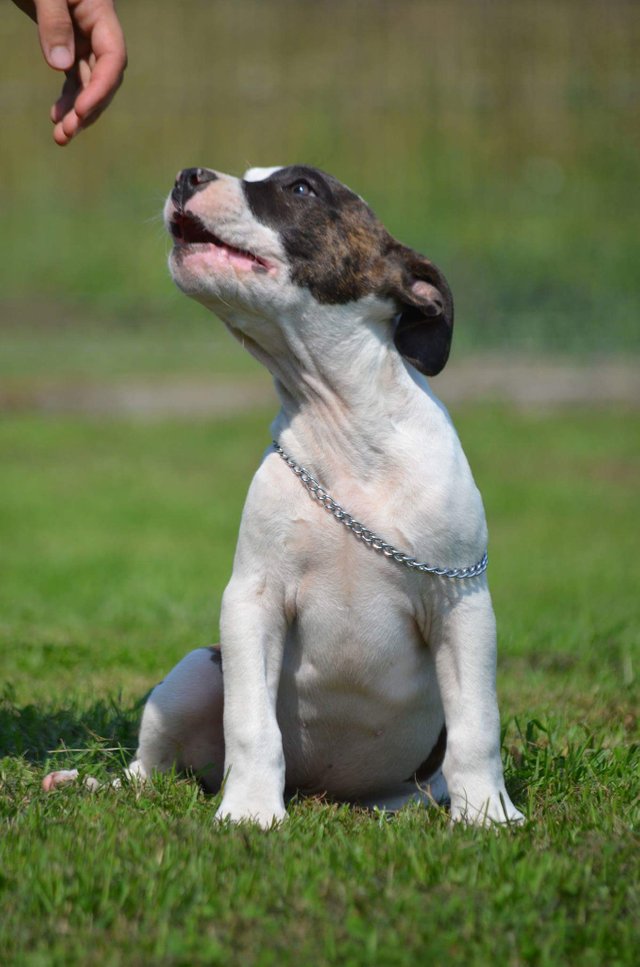 In the morning I received a reply and the exchange of e-mails started. I asked everything: why is the price so low? Of course, he is free of ataxia. Why was he the only one to stay. Can I see the parents' pedigrees etc.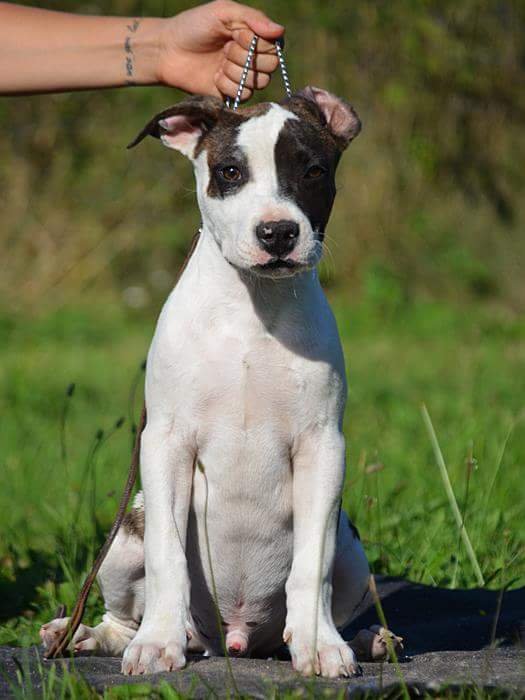 After all, I couldn't stand it. I sent a blind deposit. Luckily, I had to borrow from someone. Yes, I know you shouldn't buy a dog without visiting the breeder before. But it was an impulse. I knew he had to be mine.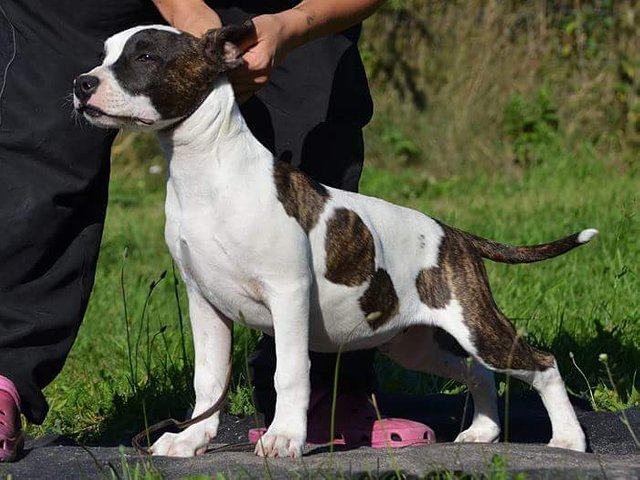 The time has come for an acceptance. I didn't have my own car so I asked a friend to go with me. Driving to the gate I noticed him right away. He ran like a madman on a property. He wasn't too convinced about me but... Everything will be worked out. He was already 6.5 months old and settled in breeding so "moving out" was a big stress for him. The grower welcomed me very warmly. She explained why the dog was put up for sale as a non-exhibition dog. He simply had an uncoloured nose, which is treated as a defect. I was not disturbed by that. I didn't want a dog for exhibitions but a friend and a companion.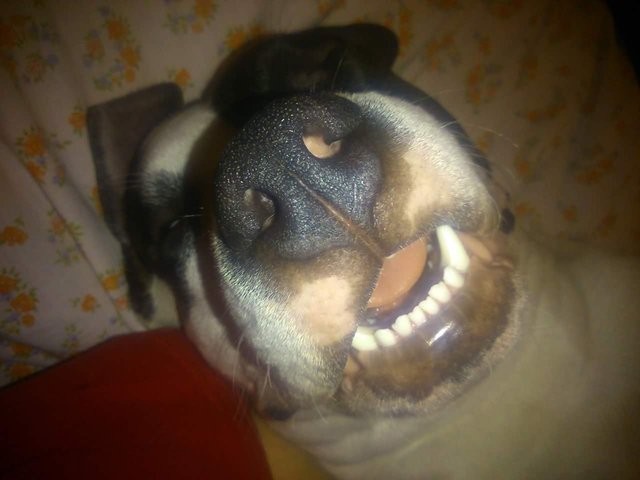 When we arrived home, it turned out that he had never been to the city. He was afraid of cars, people and, above all, tree branches moved by the wind.
So we enrolled in the training.
He turned out to be very intelligent and very quick to learn. In a few weeks we went to an advanced level and then I decided that maybe it was worth trying a training on a defence dog as well…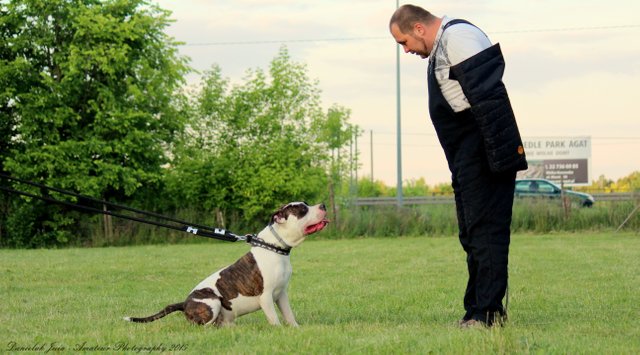 And that was it! He felt like a fish in the water. All the fears disappeared. The more he got a whip of his ass from the trainer, the more satisfied he was. Such a small psychopath ;)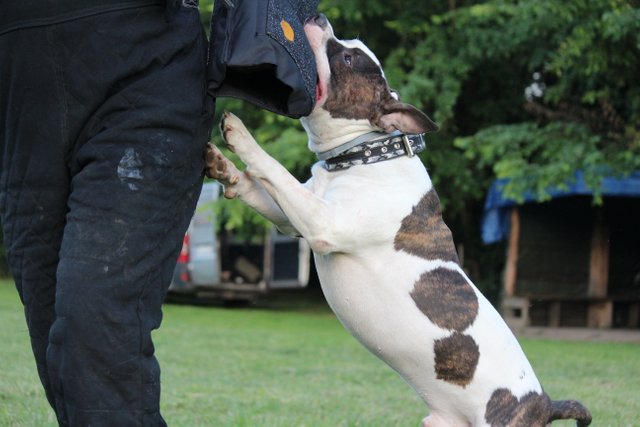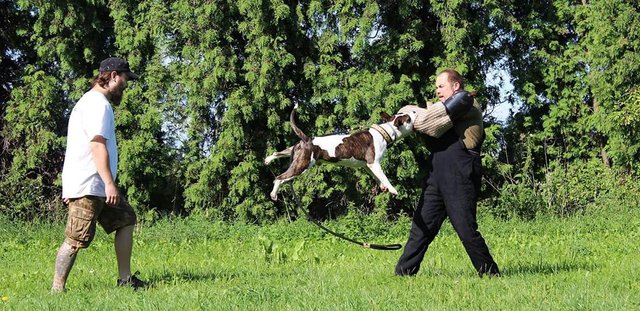 To a certain extent I have described to you his character in the linen, to which the link is located below.
https://steemit.com/blog/@hellhouse/eng-american-staffordshire-terrier-is-he-really-a-murderer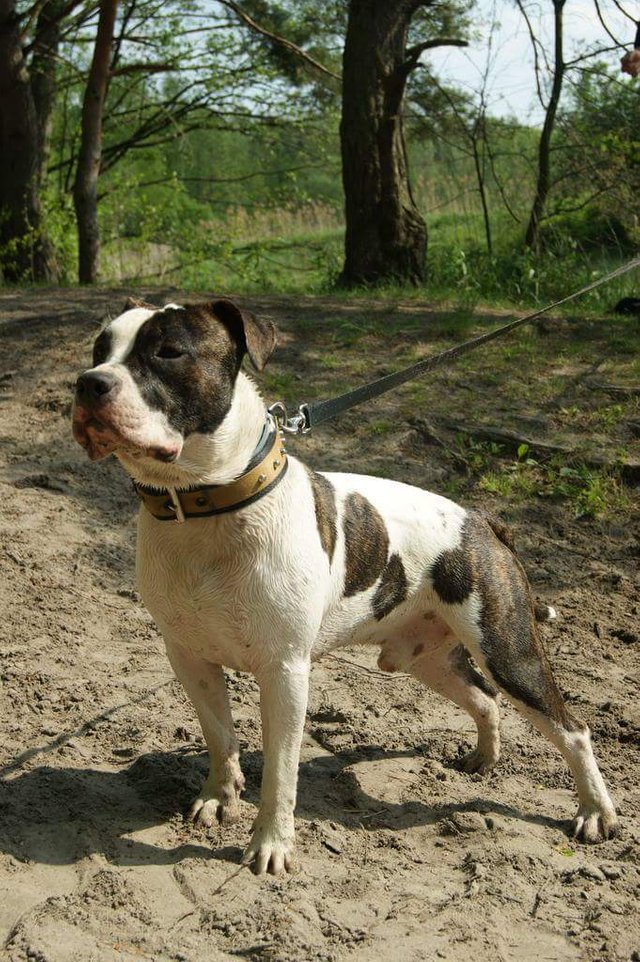 What else can I add? There is no problem with other people. If someone comes to the house (even a stranger) greets him as if he were a household member. However, if necessary, he can use teeth. He has shown this several times. Stays at a distance with adult males. With domestic (even new) people he lives in harmony, he can bite if he doesn't like something. Generally, he is consoling and happy, but does not allow other dogs to approach his bowl. However, we have tried to get rid of it unsuccessfully. He has to eat alone. There's no problem with people - you can put his hand in the bowl and he won't do anything. And to think that as long as he was the only one at home, he had to be persuaded to eat. And now...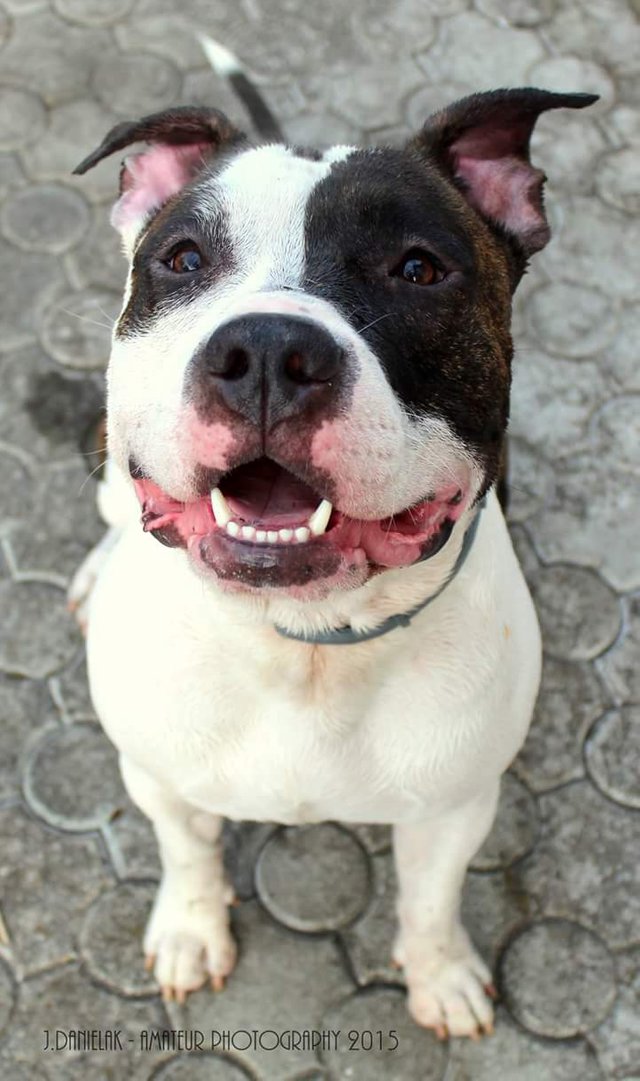 Zee was put up for sale as a non-exhibition dog. Three years ago, however, we curiously took him (at the request of the breeder) to the exhibition. Yes, just to see what's going to happen. It was an international exhibition and imagine our surprise when it turned out that he took second place in his group! We were very proud.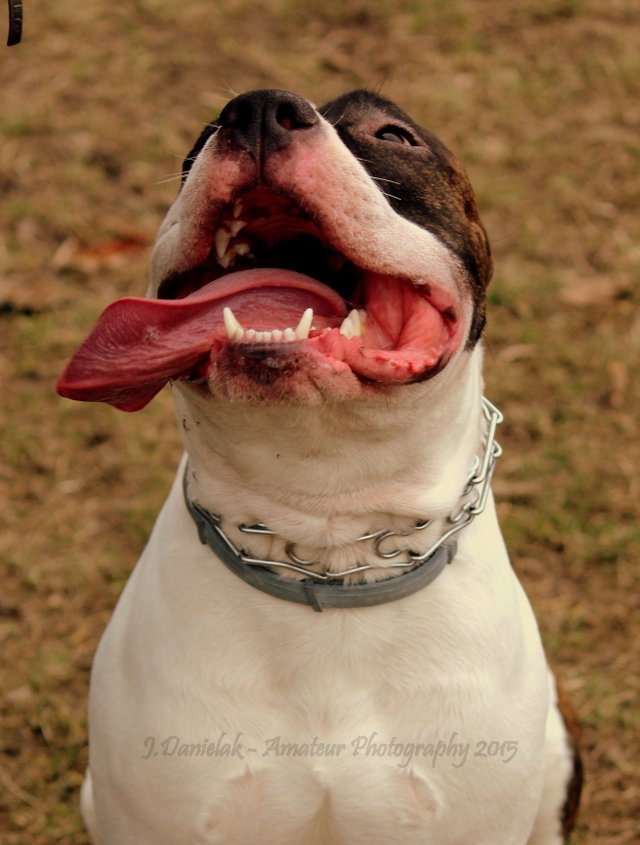 ![IMG_8703.JPG]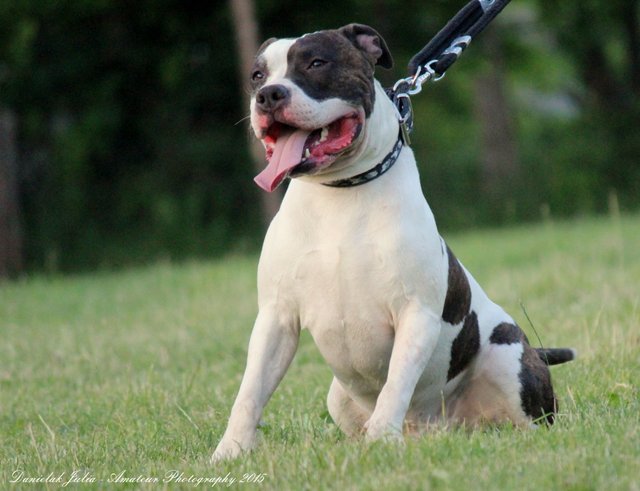 In order not to bother you, I will be going to the end. I must tell you about two drawbacks of Mr Zee. First of all, he loves the rain. So it's a miracle to take him home on a rainy day. He runs like a madman, grazes in the grass and doesn't want to listen to orders at all. Secondly, it doesn't bark ... Yes, sometimes it seems to him when he goes outside at night and he thinks he sees something. But it sounds more like a leak, or even I do not know how to call it. If I manage to record it one day, I will surely show you it. It does not bark at noise under the window, in training or on strangers. I am sorry the most. There is something that forces him to bark. They are scraped together, slowly moving old women with a walking stick. Around these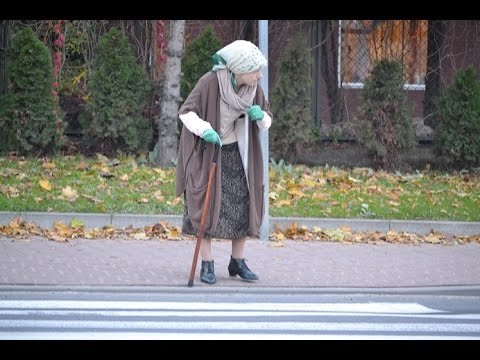 Why? I have no idea. Zee simply has its own world and this has to be accepted. By his "inability" to bark during the training he was called a "silent killer". It was never known when he would attack. He didn't give any signs but simply jumped with his teeth and didn't want to let go. Luckily, always at the moment when he should do it. And since it is as fierce as cholera (in the picture below you can see it hanging on a rodent), going out with it at night to the city gives a feeling of security. I will tell you that he can hang so much, and hang so much, and hang so much...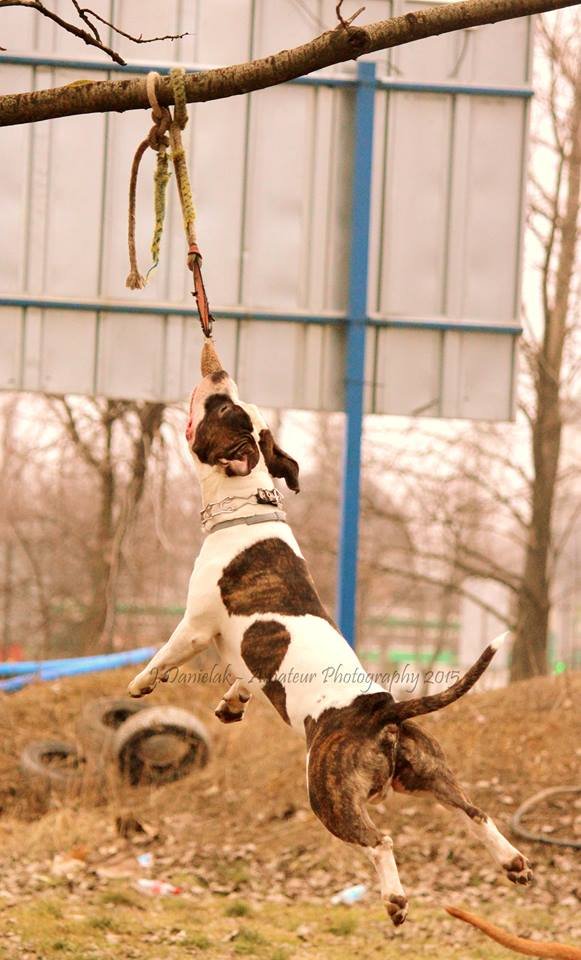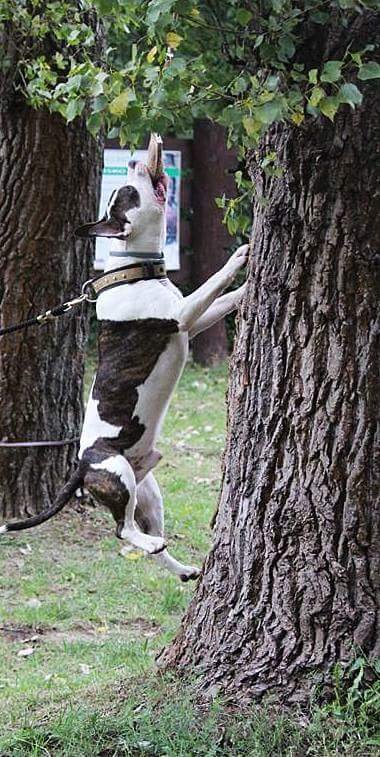 Anyway, Zee will appear here more than once and not twice. If you have any questions, please write in your comments. I will be happy to answer all of you. On upvote I will not convince you but it will be nice if you leave something after you ;)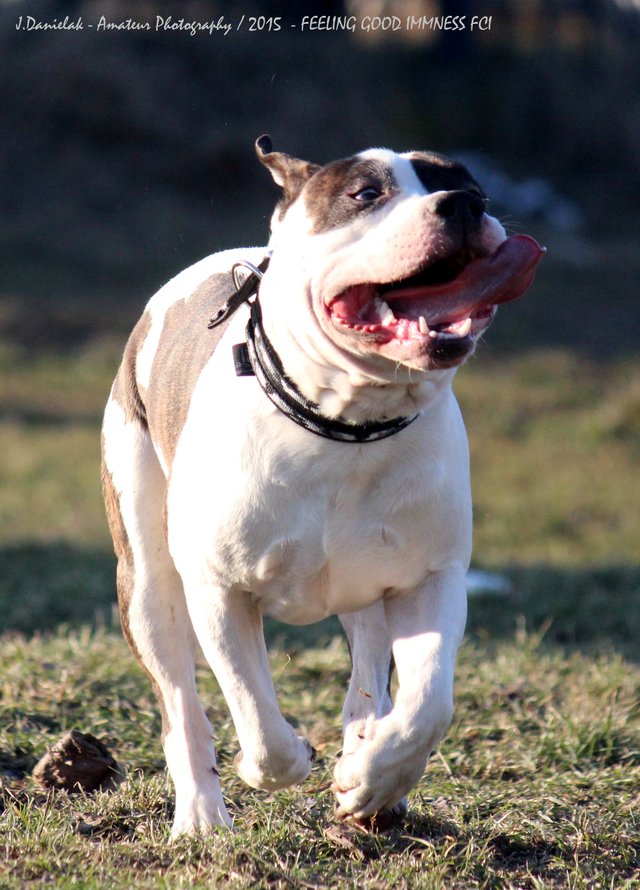 If you would like to have a look at the breeder's website (I strongly recommend) you can find the link below
https://www.facebook.com/immness.kennel
And if not, then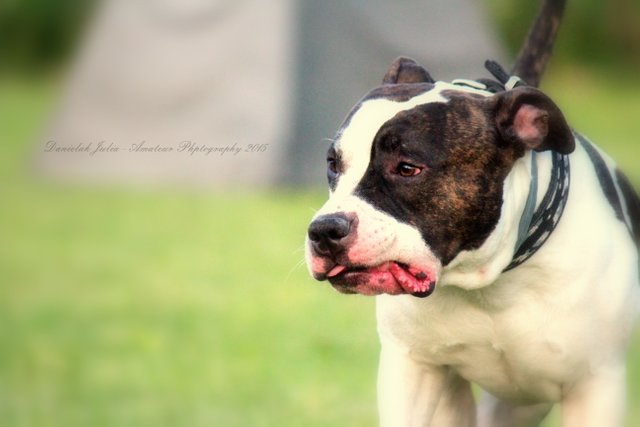 If you are interested in a Zee family tree, you will find it here
http://www.pedigreedatabase.com/american_staffordshire_terrier/dog.html?id=2572892-immness-feeling-good
I greet you warmly and to hear!

P.S. Not only does Zee come from Immness breeding. There is also our Zina about which you can find more in older fasting (of course below) :P
https://steemit.com/life/@hellhouse/eng-miniature-bull-terrier-how-to-bite-it
Colin