Your product is dead to the world, until you put your enthusiasm and passion into what you are doing, making, blogging and selling.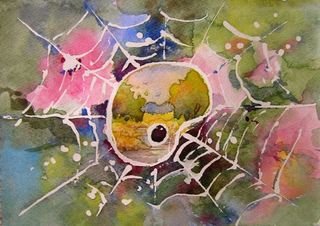 When you whisper, no one hears you!
You may be excited about your paintings, for example. But if no one sees your work, it doesn't sell. 
Your friends may ask about your art work. And you display your art on FaceBook and a few more friends will know about your art. But perhaps only a few of them have the money to buy your art. 
Even with Twitter, a few people, from billions worldwide, may see your art and follow you. But are they buying your art?  No! You and your art are too far away and too much trouble to make a deal and wait for the delivery. 
Say, you're creating art:
Copying a photo detail for detail, doesn't cut a deal. It will look like a normal everyday humdrum scene. People don't go for bland cold (green and blue) coloured pictures either. 
You must transform the scene into something that grips and WOWs the people. 
Leave out unnecessary detail and put emphasis on the main point of interest. 
Like writing blog, lines and contours in your paintings must flow easily through the composition, to create action and movement. 
Vibrant colours, contrasting tones and colour temperatures make a more appealing painting. 
Peoples' emotions and imaginations are turned on, when you contrast blurred analogous atmospheric areas with selected distinct shapes and objects in the composition. 
Select and string along fresh clean highlights. So people can pick up and follow the trail and points of interest through the painting. 
Original unique style brands your paintings and put your work out there with more oomph. 
Displaying your art with passion:
Still a painting is a painting, until you put passion where your talent is. 
A painting without accompanying words doesn't reach the heart of the people. Descriptive words give the painting more meaning. The emotion of your passionate wording stirs people's imagination. 
Blogging with passion:
Now if we use the same above facts on painting, we can see how much we can put passion into our blogs and improve our websites.
Headlines and images must have magnetic and dynamic impact on the senses of people. 
The way you write sentences, your jargon must be upbeat and fun to read. 
Your facts clearly direct and to follow through from one fact to another. 
And your sentences, must to flow easily and smoothly, with simple words that anyone can read.
There must be some sort of action in what you write. Besides videos, I'm talking about using doing words, descriptive verbs. 
Colourful stories: How you describe the scenes and adventures. 
And your sub-headings like sparkling highlights in the whole thread of words. 
If the stuff you write about is original and interestingly fascinating, your blogs are sure to trend, one way or another.
The sentimental (blurry) stuff suggests passion and mystery and that stirs people's imagination.  
And when people feel your passion, 
  You stir their senses and emotions.  And people buy-in with their senses and emotions.