In our final installment of guides for how to use our service we'll be showing you some tips for tracking your transactions, navigating a block explorer, and hopefully answering some common questions that our customers have.
Register your email address with BlockTrades
If you haven't done so yet, you should check out our guide! In short: this allows you to view a ledger of your trades and provides you with links to block explorers to track confirmations. Click the magnifying glass to the left of your transaction if you want to see more details about your trade, including the input and output transaction hashes and the specific address that your exchange was transferred to.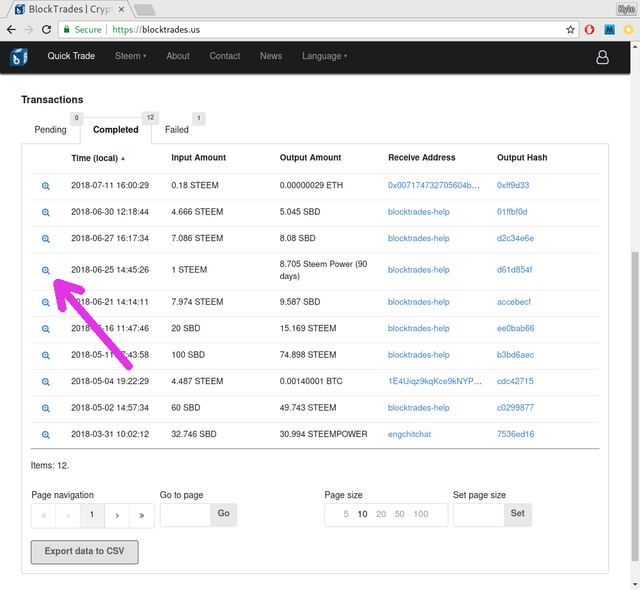 What is a "Block Explorer?"
Glad you asked!
A "block explorer" is a tool, generally produced by a member of the community, that allows you to search through the blockchain for specific transaction records or accounts. They can be used to locate individual "transaction hashes" or view if a transaction has been confirmed by the blockchain.
Here are some of our favorites that we use when helping customers with support issues, including how to form URLs if you are looking up information on a specific account or transaction:
Note: the part in ALL_CAPS should be replaced with the corresponding information, so if you wanted to look at our BTS wallet, for instance, you could find it at http://cryptofresh.com/u/blocktrades, and our Steem wallet can be found at http://steemd.com/@blocktrades
BitShares (BTS)
Bitcoin (BTC)
Bitcoin Cash (BCH)
Dash
Dogecoin (DOGE)
Ethereum (ETH)
Litecoin (LTC)
Monero (XMR)
Steem (Steem and SBD)
And while it's not technically a "block explorer," SteemIt is a great resource for checking whether a transaction has made it to a wallet:
This is a good place to start if you're having trouble. Generally you can look up either your or our wallet address or account name on the explorer to locate your individual transaction, or if you have registered your email address with us you can simply click the link to the specific transaction.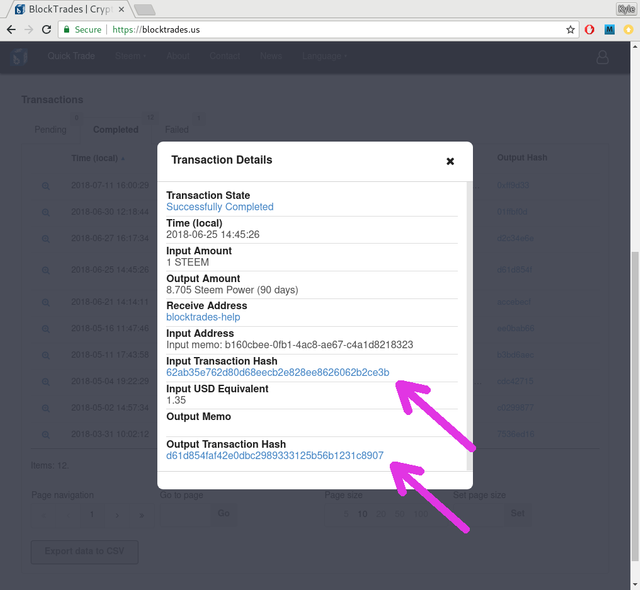 Transactions can sometimes take a long time to "confirm" when their respective blockchain is busy, particularly with BTC or ETH, and you'll be able to view this as well on the block explorers. Until the transaction shows "confirmed" the cryptocurrency has not actually left your wallet, which means that we haven't received it to be able to complete your trade. This also means that if the transaction times out or fails before confirming that the cryptocurrency will remain in your wallet, and it should reappear after a little time.
What is a "Transaction Hash?"
The "transaction hash" is like an individual receipt for your transaction. Any time you create a transaction on a blockchain it will generate a unique hash that helps you, and us, look up this receipt later on. This is probably the most effective way to ask for assistance on an individual transaction, so make sure you keep a record of these or know how to find them if anything goes wrong!
So what if something goes wrong?
Registering your email address will also provide you with a list of your failed exchanges, which makes it easy to tell if your trade was unable to be completed.
Here's one I messed up earlier today while creating a new Steem account: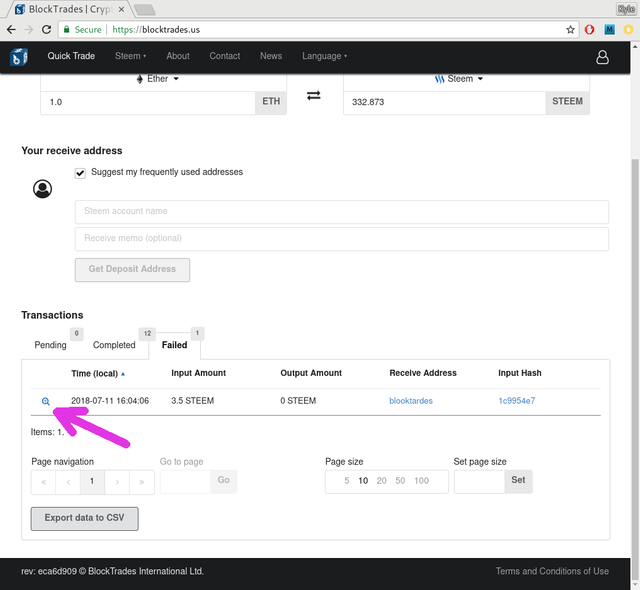 Let's click the magnifying glass on the left to get some more details about this.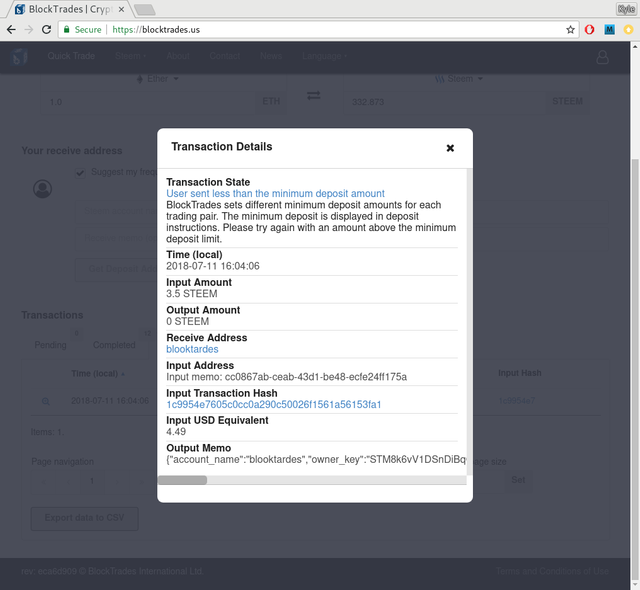 Silly me! Against the warnings I seem to have sent too little Steem to purchase a new account (our account creation costs 4 Steem minimum).
There are other types of errors, or sometimes we forget to feed the hamsters that power our servers, but generally you'll be able to find out what's happened by looking for your trade here. Or otherwise we're always available to answer questions at [email protected] Just remember if your account isn't associated with your email address to include the transaction hash or address that you're asking about so that we can find it in our system.
Steem Delegations
There's one more piece of information that you can look up with a registered email address, and that's your active Steem delegations. To view them, first click the account symbol in the top-right of our page and select "Profile"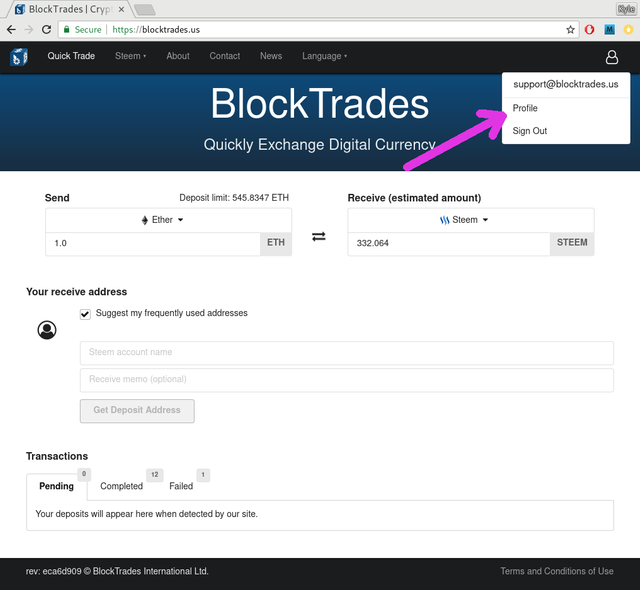 Here you view how much Steem Power we currently have delegated to you, the time that it was purchased, and the current expiration date. You can also find your renewal link here by clicking "extend"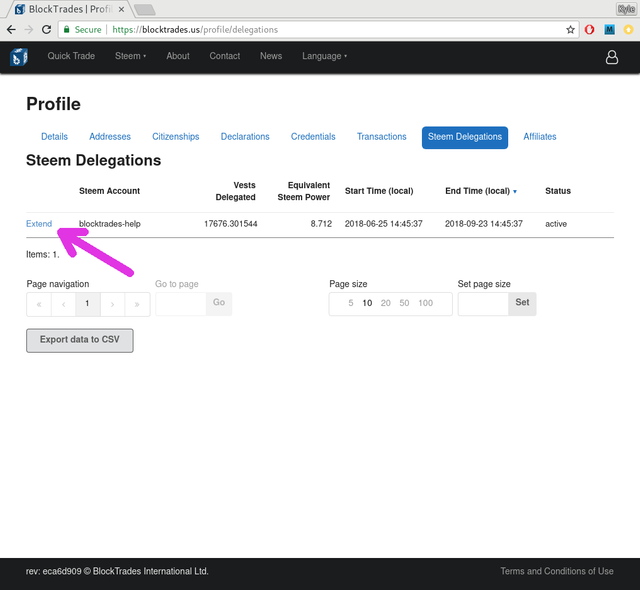 We hope you've enjoyed this series, and maybe even learned something new. If you have any lingering questions let us know in the comments, and we'll be sure to address them!
Best regards.
The blur effects and doodles on these screenshots were created with GIMP, the GNU Image Manipulation Program, a free software under the GNU GPLv3+ license, available freely for private or commercial use.