Registering your email with BlockTrades and how it benefits you
While not required to use our service, registering your email address with us provides you with a number of distinct advantages when managing your trades.
Know the status of your transactions instantaneously
Have you ever sent money to a business and worried about whether it arrived on time or what stage of processing it was in?
Our service will always allow you to track your transaction, but your session will expire after a couple hours or after you leave the website. With a registered email address, however, you can check back on it later, or even the next day, and if for some reason your cryptocurrency does not appear in your wallet you can instantly tell if the transaction reached us, if the exchange failed within our system, or if it was transferred out of our system successfully (usually meaning that your wallet is out of sync, or if it's hosted by an exchange then it could have encountered delays in your exchange's internal transactions)
Keep a record of your transactions with us
If you are making a large number of exchanges it can be difficult to keep track of them all, especially when trying to link specific inputs to outputs. Just the other month Dan himself discovered a number of cryptocurrency purchases that we had made through other services and never been credited for! We want to make it easy to keep track of your transactions so that this doesn't happen to you.
Having one centralized record of your exchanges can also be extremely handy when it comes time to file taxes, and through our website you can even download a generic CSV file (comma-separated values) to be imported into the tax software of your choice.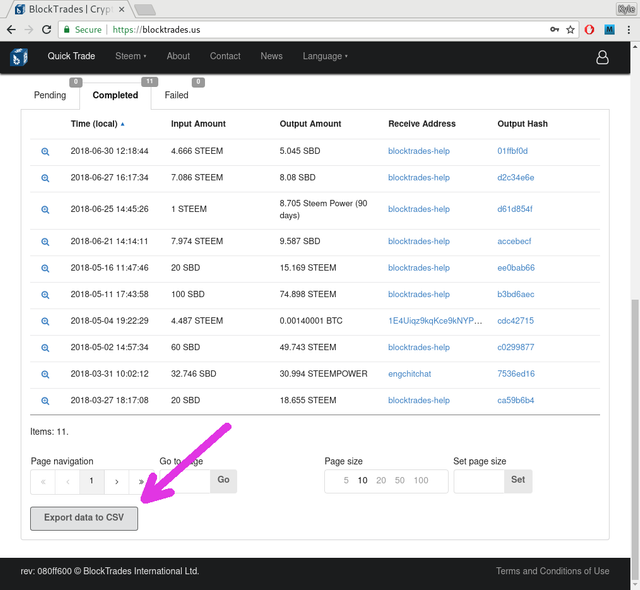 Additionally, having a registered email address helps you keep track of purchased Steem Power delegations. While our system does automatically send encrypted messages to your Steem account with information when you purchase a delegation, as well as when it's about to expire, keeping track of these links and durations can be inconvenient. With registration, however, you will have the ability to look up all of your delegations in one place and also receive notifications via email.
What if something goes wrong?
It doesn't happen often, but when it does it's always good to be prepared. The nature of open, distributed ledgers allows us to track down transactions regardless, but having a registered email helps us locate them more efficiently. For you, this means a direct answer to your query without the hassle of looking up and providing transaction details such as your transaction hash or deposit address.
Ok, I'm sold - now how do I register?
From our main page, click "Sign Up" in the top-right corner, or go there directly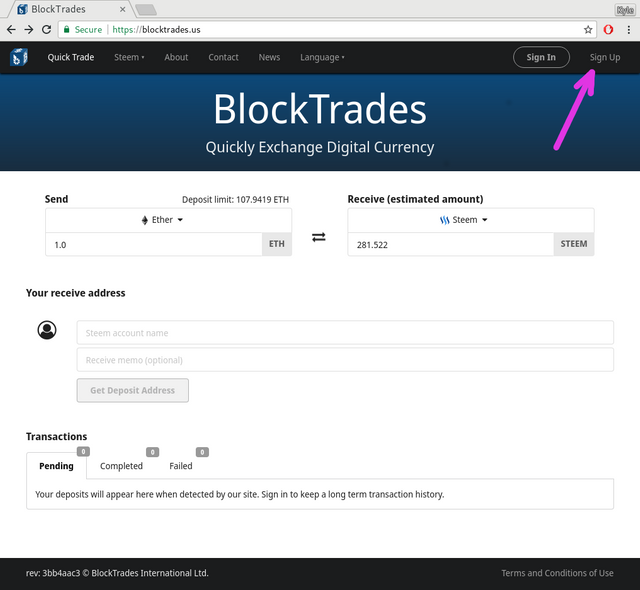 Enter your email address and a password, then click "Submit."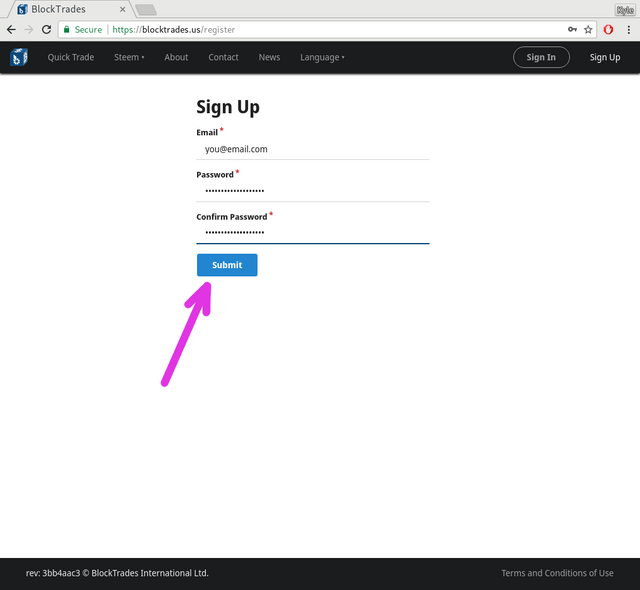 You should receive a confirmation email within moments. If for some reason you do not, you may want to check your spam folder or add "blocktrades.us" to your allowed contacts. If you still cannot find it please email [email protected] from the address you tried to register, and we will manually activate your account for you.
I've registered, but what about the transactions I made before?
If we can locate your transactions by the transaction hash, account name, or wallet address then we can merge them into your transaction history. Generally we will also require you to prove ownership of the account(s). Email us at [email protected] if you are interested in this service, and we will be happy to guide you through it.
Here's another neat trick, and one that I personally take advantage of: if for some reason you forget to log in before you generate a deposit address or create a trade, you can log in shortly afterwards and our system will automatically merge your new transaction into your account. This works with registration as well!
Next week will be our final installment (for now) which will cover some basic investigative and troubleshooting steps that you can take if you run into difficulties with a transaction, as well as some general tips for how to use block explorers to get the information that we need to locate failed transactions.
Let us know in the comments if there's anything in particular you'd like to see a guide written for, or if you have questions that you'd like to see answered in a FAQ!
Best regards.
The blur effects and doodles on these screenshots were created with GIMP, the GNU Image Manipulation Program, a free software under the GNU GPLv3+ license, available freely for private or commercial use.