How to use BlockTrades to exchange cryptocurrencies
Welcome back, readers!
Last week we went over how to use our service to purchase a Steem account. This week it's all about trading Steem and SBD.
Starting with a good amount of Steem (and Steem Power) is very important to earning cryptocurrency with your new Steem account. Not only does Steem Power control how much new content you can post, but it also affects the value of your upvotes and the curation rewards those upvotes earn. It can often be a challenge for new minnows to earn enough to get over that first hump where their posts will get noticed, but with BlockTrades you can accelerate the process by purchasing additional Steem or Steem Power.
Purchasing Steem
When you first visit https://blocktrades.us there's a lot going on, but don't worry because I'm here to break it down for you!
First things first: we know we want to purchase Steem for our new account, but what will we buy it with? This is the information you will enter for the "Send" box.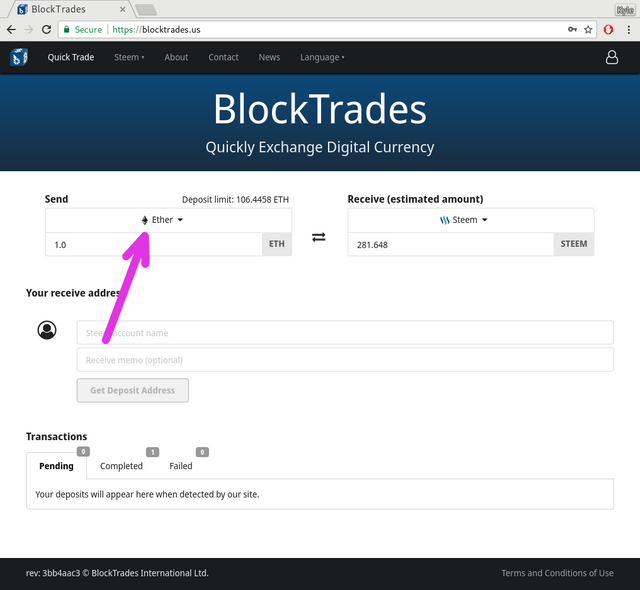 Our service selects Ether (ETH) as the default coin type. Click on it and you will see a list of all of our supported coins.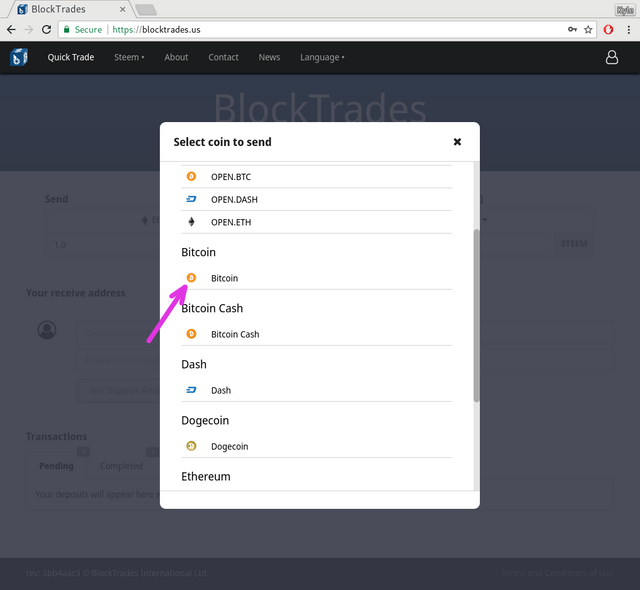 In today's example we will be using Bitcoin (BTC - be careful not to get it confused with Bitcoin Cash, BCH!) but these instructions can very easily be followed for any other trading pair.
The box to the right is where you'll choose the type of coin you wish to "Receive" from your exchange. We're buying Steem today, but if you click on it you'll find you can also purchase SBD, Steem Power, a 90-day Steem Power delegation (similar to a lease), or other cryptocurrencies as well.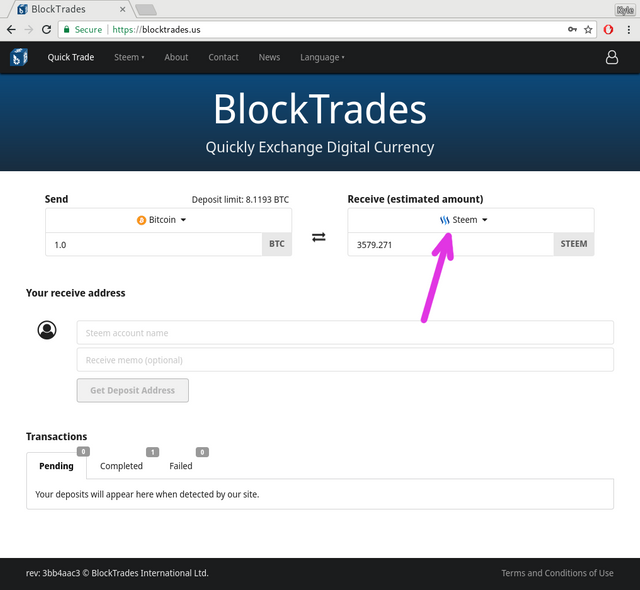 But wait, why is my "Receive" amount an estimate? And what is this "Deposit limit?"
Our exchange is continuously monitoring active trades across every blockchain, as well as other exchanges, and aggregating this data every 30 seconds. As a result we can give you up-to-the-minute prices on all supported cryptocurrencies, but these numbers are in a constant state of flux. Generally speaking nothing is going to happen that will suddenly devalue your transaction, but we want our customers to not be surprised by small discrepancies in the output amount.
"Deposit limit" reflects the amount of cryptocurrency we have on hand that is available for immediate purchase. We maintain a sufficient amount in each of our "hot" wallets to cover most transactions, and we monitor these balances closely, but situations can arise where we run out of a particular type of coin. The "Deposit limit" lets you know exactly where we stand, and it gives you a reasonable expectation of service: as long as you do not exceed this amount your transaction should process instantaneously.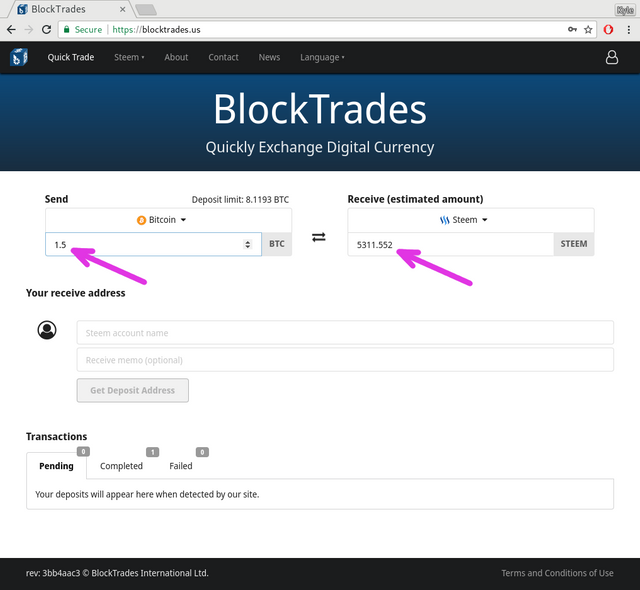 Go ahead and play with the numbers a little - you can type an amount into either field, and the alternate one will update to match the trade.
Once you've figured out how much to send you'll need to enter "Your receive address" - in this case it will be your Steem account name since we are receiving Steem, but if you are looking to purchase another type of coin it will be a receiving wallet address or relevant account name.
A special note for customers who are transferring to a wallet hosted on an exchange:
Some exchanges use a common receiving wallet to take in cryptocurrency then transfer it to the wallets of their individual customers. In cases like this they will give you a "memo" to include with your transaction, and you will need to enter that where it says "Receive memo" so that our system lets theirs know where to send your cryptocurrency.
Alternately, on supported blockchains, you can use this field to attach any memo you like to your output transaction.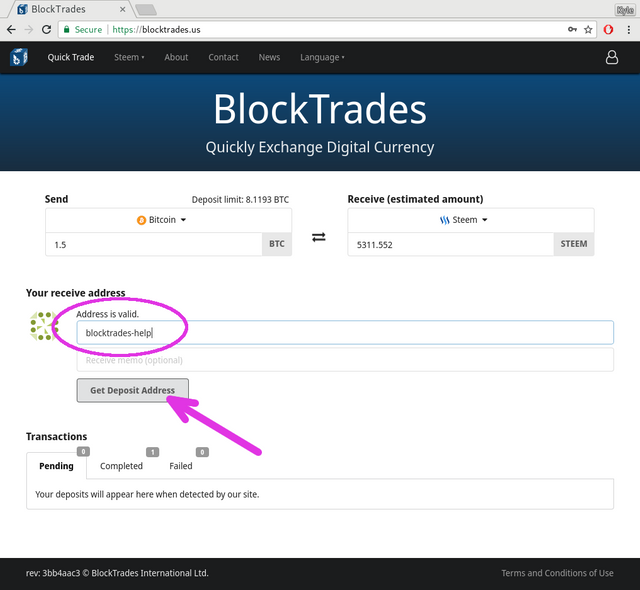 Make sure everything is correct and click "Get Deposit Address." This will lock in the coin mapping and the receive address, so if you've made a mistake and need to correct something please make sure to refresh the page and start over.
The page will then generate either a unique address to send your cryptocurrency to (BTC, BCH, Dash, Doge, ETH, LTC, XMR) or give you a common address with a unique memo (BTS, Steem) along with instructions to follow to initiate your exchange.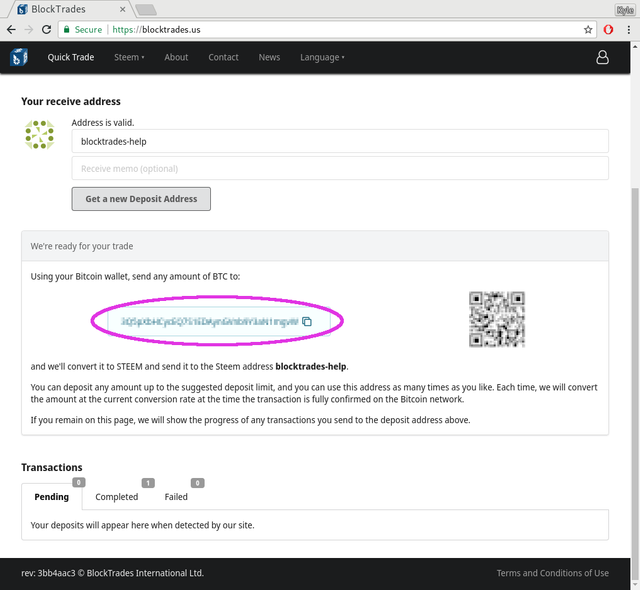 Did you know?
You can reuse this address as many times as you like: it's been saved in our system, and at this moment we have no intention of ever retiring old addresses. A good practice is to test the mapping with a small amount of cryptocurrency to ensure that it works the way you want and then to save this address and continue to reuse it when you want to make this type of exchange again. By not generating a new address each time you will not only reduce the chances for making typos, but it will also minimize the number of things you need to keep track of.
That's all there is to it! As soon as your transaction is confirmed on its blockchain our system will automatically send you the coin you selected earlier.
Trading Steem/SBD
If you're looking to trade Steem or SBD the process is almost identical, but we have included support for SteemConnect to make the transfer even easier.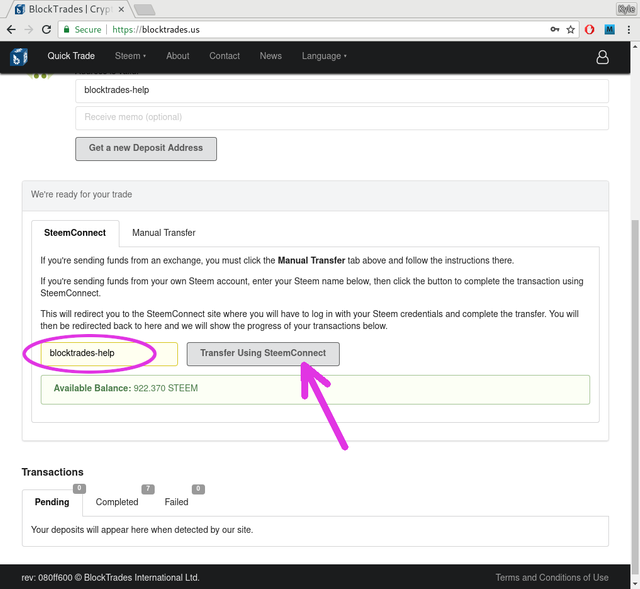 SteemConnect is a secure way to transfer your Steem to our system without having to sign in to a second website or expose your keys. Simply make sure you have the amount set correctly for the "Send" coin above, enter your Steem account name, and click "Transfer Using SteemConnect"
This will guide you to a secure page where you will be asked to confirm your transaction to blocktrades and then enter your Steem account password.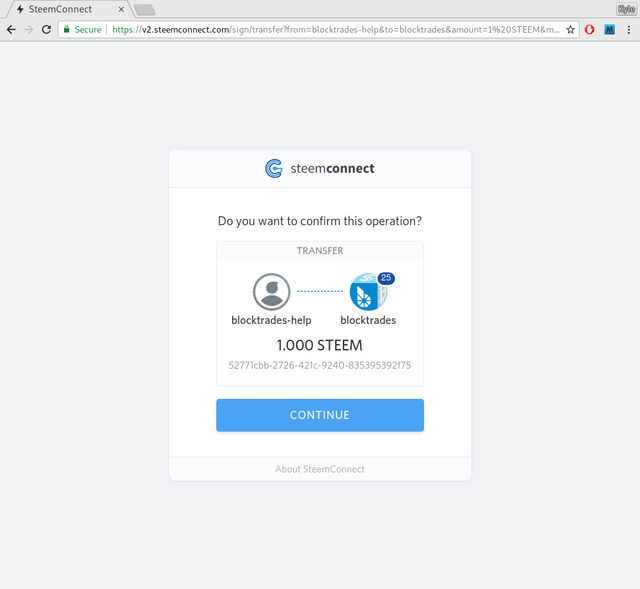 You can also create a transfer the "old" way by selecting the "Manual Transfer" tab and following the instructions from there, but I personally find SteemConnect to be a lot faster and more convenient.
That's all we have for this week! I hope this guide helps new Steemians use our service, and if you have any lingering questions please let us know in the comments or contact us at [email protected]
Stay tuned: next Friday we'll be going over how to register your email address with our service and some cool benefits this will net you.
Best regards.
The blur effects and doodles on these screenshots were created with GIMP, the GNU Image Manipulation Program, a free software under the GNU GPLv3+ license, available freely for private or commercial use.