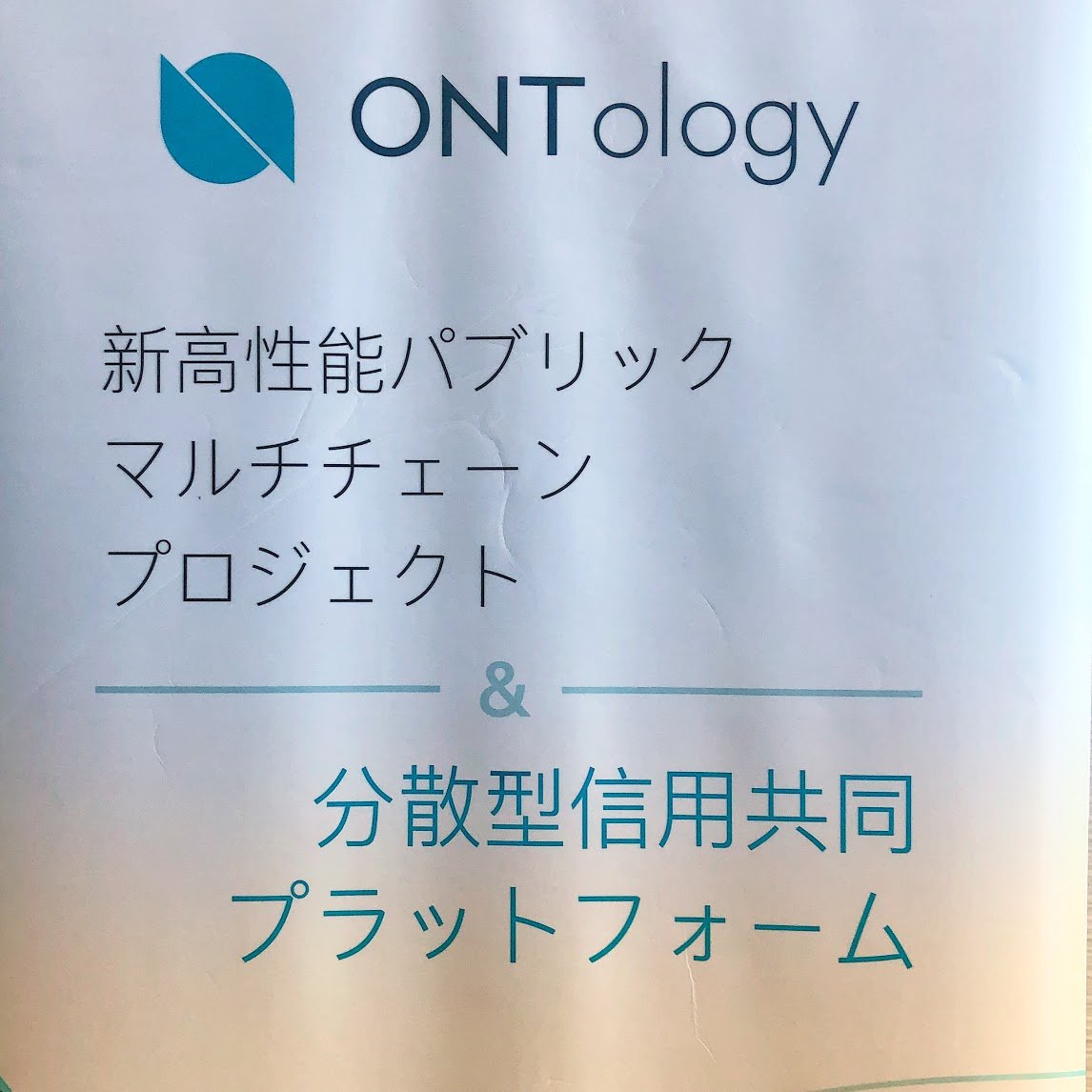 Hello!
Last Saturday, I participated in the ONTology event! !
ONTology is a new high-performance public multi-chain project from China!
At the event, there was also a story about the latest blockchain situation in China! !
I summarized the report below!
1.ONTology Mr. Jun Li Speech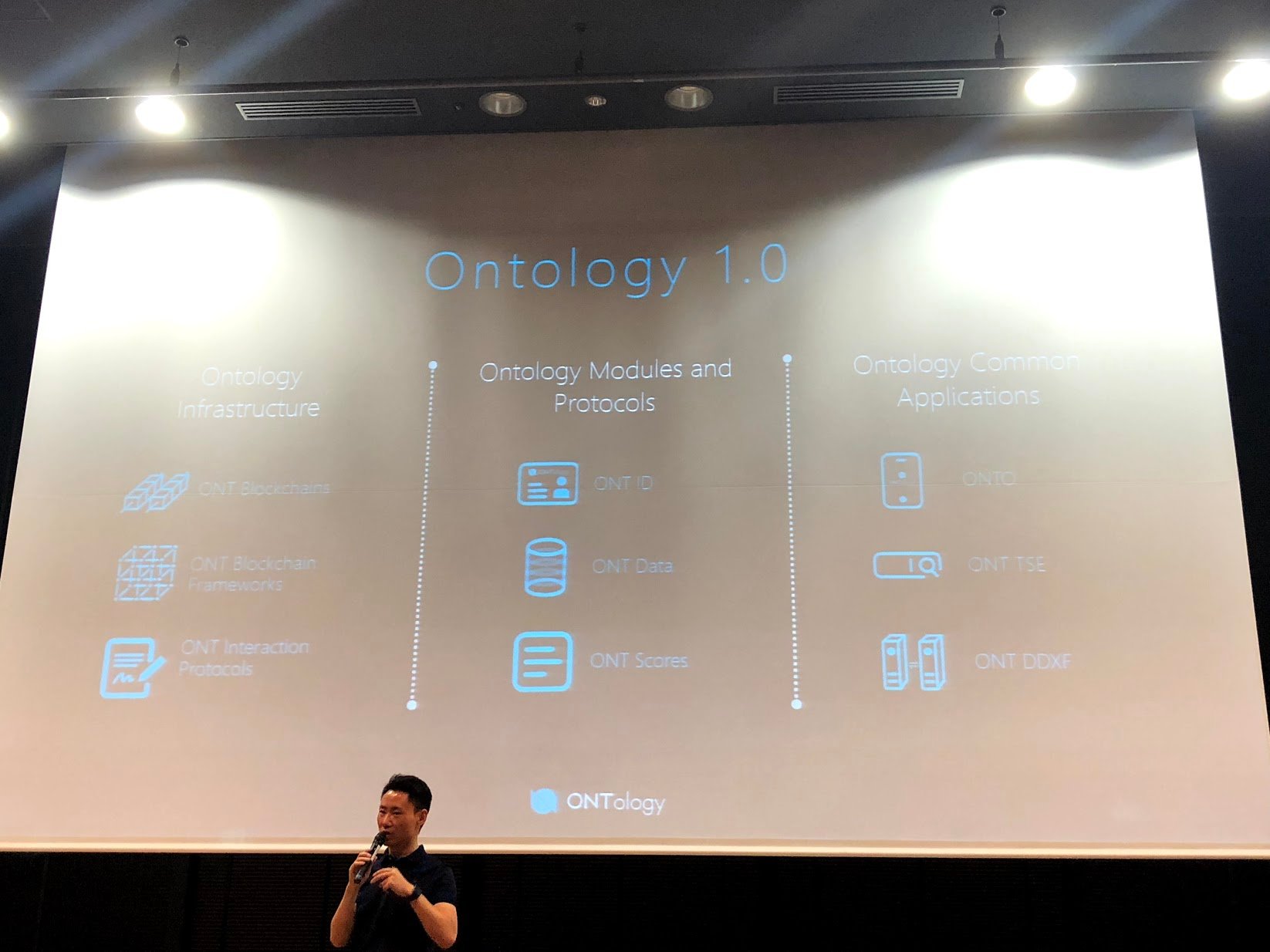 · Blockchain can be a new infrastructure
· It is important to be able to actually use the application
· There is no current status supported in everyday life
· Do blockchains become infrastructure like the Internet?
· New collaboration required
· What are the merits in reality?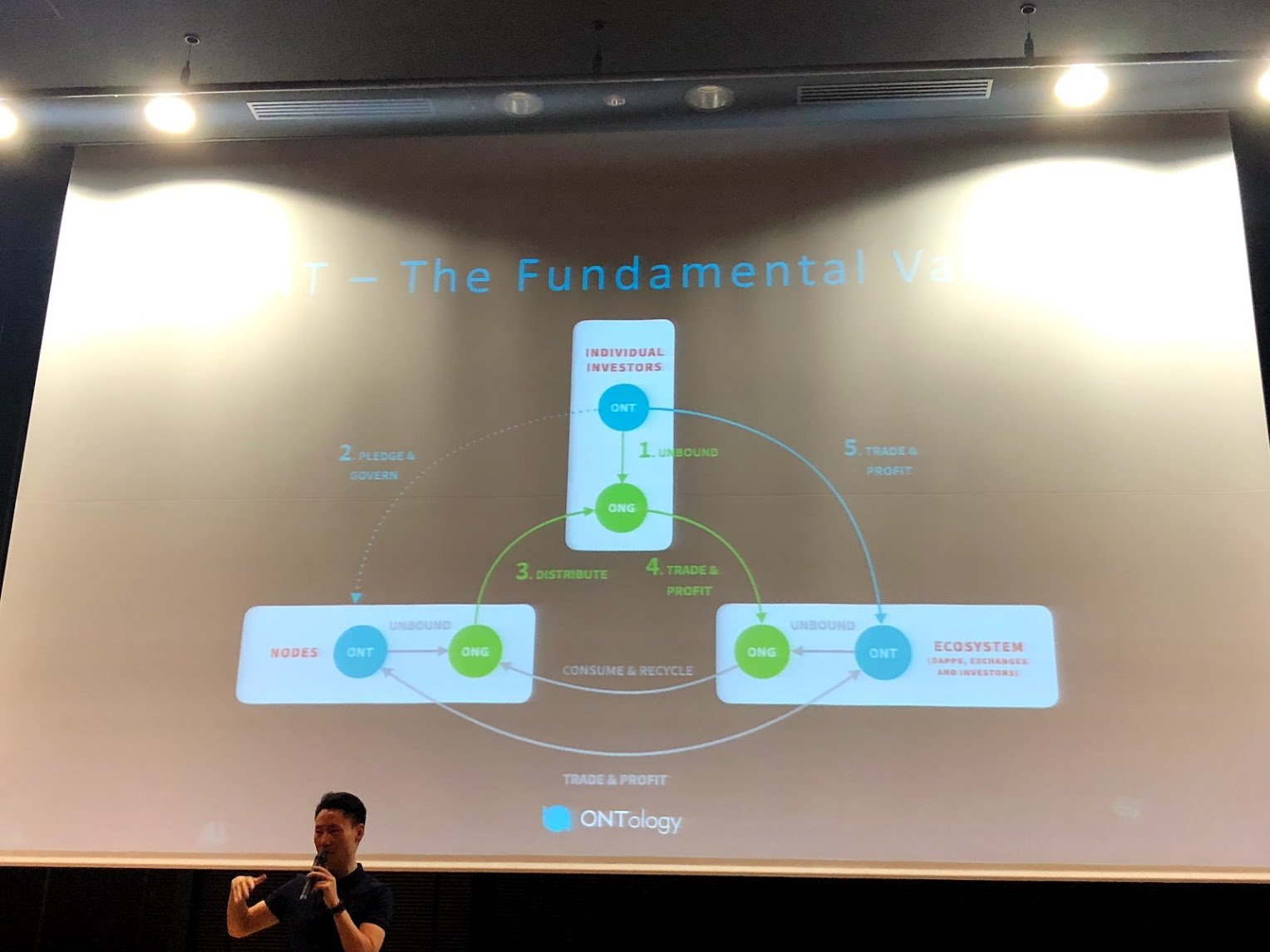 · Bridge between reality and digital is necessary
· If you decentralize, performance will degrade
· Chain network is necessary for platform collaboration
· For collaboration, the protocol is not one
· Using other nodes, you can take advantage of the consensus process
· The ONT token has a fixed currency amount
· Currently more than 20 projects in progress
2.Speech by the Cryptographic Currency Project Team in China, Relay Speech by Partner Company
① DAD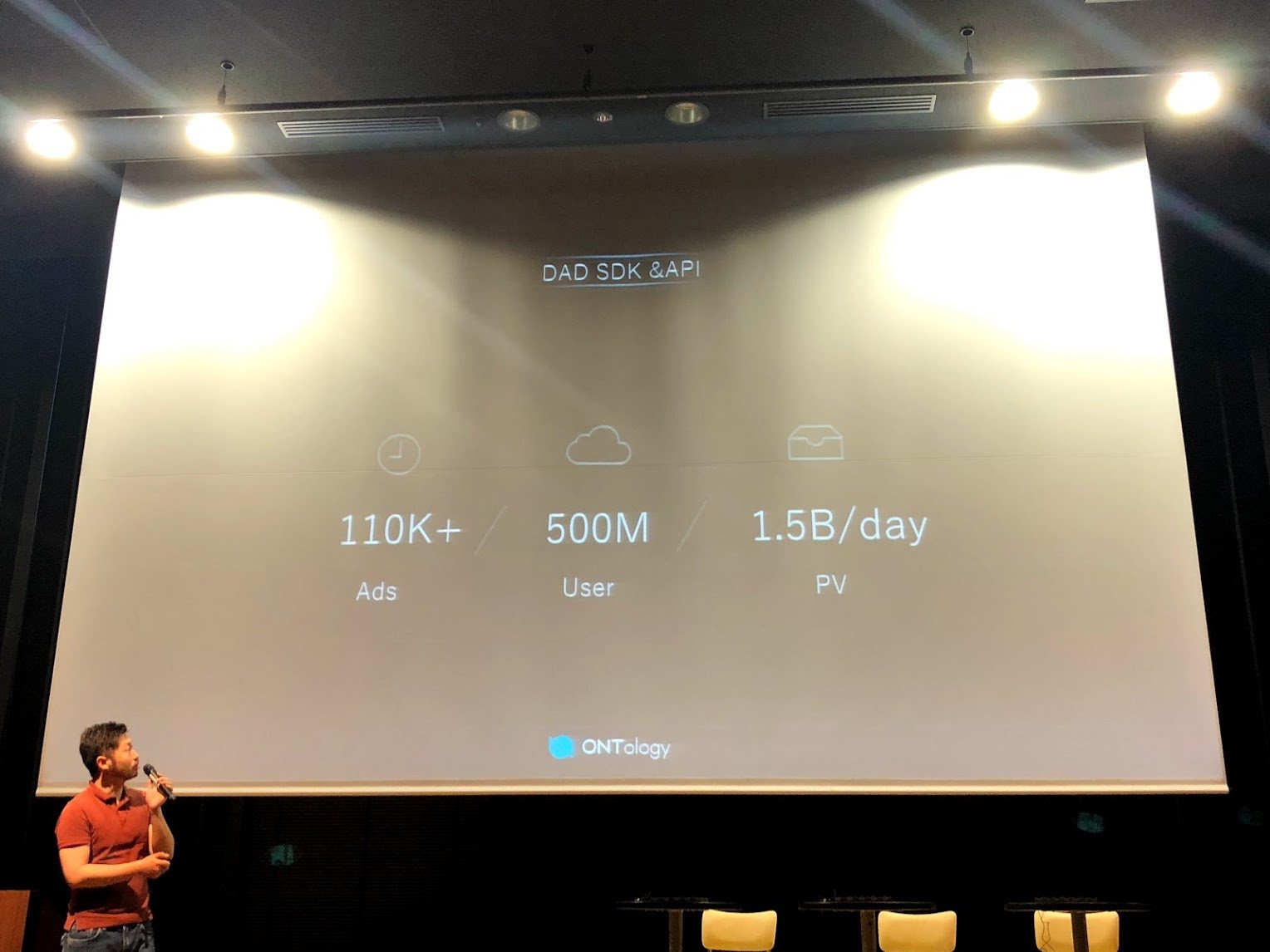 · Fusion of advertisement and blockchain
· The digital advertising market is still growing
· 8% of the total is unauthorized advertisement
· About 60% of advertisements are Google and Facebook
· Aim for the next-generation advertisement by clearing the task
② COT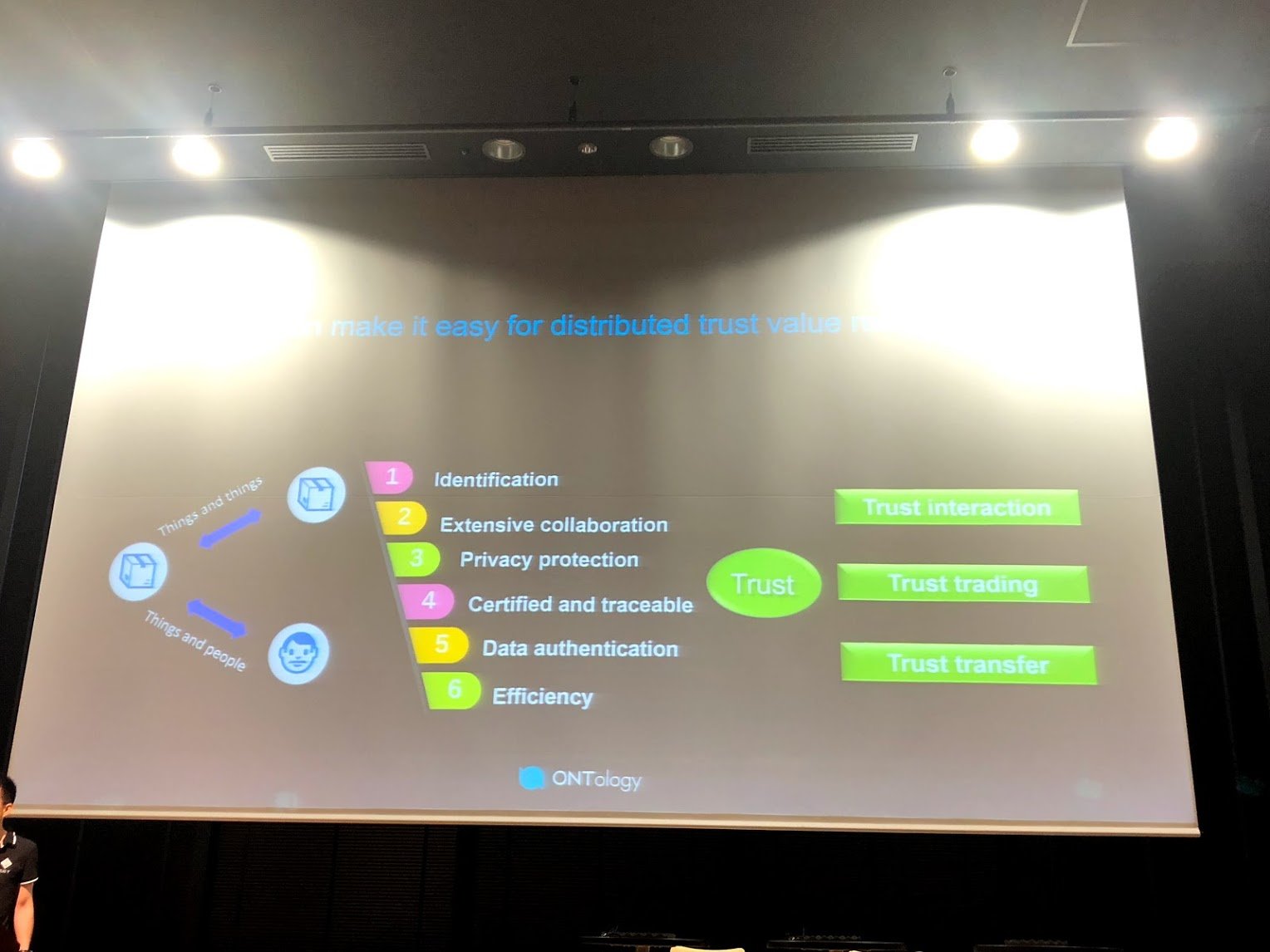 · Collaboration between Iot and blockchain
· Personal information leaks somewhere is risk
· There is a problem of whether information can be trusted
· We aim to solve these problems by using block chains
③ PTS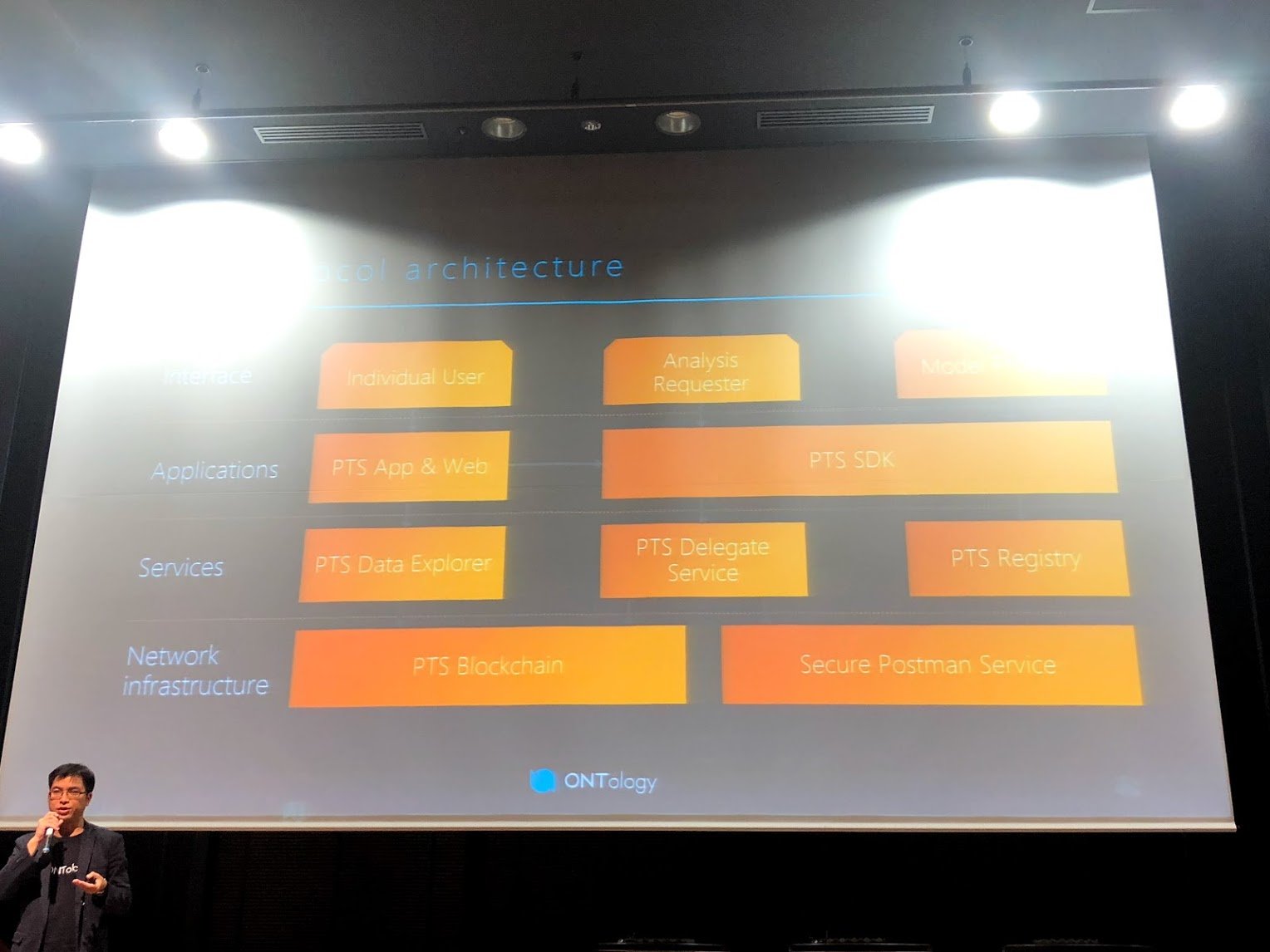 · Aim for collaboration of data
· Create protocols with high efficiency and expandability
· Utilize artificial intelligence to solve expandability and security issues
· We plan to apply it to medical and research
④ BDN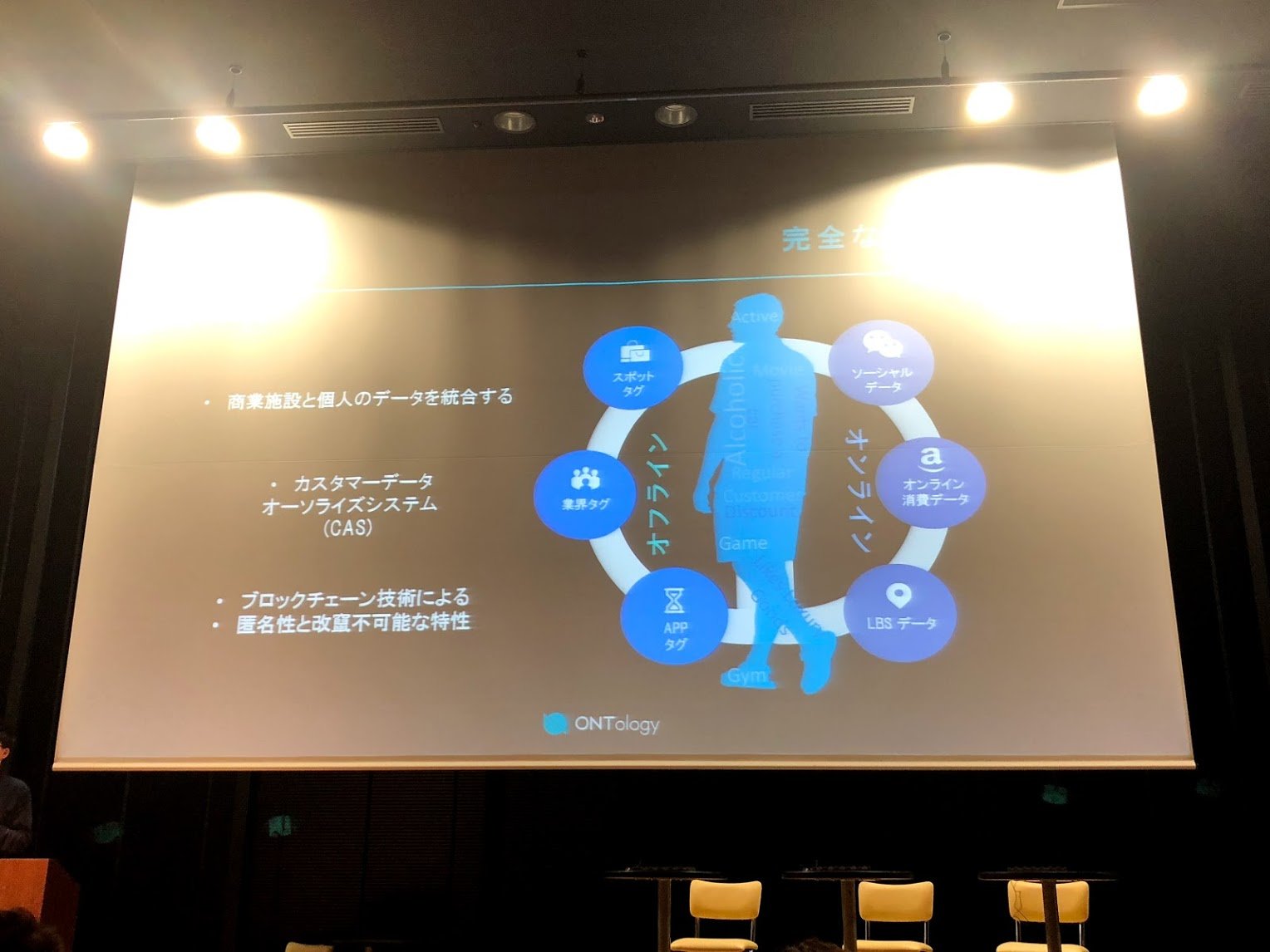 · Networking business data
· There is no boundary between online and offline
· 90% of consumption behavior occurs in an offline environment
· Enable access to information by anyone with distributed data storage
· Of course, considering privacy and security
⑤ Contentos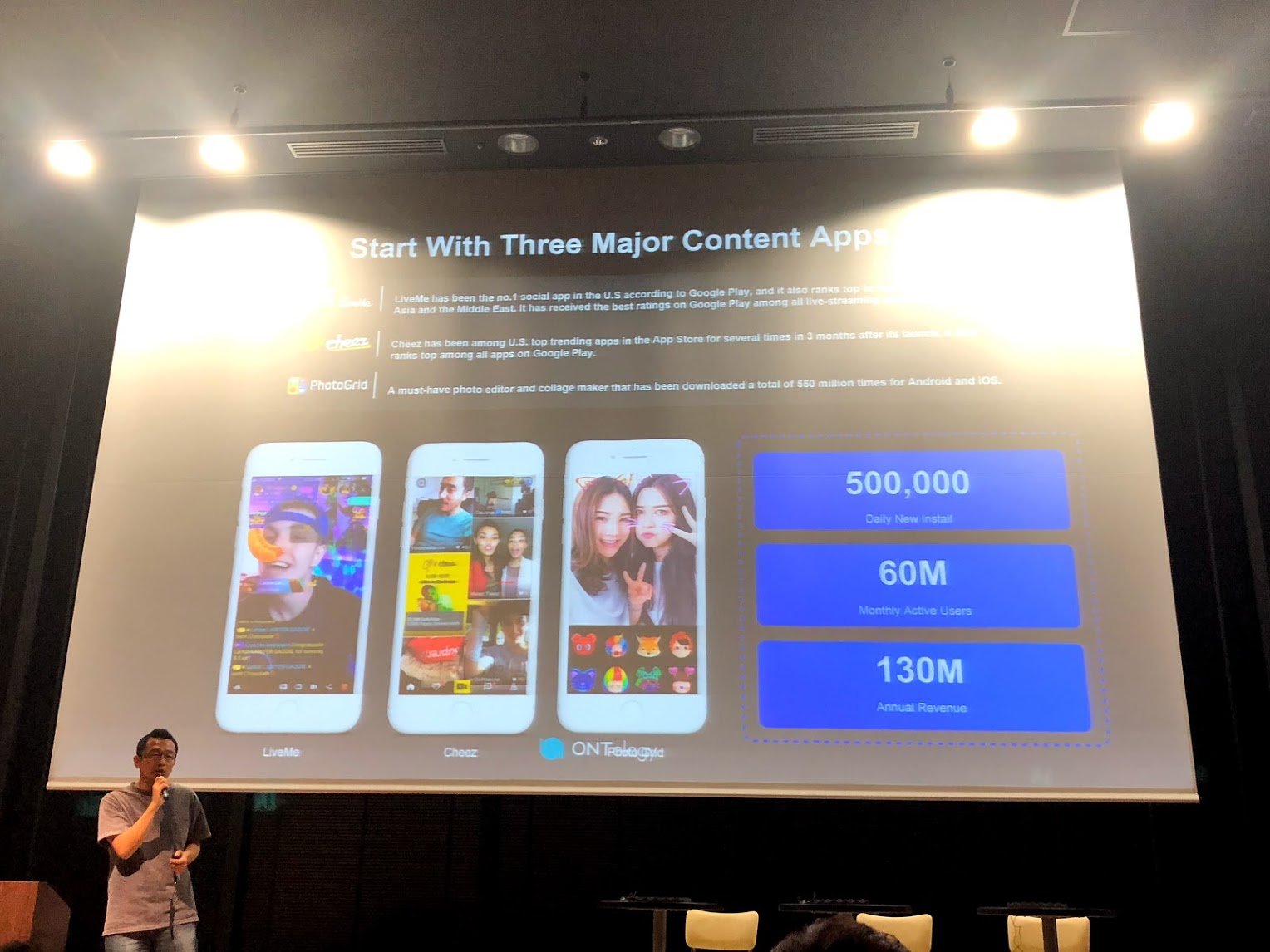 · Content + OS
· The audience is being controlled
· Aim for production of global content creators
· Popular dance dance revolution
· I would like to advance into the education field
⑥CarBlock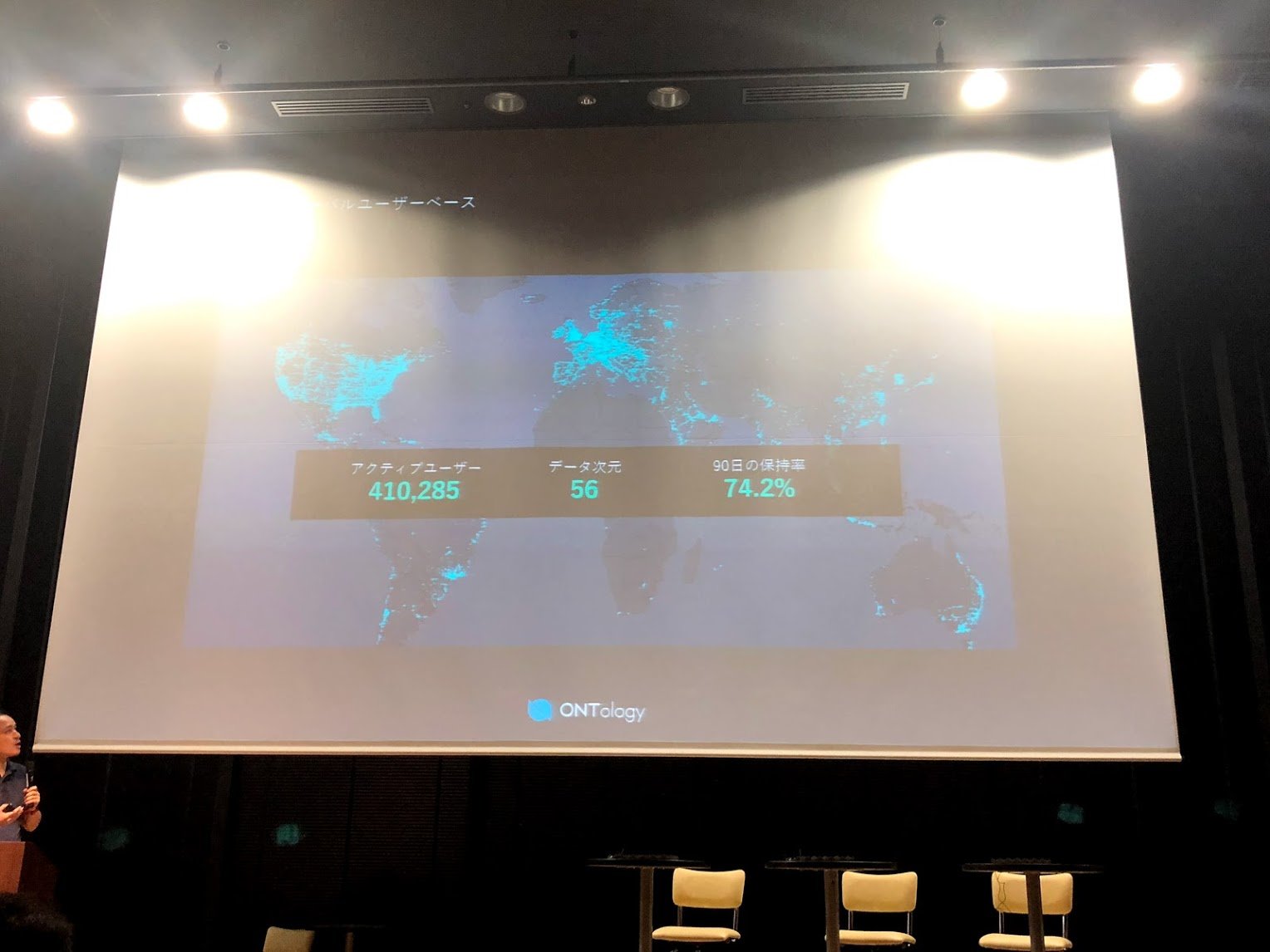 · Transport solution with blockchain
· The automotive data market will reach $ 75 billion by 2030
· Whether the data is anonymized is the current problem
· Prospects for further treatment of personal information in the US and Europe
· CarBlock aims for a decentralized market in the automotive industry
3.Panel Discussion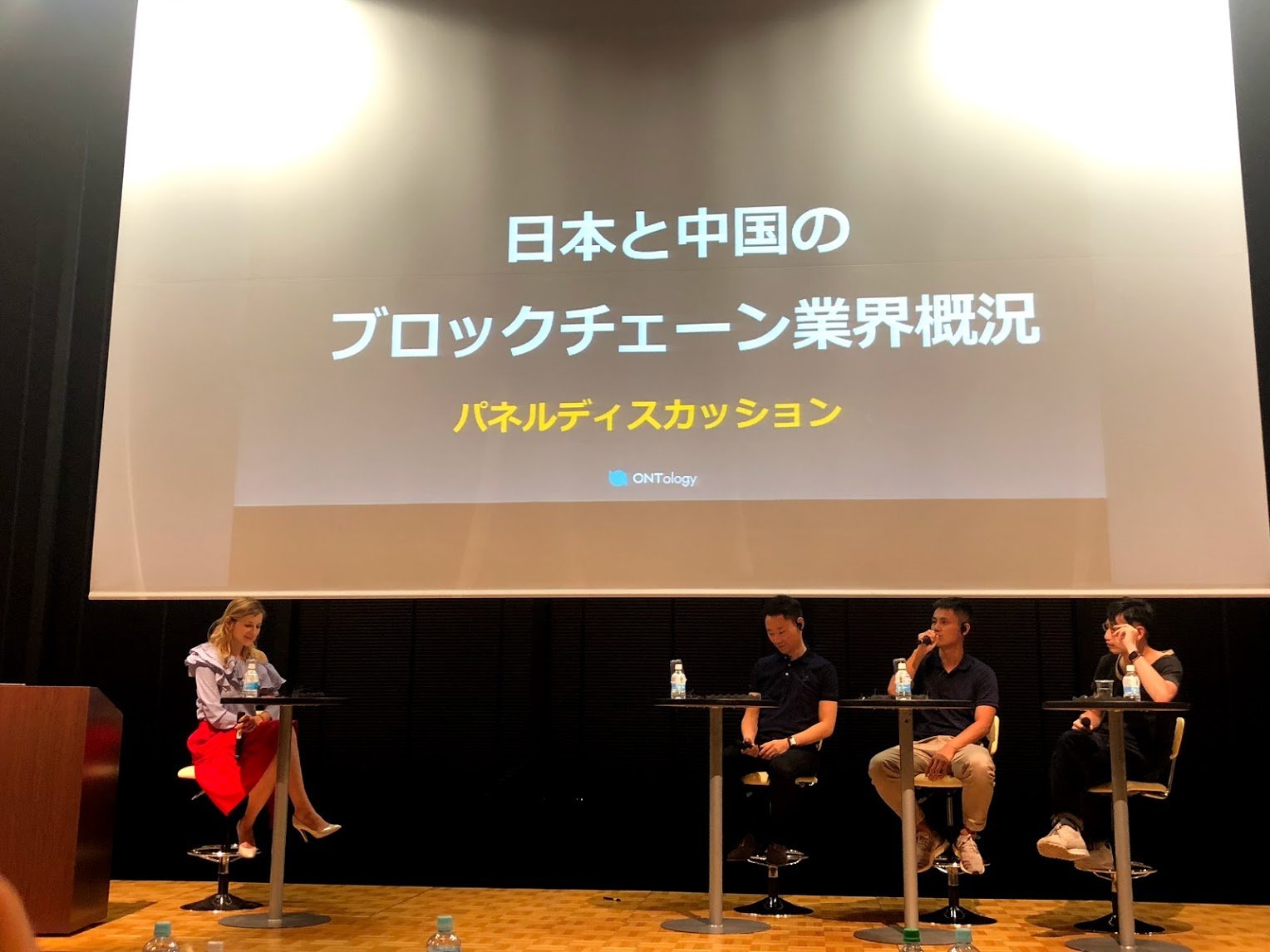 Regulation by Chinese authorities
→ China tends to have a strong viewpoint on how to protect individual investors (Mr. Li)
· In Japan, why is not mining restricted?
→ Cloud mining is gray, and it is not understood at present what customers are affiliated (Mr. Hirano)
· On the movement of funds in China
→ If it is the Internet, there are a lot of enterprises in China, so that is an advantage. The balance between private and government becomes important (Mr. Li)
· What is interesting project in China?
→ We are focusing on our own public blockchain such as EOS, ONTology, NEO. Also, I am interested in the feature that there are few nodes.
· In China, the number of words in the block chain is increasing in entrepreneurship
Indeed, the blockchain is in China, hot topics. However, it is still early stage (Mr. Li)
· What kind of perspectives do Chinese investors have?
→ I have an impression that I am buying alto coin and I do not like trade quite a lot (Hirano)
→ Individual investors are always looking for new investment destination (Mr. Li)
· What is the image of the Japanese blockchain community?
→ Japanese investors are judging calmly, but there are also high risk investors. I am also surprised by the small number of Japanese blockchain projects (Mr. Li)
· Toward collaboration between China and Japan
→ If there is infrastructure, there is a possibility to cooperate in both countries (Mr. Li)
→ As you can see from Binance and NEO, China thinks that it is very aggressive impression and there are places where Japan can learn (Mr. Hirano)
· What kind of block chain industry will China have in the future?
→ Next will be the era of competition, probably it will become the US-China confrontation (Li)
→ Applications will increase more in the near future (Mr. WU)
· What happens when major players such as Facebook have entered?
→ "How do visions and values ​​go?" Becomes important. Because it should not be possible unless you change the business model, profit is hard to get out (Mr. Li)
· A word for Japanese
→ ONTology will do its best to become a next generation public tool (Mr. Li)
→ I hope that more Japanese partners will be added (Mr. WU)
---
In this post, we are doing upvote by Bot.
It will be an experiment of posting steemit for a limited time only.
Thank you so much for your understanding.
---
こんにちは!
先週の土曜日に、ONTologyイベントに参加してきました!!
ONTologyは、中国発の、新しい高性能のパブリックマルチチェーンプロジェクトです!
イベントでは、中国の最新ブロックチェーン事情の話もありました!!
以下にレポートをまとめてみました!
1.ONTology Jun Li氏 基調講演
・ブロックチェーンが、新しいインフラになり得る
・実際にアプリケーションを使えるかが大事
・日常生活でサポートしてるものは現状なし
・ブロックチェーンは、インターネットのようなインフラになるのか?
・新しいコラボレーションが必要
・現実に、どういったメリットがあるのか?
・現実とデジタルの橋渡しが必要
・分散化してしまうと、パフォーマンスが劣化してしまう
・プラットホームのコラボのために、チェーンネットワークが必要
・コラボレーションのために、プロトコールは、一つではない
・他のノードを使って、コンセンサスプロセスを活用できる
・ONTトークンは、通貨の量が固定されている
・現在、20以上のプロジェクトが進行中
2.中国圏における暗号通貨プロジェクトチームによるスピーチ、パートナー企業によるリレースピーチ
①DAD
・広告とブロックチェーンの融合
・デジタル広告市場は、まだまだ伸びる
・全体内の8%は不正広告
・広告の6割が、グーグルとフェイスブック
・課題をクリアして、次世代の広告を目指す
②COT
・Iotとブロックチェーンのコラボレーション
・どこかで個人情報が漏れるのはリスク
・情報が信頼できるのかという問題もある
・ブロックチェーンを使って、これらの問題を解決することを目指す
③PTS
・データのコラボレーションを目指している
・効率性、拡張性の高いプロトコールを作成
・拡張性、セキュリティの課題解決の為、人工知能を活用
・医療やリサーチに応用していく予定
④BDN
・ビジネスデータのネットワーク化
・オンラインとオフラインの境界がなくなっている
・消費行動の9割は、オフラインの環境で発生
・分散型データ保存で、誰でも情報にアクセスできるようにする
・もちろん、プライバシー、セキュリティに配慮した上で
⑤contentos
・Content+OS
・オーディエンスはコントロースされている現状
・グローバルコンテンツクリエイターの輩出を目指す
・ダンスダンスレボリューションっぽいのが人気
・教育分野にも進出していきたい考え
⑥CarBlock
・ブロックチェーンによる輸送ソリューション
・自動車データ市場は、2030年までに、750億ドル規模に
・データが匿名化されているかが現状の問題
・アメリカ、ヨーロッパの個人情報の扱いが更に厳しくなる見込み
・CarBlockは、自動車業界の分散市場を目指す
3.パネルディスカッション
・中国の当局による規制について
→中国は、個人投資家をいかに守るかという観点が強い傾向がある(Li氏)
・日本では、マイニングが、なぜ規制されてないのか?
→クラウドマイニングはグレーであり、顧客がつくものについてはよく分からないのが現状(平野氏)
・中国のファンドの動きについて
→インターネットであれば、中国は企業が多いので、そこがアドバンテージ。民間と政府のバランスが大事になってくる(Li氏)
・中国の興味あるプロジェクトは?
→EOS、ONTology、NEOなど、独自のパブリックブロックチェーンに注目している。また、ノードが少ないという特徴には興味がある。
・中国では、起業の際に、ブロックチェーンのワードが増えている
→確かに、ブロックチェーンは中国で、ホットトピック。しかし、まだ早期段階(Li氏)
・中国の投資家は、どういった視点を持っているのか?
→アルトコインを買ってる印象を持っており、相当なトレード好きではないだろうか(平野氏)
→個人投資家は、新しい投資先を常に探している(Li氏)
・日本のブロックチェーンコミュニティのイメージは?
→日本の投資家は落ち着いて判断しているが、ハイリスクな投資家もいるイメージ。また、日本のブロックチェーンプロジェクトの少なさに驚いている(Li氏)
・中国と日本のコラボに向けて
→インフラができれば、両国で協力できる可能性がある(Li氏)
→中国は、BinanceやNEOとかを見ても分かる通り、とてもアグレッシブな印象で、日本も学ぶところがあると思う(平野氏)
・今後、中国は、どんなブロックチェーン業界になるか?
→次は競争の時代になり、おそらく米中対決になっていくと予想(Li氏)
→近い将来、アプリケーションが、もっと増えていくだろう(WU氏)
・フェイスブックなどの大手が参入してきた際は、どうなるか?
→「ビジョンや価値がどうなのか?」が大事になってくる。ビジネスモデルを変えないとできないはずなので、利益は出づらいのではないか(Li氏)
・日本人に向けて一言
→ONTologyが、次世代のパブリックツールになるよう頑張っていく(Li氏)
→日本のパートナーが増えることを願っている(WU氏)
---
この投稿では、Botによる、upvoteを行っています。
期間限定での、steemitの投稿の実験になります。
ご承知のほど、よろしくお願いいたします。
---