Is your toaster spying on you? - A lighthearted look at how close the race between humans and robots is getting. Isaac Assimov saw it coming.
# Humans vs Robots.
Is your toaster spying on you? If it has a Facebook account, it just might be.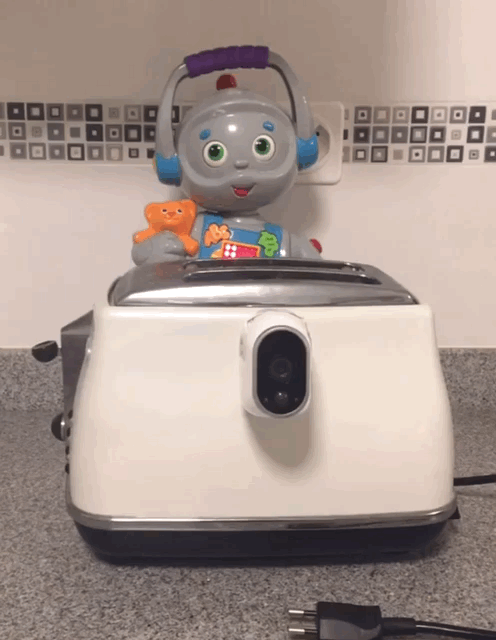 Facebook
Facebook reported good results last Wednesday. More users, more profit, more employees more advertising and so on. The shares rose strongly. Facebook said it now has 2.20 billion monthly active users. I repeat, they use the word "active".
Now let's get back to your toaster. Is it a Facebook user? Here's why I think it might be.
2.2 billion monthly active human users? Really?
There are roughly 7 billion living humans. Of those, only around 44% have access to the internet. That's around 3 billion.
More than a quarter of those are under 15 or over 65.
I think it safe to assume that most of those over 65 don't use Facebook. As for the under 15s, I think the same is probably true. What self-respecting teenager would be on the same social network as her mum?
So eliminate the young and old and that takes the number of potential human users down to 2.2 billion roughly equal to Facebook's actual number of monthly "active" users.
Now, I don't believe that every internet-connected person between 15 and 65 is an active user of Facebook. I don't use Facebook. My assistant doesn't. My spouse doesn't. My younger brother won't go near social media. My two adult sons aren't on Facebook. Of course my little baby toddler still isn't old enough yet. I don't think we are alone in not being Facebook users. Loads of people don't use Facebook.
Let's be generous to Facebook and say that one in two eligible people are "active" on Facebook at least once a month. Then that would make roughly 1.1 billion active Facebook users. So who are the other 1.1 billion "active" users? Here's where you toaster becomes a suspect.
My Advice
If your toaster is connected to the blockchain, then it could be a "spy-bot". If in doubt, pull the plug out.
Isaac Assimov warned us about this 78 years ago
Isaac Asimov, the science fiction writer, wrote a series of short stories 78 years ago which envisaged personal robot servants. The 1940's series of short articles was called "I Robot".
I Robot
The series inspired the 2004 movie "I Robot*, where the plot takes place in the future, - in 2035. In the story, civil servants are now all robots. A group of rogue robots have developed a fiendish plan to enslave the human race. Luckily for us, actor Will Smith is still alive in 2035. He and his human-friendly Robot called "Sonny" single handedly take on an army of enemy robots in an epic battle.
Final score: Humans: 1, Robots: 0. (Humans win).
The three laws of robotics
Isaac Asimov also developed what has become known as the "Three laws of robotics". Since these "laws" were developed in the 1940s, long before we had vacuum cleaners, dishwashers and toasters, he seems to be remarkably prescient (having knowledge of events before they take place). Here are the "Three Laws of Robotics" that he designed.
A robot may not injure a human being or, through inaction, allow a human being to come to harm.
A robot must obey orders given it by human beings except where such orders would conflict with the First Law.
A robot must protect its own existence as long as such protection does not conflict with the First or Second Law.
Next time you are having breakfast, you might want to ask your toaster if it knows about those rules.
The robots may have already enslaved us.
Looking at the people on the bus this morning, I think we may be already enslaved by our devices. Nobody looks up any more. Nobody looks out of the window. People miss their stops because they are too glued to their devices. Their faces are lit up by smartphones and pads. I can't say what they were looking at, but I'll guess it mostly wasn't Facebook.