Forty Seven - Combining Traditional Banking And Cryptocurrency Together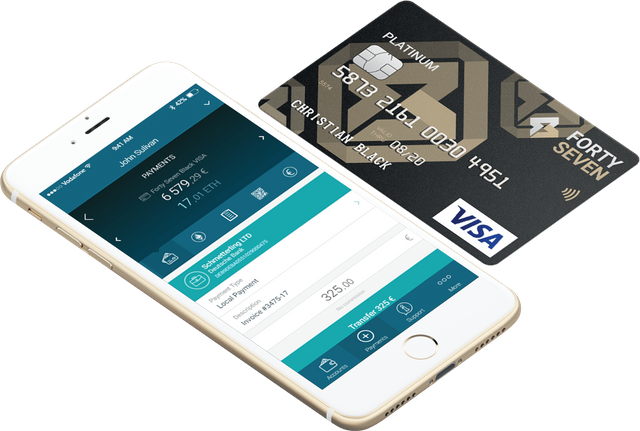 Forty Seven - Combining Traditional Banking And Cryptocurrency Together
It's truly an exciting time for financial institutions everywhere. What you're witnessing is the culmination of advanced cryptocurrency technology and traditional banking for the first time ever! Even though the Ethereum Blockchain is so young, it's already proven itself by improving various areas of business and finance. New Blockchain technology has worked out so well, it's considered to be a "modern marvel" of our time!
The Ethereum Blockchain powers alternative currencies like Bitcoin, and it's become the driving force behind modern cryptocurrency as we know it. There's millions of active Bitcoin accounts, and more being added every day!
Forty Seven provides you with all the benefits of traditional banking, along with high-tech advancements from the decentralized Blockchain. The results from this newfound partnership are nothing short of amazing. Come check out some of the new and exciting benefits of Forty Seven below!
Some Current Forty Seven Features And Benefits
PSD2 (Revised Payment Service Directive) Compatible - Starting in 2018, the PSD2 initiative is set to "split up" the current monopoly of traditional banking. The storage and management of customer information will soon be used by third parties to build on and restructure the current state of banking framework in general. Forty Seven is 100% compatible with banks conforming to the new PSD2 standard.
Multiple Cryptocurrencies Accepted - Depositing, withdrawing, and converting multiple forms of cryptocurrency can all be done using the Forty Seven online front end. Accepting multiple forms of cryptocurrency allows Forty Seven to provide support to a much wider audience, in more locations.
Unique Payment Tools - SWIFT, credit cards, debit cards, and e-wallets come together to provide you with payment ability you're already familiar with. A debit card from Forty Seven works at all major ATM's, just like traditional banking cards do.
Biometric Remote Identification - The days of simple PIN based authentication are coming to a close. Through advanced biometric authentication and passport technology, Forty Seven provides their customers with 100% secure identification ability.
Personal Finance Manager - Forty Seven also provides professional financial support through their planning and analysis tool. The Forty Seven personal finance manager uses machine-based algorhythms to help you accurately assess your financial future.
24-7 Internet And Mobile Support - Using the World Wide Web, you can access your Forty Seven account, manage/convert/purchase multiple forms of cryptocurrency, make deposits/withdrawals, and much more!
Apply Online - Using the convenient Forty Seven online application, you don't need to visit a retail location at all. The entire sign-up and verification process can be completed online!
Adding Forty Seven To Your Current Investment Portfolio Makes Perfect Sense!
As you may have noticed, there's tons of new start-up companies popping up all across the Web, and they've all got one thing in common : They all use Ethereum Blockchain technology to power them. You can get in on this ground-floor investment opportunity BEFORE the Blockchain goes into "full swing".
And while investing in Forty Seven and similar Blockchain based start-ups won't make you rich overnight, they do make great additions to investment portfolios. People are profiting off the introduction of Blockchain technology all across the Web, and you can get your share of the decentralized technology market "boom" while it's still relatively untapped.
For more information visit https://www.fortyseven.io and download the whitepaper.