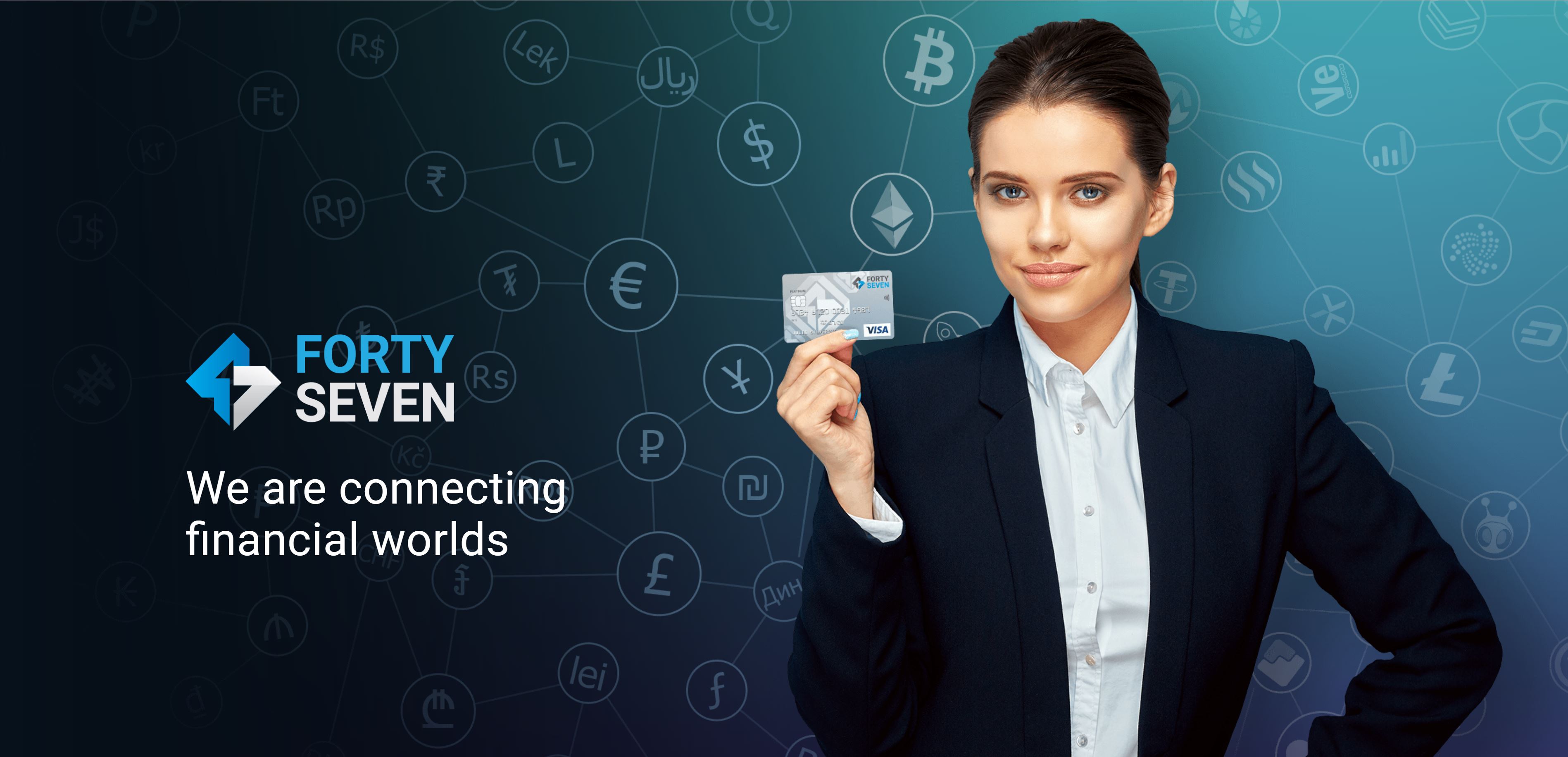 The idea of connecting the financial worlds, FIAT and Crypto, became a reality with Forty Seven Bank. There is already a lot of information about this project already, but we managed to get answers to some important questions you might have had, right from Aleksandrs Malins the CEO of Forty Seven Bank.
1. What is Forty Seven Bank?
Forty Seven Bank is financial technology start-up aimed at creating the first financial institution in the world to serve the needs of cryptocurrency world. We are going to build a bridge between cryptoworld and the world of traditional monetary finance, at this moment these two worlds exist in parallel; we are going to unite them and unite the communities.
2. How exactly are you connecting the financial worlds?
We will connect financial worlds by providing a full spectrum of products and services for cryptocurrencies, as well as for fiat money. Our customers will be able to satisfy all their needs concerning financial operations, analysis, and management by using the services of Forty Seven Bank. Thanks to Payment Services Directive 2 (PSD2), European customers will be able to get the access to all their bank accounts in EU banks, to all the cryptowallets and all types of investments (stocks, bonds, commodities) - via one user-friendly application. It means that customers will need to use just one application to control all their financial operations and asset management. This featured products will be called Multi-Asset Account. It is mainly for individual customers. For businesses, we will offer payment processing solutions in cryptocurrencies (additionally to traditional payment processing methods), as well as opportunity to automate part of their operations via blockchain and smart contracts. Also, a wide range of opportunities will be offered to developers - thanks to our flexible API and Forty Seven Bank App Platform. Developers will be able to create their own financial technology products and services, and under the umbrella of Forty Seven Bank offer them to a wide range of potential customers, as well as to clients of Forty Seven Bank.
3. Are there legal challenges by connecting the financial worlds? If so, what are the risks?
Yes, there are legal challenges. In order to become an official bank, we will have to get the license from Financial Conduct Authority (FCA) in the United Kingdom. We have chosen this jurisdiction due to several reasons. Firstly, a regulator in the UK is supporting innovative initiatives in the financial sector. Secondly, London is one of the leading financial centers of the world. Thirdly, our team already has experience in developing and licensing fintech products at FCA. There are challenges, but we have already faced similar problems in the past and were successful in dealing with them, so, we consider them as challenges, but not as difficulties.
4. Please tell me about your innovative products. What are the features of these products?
We will have many innovative products. One of them I have already mentioned before - Multi-Asset Account which allows individual customers to manage all their assets via just one application. We will also be the first to offer such products as Cryptobonds and Cryptofutures which will enable companies to attract financing from the crypto financial market by issuing bonds or will allow traders and miners to hedge their risks by using futures for cryptocurrencies. Apart from that, we will have an innovative system of online identification. We are planning to develop Smart ATMs where you can open a bank account in a couple of minutes just having an ID with you. The amount of ideas how to improve banking products and services is huge and we will work on all of them over time. We will be the first bank to integrate blockchain, smart contracts and machine learning technologies in our infrastructure.
5. Your crowdfunding model is the token sale. Besides investing in Forty Seven Bank, what's the benefit of holding the FSBT tokens?
FSBT token holders will have several significant benefits. First of all, they will be top priority clients of our bank according to our loyalty program and thanks to that they will have special conditions for products and services of Forty Seven Bank - many of the products will be for free. Secondly, token holders will be the first to try and use our products and services. Thirdly, Forty Seven Bank will invest 20% of its early net profit into the loyalty program, and they will be distributed among token holders in the form of FSBL tokens that can be exchanged in our loyalty shop for wide range of products like airplane tickets, hotel bookings, electronics, clothing, gift cards, etc.
Additionally, FSBT are utility tokens that will be needed for businesses and developers in order to use part of the services of Forty Seven Bank. For example, for a developer to be able to upload his application to our App Platform, he will need FSBT tokens (amount depending on the complexity of the application and some other factors). It means, that FSBT will be demanded digital tool on a secondary token market which would make its price to increase substantially over time.
6. How would you convince people who are not sure whether to invest in the Token Sale?
At the moment there are many ICOs and majority of them have a rather vague vision, roadmap, and team. Everybody is trying to take advantage of the ICO market which is booming. However, in our opinion, it is difficult to find safe projects to invest in. In our case, we have all the necessary experience, the right team and high degree of motivation to change the future of banking sector. Our tokens will become demanded digital asset on the market and prices for them will soar long after they are listed on exchanges. Besides that, our token holders, being top priority clients of the bank will every year receive benefits. These benefits annually in 3-5 years of time will exceed initial contribution.
7. What value do you think FSBT will have by June 2019, when you plan to start providing full-scale banking services?
We believe that value of FSBT will increase over 1.5 years. We will already begin to provide products and services as EMI and PI institution in 2018 and Forty Seven will start to generate its first profits in 2019. By the time we get banking license the price of our tokens might increase by several times, but as soon as we get the banking license and FSBT is demanded by developers and businesses, the value of FSBT is expected to grow constantly and substantially. It is difficult to predict exact figures, as they are also dependant on ICO results and the level of speculative actions of traders and token holders.
For more information about Forty Seven Bank make sure you check the official website: https://www.fortyseven.io and download the whitepaper.
You can get in contact with Forty Seven Bank on Telegram, Twitter and Facebook.