Mileage to Opportunity: Technologies behind M2O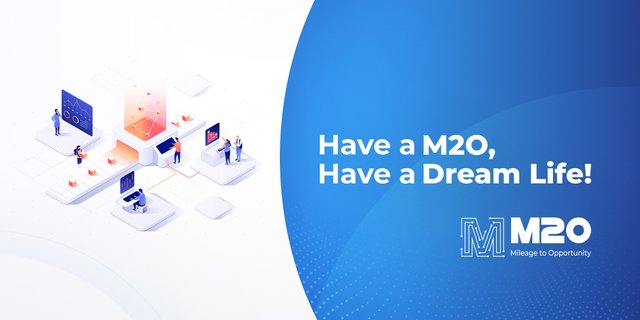 Technology enables great business ideas and makes them a reality. The idea of carpooling and giving rides to passengers was hardly anything new, yet it was the development of a marketplace with visual interface and the release of an app that catapulted Uber into one of the most popular app services nowadays.
This is also true for blockchain projects, sometimes it's what defines whether a project is entirely possible or not. Today, we want to show you how our technological infrastructure will be formed. How it will enable the concept of the M2O project to become the world's leading blockchain-powered points & mileage platform for generations to come.
The M2O technology infrastructure
The main objective of the M2O structure is to find a way to exchange information between all participants — from the mileage and points issuers to the M2O platform and its users. This important process also includes converting loyalty points to M2O coins.
Sure, blockchain in of itself is a secure way of transmitting information like this, however, the choice between the different options for "chains" available posed an important question for our team: What is a reliable platform that allows information to be transferred while keeping some of the data encrypted and secure? For us, the answer to this question is the Oracle Blockchain Cloud Service (BCS).
What is Oracle BCS?
Oracle BCS allows businesses to securely and reliably extend their processes and accelerate B2B transactions. This is key for our project. Building M2O on such platform means it would give it the type of support and features considered important for a company such as the ability to protect customer privacy and data at all times.
This technology also gives M2O more credibility against other partners who will allow this platform access to other companies points and mileage programs and their database for conversion to M2O for easy spending. It boasts a comprehensive distributed ledger cloud platform to provision blockchain networks, it will allow it to join other organizations, and even deploy and run smart contracts.
The Oracle BCS platform runs on the business private ledger known as Hyperledger Fabric, an open-source project governed by Linux foundation, which makes it accessible from cloud and on-prem applications via REST APIs and Hyperledger SDKs. This means it will allow for automatic communication of business processes. Some examples are updating a user's points and even helping with immediate conversions to M2O coins. Completely automatic and effortless for our users. This is all meant to give our users the option to spend their earned rewards as soon as they want.
Why Hyperledger Fabric?
There are many other blockchain projects out there that use the Ethereum blockchain for their business. It is important to consider that all blockchains have their specific features along with strengths and weaknesses.
If we compare both the Ethereum blockchain and Hyperledger Fabric we find many differences. For example, in the case of Ethereum the access is public. There is no way to make parts of it private. Hyperledger Fabric's access is permission-based making it more appropriate for us. When it comes to the type of platform, Ethereum is considered a generic blockchain platform. Corda, another blockchain platform meant for building interoperable blockchain networks that transact in strict privacy is considered mostly for financial services only.
Hyperledger Fabric, though, is an open and modular blockchain platform which, for M2O, means higher customization to adapt to different kinds of industries and not just focus on one kind. After all, rewards and customer loyalty programs are staples of all kinds of industries and M2O aims to serve as a viable solution to all of them.
Finally when it comes to privacy, the Ethereum blockchain has no specific protection in place, Corda transfers data between peers, only while Hyperledger Fabric can setup exclusive channels where the information is shared and never mixed with the participants that don't have the required permissions.
The M2O Infrastructure in action
Our digital currency will run on the Ethereum blockchain only to serve as a final point of payment and to allow for trading on public cryptocurrency exchanges.
But, process of generating M2O coins will begin from the data the M2O platform is given. This information will come from the private Hyperledger Fabric channels that will be linked to the companies and businesses that agree to offer points-to-M2O conversion.
For example first a company would agree to converting their points into M2O coins, a unique channel is established between the M2O platform the company's loyalty points database. Each customer now has their own M2O wallet updated to reflect the balance they can convert into M2O coins. Their profile will now have access to a list of FinTech services to spend their converted points or even go to a crypto exchange and trade them.
Technology makes or breaks an idea. For us, at M2O, it was always one of the most important aspects to consider. And now, we are at the threshold of accomplishing a complete blockchain-powered points and mileage platform after endless hours of work and effort. We are proud to introduce you to M2O — Mileage To Opportunity.
You can now join our own Initial Coin Offering that started on the 29th of October. Keep in mind it will only last till November 23rd. To know more about us, visit our website now.
Are you excited? Keep up with M2O's technological advances and every new update by joining the conversation on Telegram. Like us on Facebook and follow us on Twitter. What are you waiting for?