Lisk Hub 1.0.0 and 1.1.0 — Reference Field, Help Page, and More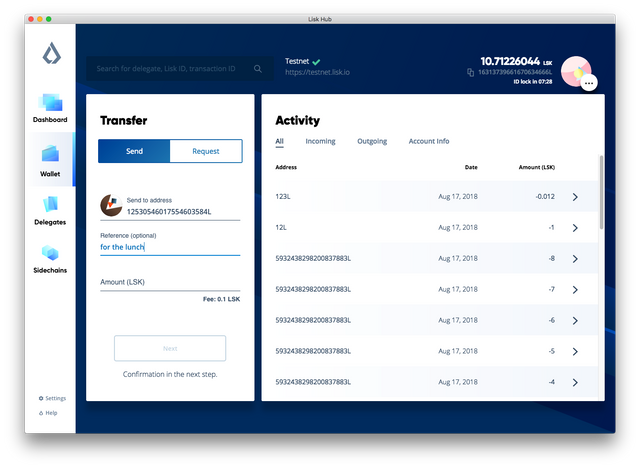 Many changes accompanied the important migration of Lisk Mainnet to Lisk Core 1.0 on August 29. The latest version of Lisk Core required other Lisk products to release new versions. This is why we released Lisk Hub 1.0.0, along with minor release Lisk Hub 1.1.0. For end users, this means that the auto updater will skip version 1.0.0 and go directly to 1.1.0. This blog post describes the updates in both versions.
New functionalities include:
Compatibility with Lisk Core 1.0
Reference field
Help page
Menu highlight and network switcher designs
Compatibility with Lisk Core 1.0
The work done in Lisk Hub 1.0.0 was largely to ensure that its entire code base is compatible with the new API of Lisk Core and Lisk Elements.
This includes support for the main Lisk transaction types — send LSK tokens, vote for delegates, register a delegate, and register a second passphrase. Each of the transaction types has its own page and sending process tailored for specifics of the particular type.
It also includes all the functionalities for browsing and searching the Lisk blockchain. Users can search by delegate names, Lisk IDs, and transaction IDs to find delegates, accounts, and transactions. All the search results then link to other relevant objects (e.g. a transaction links to its sender and recipient) to accommodate a seamless browsing experience.
Finally, we updated the advanced sign message feature to use the improved signing algorithm and output format from Lisk Elements 1.0.0. With this feature, users can prove ownership of their account to a third party without incurring the cost of sending a transaction.
Reference field
Lisk Core 1.0 brings about a data field for token transfer transactions. This feature allows users to attach a message of up to 64 bytes when transferring LSK tokens. Lisk Hub makes use of this feature to allow users to write text in a reference field when making transactions. This reference can be seen by the recipient to allow for easier identification and distinction of transactions. In this release, the reference is displayed in the transaction details page. In the future, however, the reference will also be displayed directly in the wallet.
Please note that the reference is stored on the blockchain in plain text therefore can be read by anyone who looks at the public ledger of the Lisk blockchain.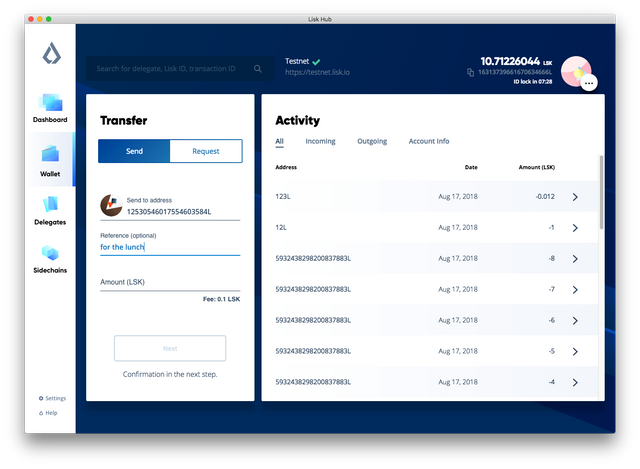 Help page
In Lisk Hub 1.1.0, we wanted to give users an easy way to get help if they need it. We created a new Help page in the Lisk Hub with links to existing sources — the Lisk Help Center, Lisk Academy, Lisk Chat, and specific pages within those sources. The Help page can be easily accessed from the sidebar menu.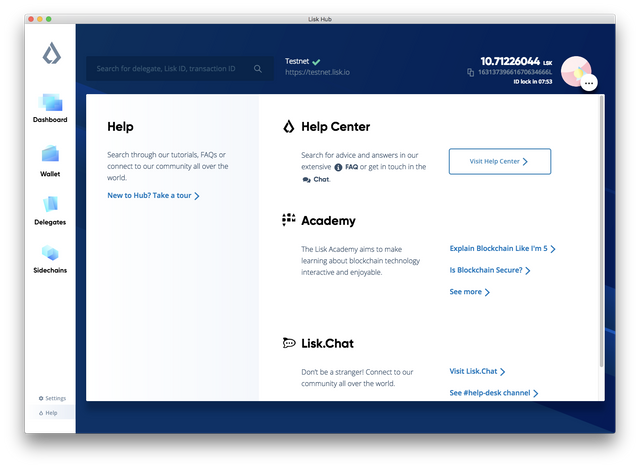 Menu highlight and network switcher designs
In addition to adding new functionalities, we also strive to improve the appearance of existing features, not only for the sake of aesthetics, but also to improve usability.
One of these changes regards the active page indicator in the main menu. The active page is highlighted by a blue stripe on the right side of the menu item. It turns out that this was not sufficient in some user tests therefore in addition to the blue stripe, we added also a gray background gradient.
We also updated the network switcher on the login page. The network switcher was first created as an advanced/developer utility without any regard for the design, because it is not displayed automatically. Eventually, we decided to make this feature discoverable through a switcher in settings. For this reason, we went back to the design table to give the account switcher a proper design that is aligned with the rest of the application.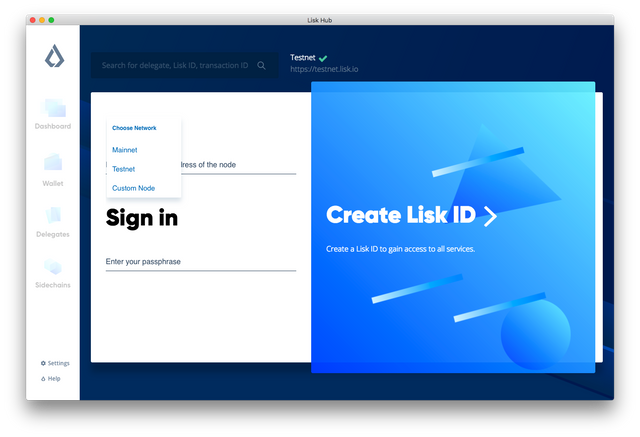 Download the desktop app and follow Lisk Hub on GitHub to keep an eye on development in real-time.
About the Author:
Vít Stanislav is a frontend developer for Lisk at Lightcurve and the project lead of Lisk Hub. Previously, he was developing web-based tools for Red Hat. He has plenty of additional frontend experience from developing online learning systems as a member of Adaptive Learning research group at Masaryk University, Brno, Czech Republic. He is committed to making Lisk the blockchain technology with the best user experience.
---
Posted by us also on

---
Is this one of the first posts that you're seeing about Lisk? See more at Lisk.io or Github.