IonChain Blockchain Public sale dates
Thank you for your interest in IonChain as well as being patient while we ensure a fair, smooth ICO process. Throughout the process we will keep you abreast with our work and the specific details. Please understand that we will not be running a pre-sale, nor will we be cancelling the public sale. Our pricing structure will not change, and we will not bombard you with any unnecessary social media.
Whitelisting will be open on 27th of June at 11:00 AM GMT+0. Participants will need to register at ionchain.io and submit requested documents as well as ethereum wallet address. Once your KYC is approved, you will be able to participate in the final draw, where we choose 1000 applicants.
Public sale will start on 7th of July. Personal cap will be 1.6 ETH in the first 48 hours or until we reach a hardcap of 1600 ETH. If no hardcap is reached after 48 hours, then you can contribute again, without any personal cap.
We can't stress enough, how important it is to follow official channels to protect yourself from scams. Our admins will never ask you to contribute directly! You will receive smart contract address for contribution in your personal account panel at ionchain.io.
Since only 1000 applications will be allowed to take part in crowdsale, we are already seeing advertisement at the black markets to buy verified accounts. We have zero tolerance against such practices and anyone found buying/selling accounts will be excluded from the whitelist.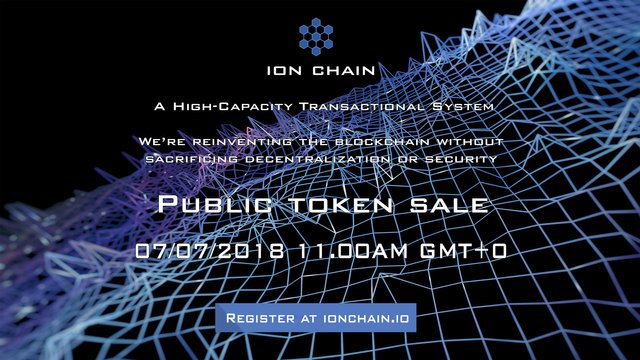 Url: https://ionchain.io/
Telegram: https://t.me/joinchat/Iw9TNUWZmVt_8CAuW_dc9Q
Twitter: https://twitter.com/ion_chain
Bitcointalk: https://bitcointalk.org/index.php?topic=3641957.0