Among some of the world breaking innovations that was ever made, one of them is the Internet. The internet connected the whole world with a single technology and accomplished some of the things thought impossible. It made communication easier and far better than it ever was. Now, the internet is the technology that is holding our world together.
The internet has its own benefit and also some things which people are very wary about. First, the internet is creating an enormous amount of data every minute of which value of uncountable. The usage of these data is incredible. Then there's the matter of privacy. Privacy of one is always taken seriously. But here with the internet, the abusing of privacy was made easy. Losing one's privacy can mean many things and it has consequences. Especially when it comes to business matter. All the data that can be taken through privacy breaking can be abused very easily.
Thinking of this problem and by taking a close look at it, the Securypto project was born.
What is Securypto
Securypto is focusing on anonymous, encrypted data transferring and storage. It's based on the blockchain system and will implant it in different phases of the product. Securypto can work as the extra layer on everyone's privacy and keep it protected from any harm.
Securypto is not all about security and protection. Along with these, Securypto offers the power to monetize contents. If the sender decides to choose the paid content option, the receiver on the side has to pay a specific amount for that content. Everything that is uploaded is secured and encrypted and has no touch with the outside world.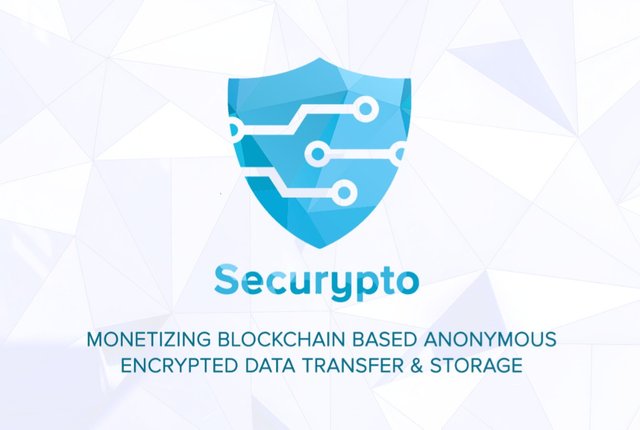 Securypto primary goal is to provide the security, the encryption, the privacy to everyone in a more convenient, effective way thus anyone can reserve any kind of data from getting stolen. In our daily life, encrypting messages or media is not so easy task and sometimes it gets expensive and time-consuming. Securypto wants to eliminate this drawback of using the Internet and provide the security and privacy everyone deserves.
DigiSafeGuard
To make the Securypto a reality, there will be a specific hardware with a powerful software installed. The hardware itself will be called DigiSafeGuard. This hardware will enhance our security, make privacy stronger and help communicate using encrypted files and messages. DigiSafeGuard will play an important part in the Securypto ecosystem.
Product Elements of Securypto
The product of Securypto is made with a combination of three elements. Hardware, Software and the blockchain. Each of these elements is vital and necessary.
Hardware and Software
The hardware name of Securypto is DigiSafeGuard. Just like any other hardware, DSG has a well designed and balances software. Each of these has their own purposes. The hardware and the software are made with harmony. Without the right combination, they can't function properly.
The hardware is the beginning. The purposes of the hardware are
• DSG can operate as the hardware wallet for storing and spending digital asset.
• DSG will allow anyone to message through unsecured channels anonymously and securely
• 2-factor authentication and password management and many others.
These are just a fraction of the features of DGS. When combined with the right software, the value of DGS increases by several folds. The software that will be used in DGS is specially made for DGS and DGS alone. Securypto software is open source and can be found in several devices such as
• Android
• iOS
• Windows
• Linux
This will allow any kind of device to be turned into a secure place whether be for storing assets or for encrypted and secured messages or media.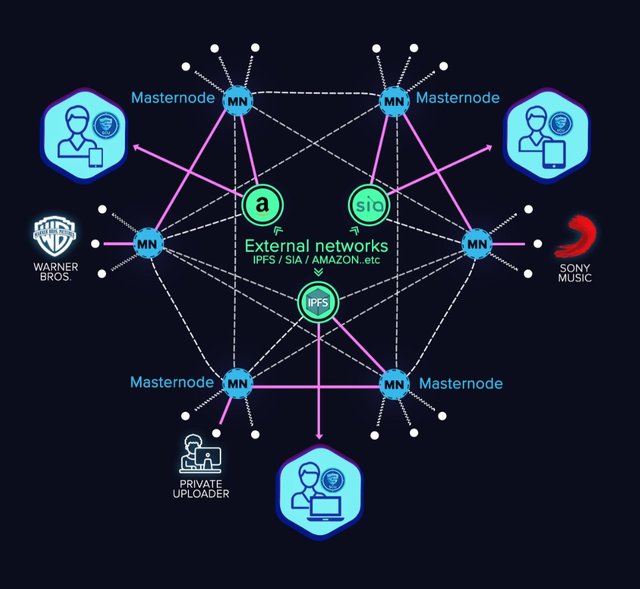 Blockchain
One of the most important elements of Securypto is the blockchain. Securypto believes by implementing new technologies with the old technologies can create an outstanding result thus doing everything more effectively than ever. The implementation of blockchain into the system of Securypto gives it an extra layer of security and helps working more effectively. Blockchain here in Securypto provides
• Anonymous messaging and file sharing
• Securer than ever
• Creates an extra layer of security over everything
• Make paid content management function possible and many others.
The blockchain of Securypto is based on on the PIVX using zPoS.
DigiSafeGaurd Use Case
DigiSafeGuard can be used in several places for different kinds of function. Some of them are listed below
• With the help of DigiSafeGuard, it will be possible to send encrypted messages in a trustless manner. The messaging will be anonymous and secured.
• DigiSafeGuard paid content management will allow anyone to upload contents anonymously, securely and most importantly, DigiSafeGuard can help monetize the content.
• DGS is a secured vault and hardware wallet itself. Allowing to store and spend cryptocurrencies securely.
• DGS allow 2FA and Login management.
Conclusion
Securypto is not just a blockchain project. When it comes to privacy it should never be taken lightly. On the other hand, encrypting and encrypted messaging and anonymous file uploading is no easy task. Securypto is making it possible and definitely easier than how it is.
Talk with Securypto on Telegram: https://t.me/Securypto
Find more Information about Securypto
Website: https://www.securypto.io
Whitepaper: https://www.securypto.io/whitepaper-securypto.pdf
ANN Thread: https://bitcointalk.org/index.php?topic=5055447.0
Visit Securypto on other social media
Facebook: https://www.facebook.com/pg/securypto/
Twitter: https://twitter.com/Securypto
Instagram: https://www.instagram.com/securypto_coin
GitHub: https://github.com/Securypto
Reddit: https://www.reddit.com/r/Securypto/