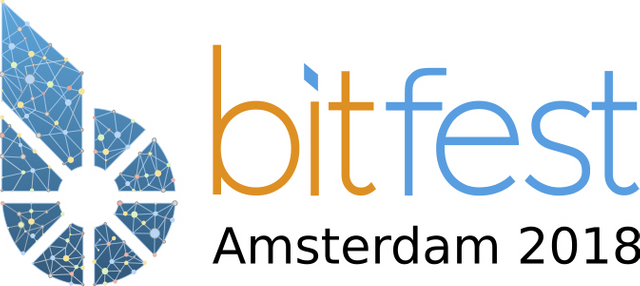 BitFest Amsterdam 2018 - Recap
BitFest Amsterdam 2018 was a great success! We want to thank all attendees, speakers, panellists and sponsors for their support. We also want to thank you for all positive responses and kind words we received. With this post, we want to provide a summary about BitFest for everyone who was not able to attend or who just wants to think back and be reminded about all excitement at BitFest.
Friday Activities
We started the weekend on Friday with a meetup at the New York Film Academy Café. First activity was a guided tour at the Dutch Stock Exchange (AEX). The tour at the AEX (Dutch Stock Exchange) took us from the very first stocks traded to trading in the present. The next activity was a cruise through the famous canals of Amsterdam. This cruise was the perfect opportunity for everyone to further introduce themselves and talk to other visitors.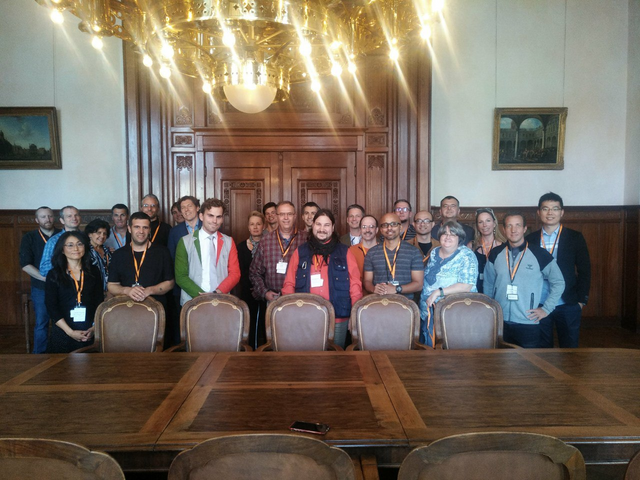 @ the Dutch Stock Exchange Tour (AEX)
Saturday – Conference Day
Saturday was the "big day" or else said, the day of the conference. The conference took place in an amazing venue called the TOBACCO Theatre in Amsterdam. For all who are interested to see the speaker slides of BitFest, you can find them HERE.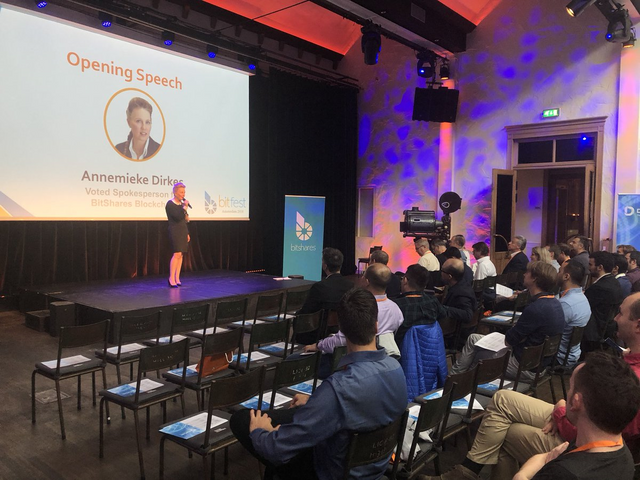 Opening Speech by Annemieke Dirkes
We kicked off at 08:45 with the Opening Speech by Annemieke Dirkes, Voted Spokesperson for BitShares Blockchain. The kick-off was followed by inspiring 6 speakers, starting with Chhay Lin Lim, the co-founder of Serey, speaking about the opportunities that Graphene-based social media platforms can bring to developing countries. Next, Dr. Ing. Fabian Schuh, CTO at Blockchain Projects BV spoke about escrow worker management, followed by Michael Matthias, CEO of DasCoin who introduced the premium token to the BitFest audience. Jerry Liu, aka @BitCrab, took us on a journey of the evolution of BitShares. How cryptocurrency adoption can be accelerated by the merging of stablecoins with social messaging was presented by Christoph Hering, the founder of Payger. Kristin Low, Head of Design at Spark, talked about the separation of money and state.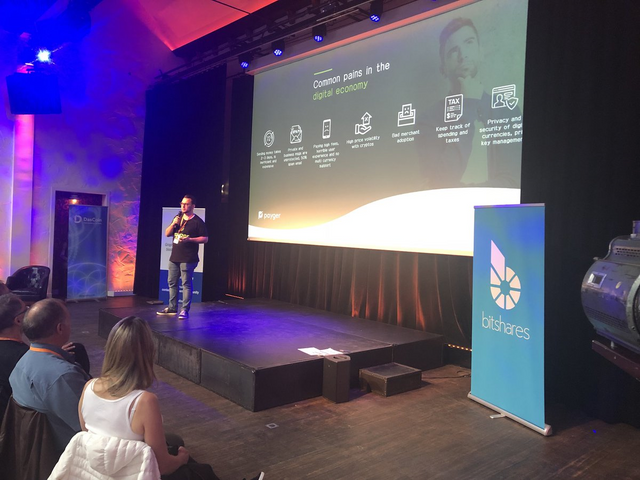 Christoph Hering, Founder of Payger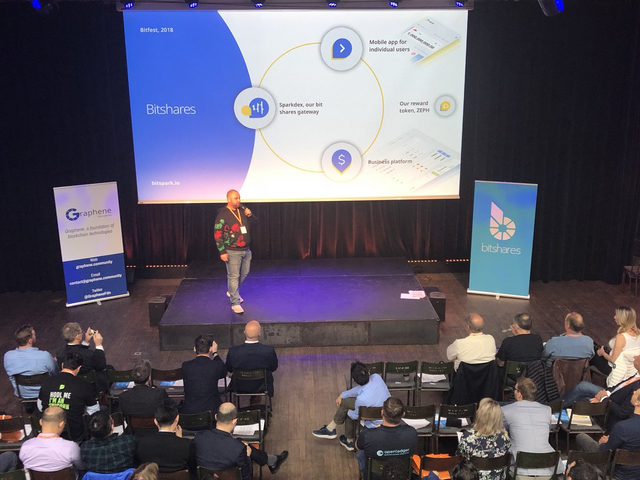 Kristin Low, Head of Design at Spark!
Next on the agenda was a Panel Discussion about BitShares gateway providers that was well-moderated by Bill Butler of the BitShares UI Team. This panel was joined by Petr Asalkanov (RuDEX), Yuri Cherniawsky (OpenLedger), Jerry Liu (@BitCrab)(GDEX), Bohdan Varshchuk (Spark), and Andrew Rollins (Everbloom). Topics discussed included, amongst others, whether the panellists (if applicable) would want their gateway to be part of the reference wallet, whether the panellists are interested in participating in the reference wallet development as a gateway provider, and what features they would like most to be added to the reference wallet.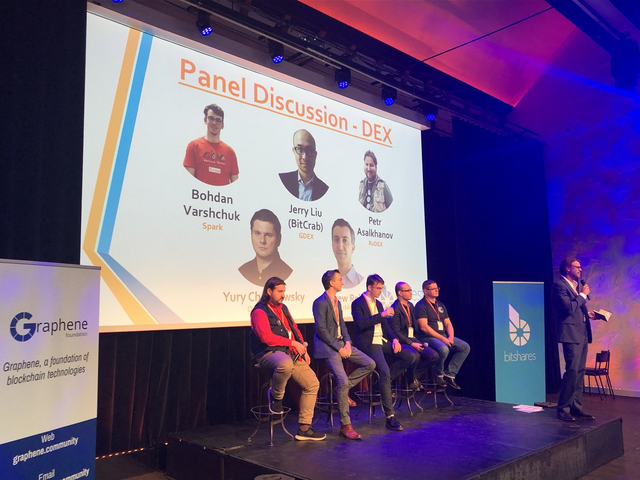 Panel: BitShares Gateway Providers
Right after the panel, a quick pitch was performed by Bram Lucas, Team Lead Digital Marketing at Team Nijhuis, about how digital marketing could help to raise brand awareness for BitShares in 2019 and what the possible effects could be for instance for BitShares' market cap. Stan Larimer, Godfather of BitShares, followed with his talk about BEOS (Brown EOS). Jademont Zheng, Committee Member of BitShares, continued with a speech about the vision of the Graphene Blockchain Application Center. The last speaker before the lunch break was Ronny Boesing, CEO and Founder of OpenLedger, who gave an update about OpenLedger's latest news and upcoming projects.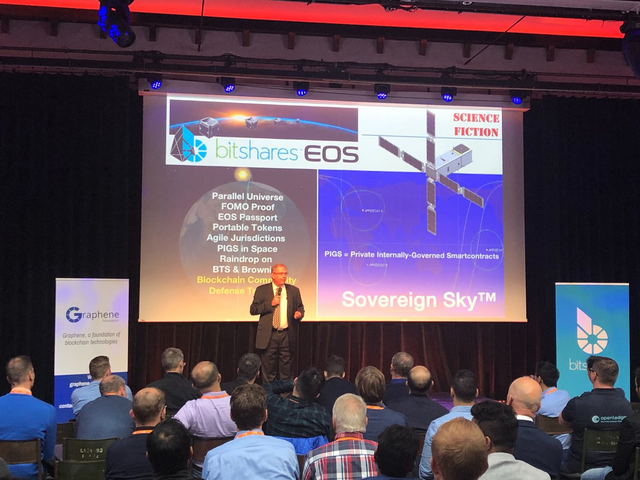 Stan Larimer, Godfather of BitShares
At 12 o'clock TOBACCO Theater served a delicious and typical Dutch lunch for the BitFest visitors. The lunch offered another networking possibility and also the opportunity to visit the sponsor booths. After the lunch we enjoyed a block of 7 speakers taking us on a deep dive into BitShares and Graphene Technology. To start with Damir Nedžibović (Blockchain Developer at DasCoin) & Branislav Zelenak (Chief Blockchain Officer at DasCoin) speaking about DasCoin development for the future. After that, Peter Conrad, BitShares Core Developer, spoke about the performance of BitShares until today and what could be done to improve its performance. Also, Bill Butler of the BitShares UI Team presented about the history and roadmap for the BitShares Wallet and Exchange. Next, Michel Santos, Founder of Omni Data, performed his talk about life and times of a BitShares operation. BSIP 40 was presented to the audience by Dr. Stefan Schießl, Software Engineer at Blockchain Projects BV. John M. Jones, BitShares Core Developer, informed us about trustless asset swaps in Bitshares and HTLC. The last speaker before the second panel was Alfredo Garcia, BitShares Core Developer, who performed a presentation about BitShares plugins.
The second Panel Discussion was titled From Graphene to BitShares and Beyond and moderated by Ryan R. Fox, Coordinator of the BitShares Core Team. The group of panellists consisted of Alfredo Garcia (Core Team), John M. Jones (Core Team), Dan Notestein (BlockTrades), Dr. Ing. Fabian Shuh (CTO at Blockchain Projects BV), and Branislav Zelenak (DasCoin). Topics discussed include inter-blockchain communication amongst others.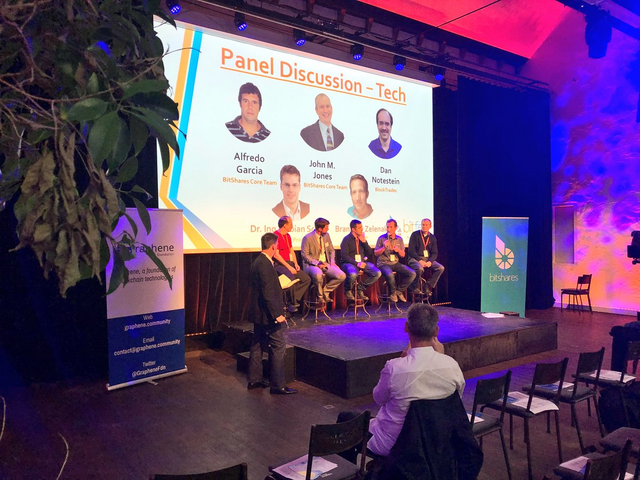 Panel: From Graphene to BitShares and Beyond
Just after the panel, Petr Asalkhanov of RuDEX & BLCKCHND / U°OS continued with a speech on how to build a business on BitShares with self-funding by the example of RuDEX. Pascal van Knijff, CEO Future of Trust and Advisor EUBX.IO, followed by a presentation about EUBX titled "Trade with Confidence". The final speaker of the conference day was Toby Lynas, Head of Operations at PBSA, who gave the BitFest audience an introduction to BookiePro. The day was rounded off with a Closing Speech by Annemieke Dirkes and informal networking with drinks and snacks served in the Studio room of TOBACCO Theater.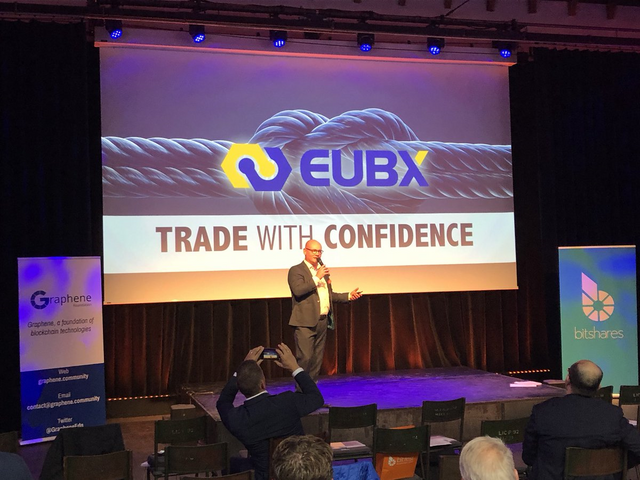 Pascal van Knijff, CEO Future of Trust and Advisor EUBX.IO
If you would like to see the speaker slides of September 22nd , please find them HERE.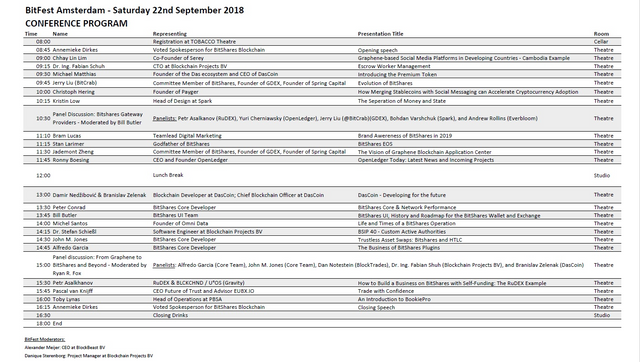 BitFest Conference Program
City Walking Dinner in Amsterdam
The day had not come to an end here though. After the drinks, a City Walking Dinner through different restaurants in Amsterdam was organized. There was a guide who took us from one restaurant to the next. During the walks (in the rain! Typically Dutch) the guide would show us beautiful and historic spots of Amsterdam. Each dish was served in another restaurant, whereby the starter was served in De Waag, the main course at Van Puffelen, and the dessert in restaurant Sonneveld. Next to the tasty food and cultural enrichment, the City Walking Dinner also offered another great opportunity to have a good conversation with other BitFest visitors.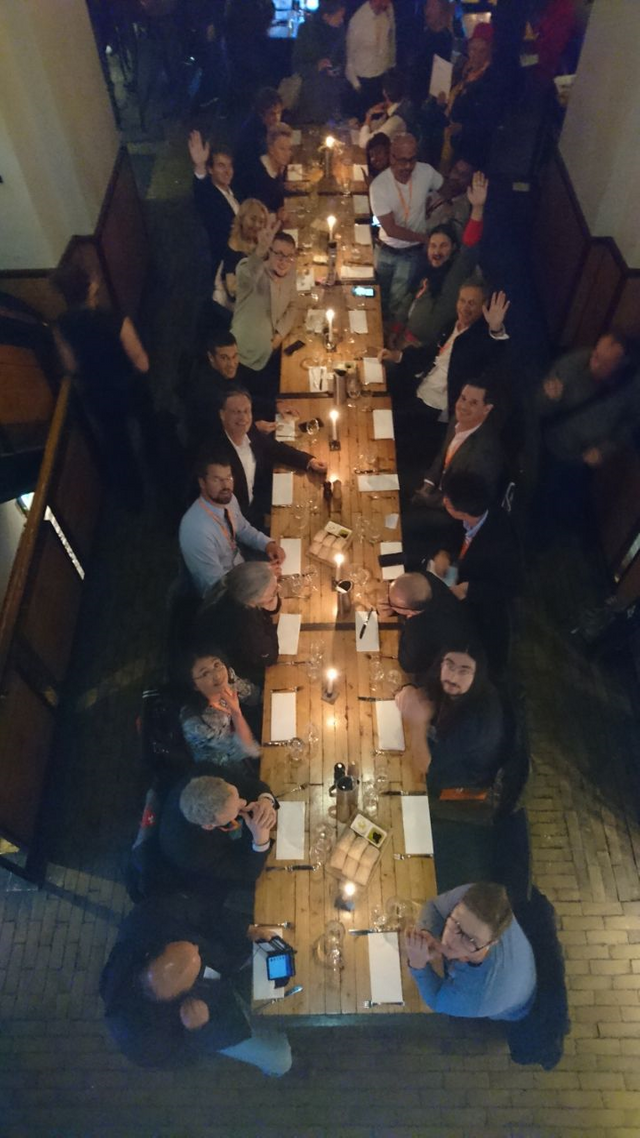 City Walking Dinner in Amsterdam
Sunday – BitFest Farewell Pancakes
On Sunday our final activity was planned: the BitFest Farewell Pancakes. This final get together of the weekend was an initiative taken by BitShares witness @RoelandP, who offered to bake delicious Dutch pancakes for the BitFest visitors. Thank you very much @RoelandP!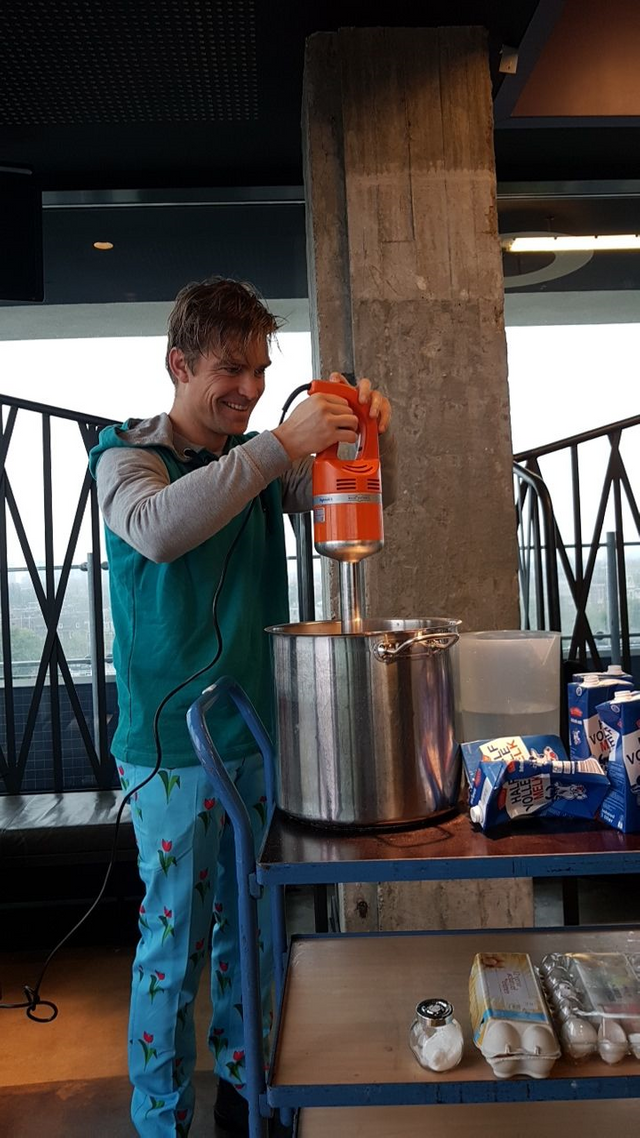 @RoelandP preparing pancakes
Thank you all!
The BitShares Blockchain Foundation would like to thank all BitFest sponsors, speakers, panellists, panel moderators, and the audience for their contribution and making BitFest to a great event! It was a pleasure to organize BitFest and bring the Community together in this great event.
---
The BitFest Organization Team
BitFest.in
[email protected]