Bitcoins recent surge to that oh so elusive $10 000 mark has seen renewed faith and positivity in the currency of late making headlines across the world. As it gains more traction with it comes media attention and popularity. More investors become interested in this miraculous internet money that is worth more than any single bar of gold or world fiat currency by single unit value.
But the rise to $10 000 has been ten years in the making and believe it or not there was a time when BTC wasn't worth a penny nevermind a single dollar. In the early days of Bitcoin as recent as 04 November 2011, the currency was still worth less than a dollar
Gone and now forgotten
During those times and even to this day, surprisingly, people did not take the currency seriously and look after it and have lost access to it for some reason. This lost Bitcoin is now basically removed from circulation, just like Gold sitting at the bottom of the ocean or paper money that was burned it can never be found and added back into the system.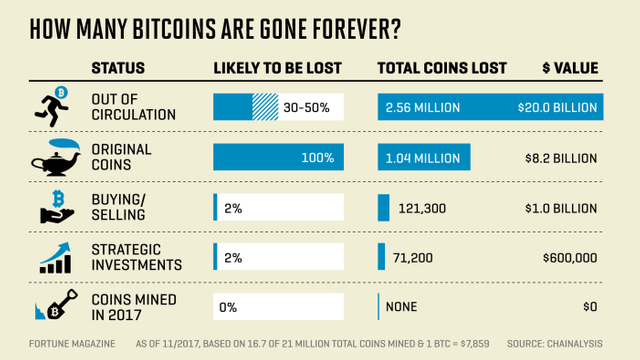 Image source: - fortune.com
How many Bitcoins are lost?
Over the years Bitcoin was lost due to physical thumb drives and cold storage wallets being lost or overwritten, damaged or lost paper wallets, devices with hot wallets being corrupted or destroyed. These incidents coupled with the fact that and users not storing copies of their private keys in various places so they may recover their money.
Due to this, there are many wallets on the Bitcoin network which are now holding funds but are inactive with no way of getting to them short of stumbling across the keys or using a quantum computer to brute force your way in, which is highly impractical at this point.
According to new research from digital forensics agency Chainalysis that studied the bitcoin blockchain, they found that around 3.79 million bitcoins are already gone for good based on a high estimate—and 2.78 million based on a low one.
Those numbers mean that 17% to 23% of existing bitcoins are now lost forever. Which makes current Bitcoin even more valuable as well as newly minted virgin Bitcoin.
What do lost Bitcoins do to the price?
While the lost Bitcoin is a painful and costly learning experience for the wallet owner, it is by no means an issue for the blockchain and the Bitcoin network. The more Bitcoin removed from circulation means that along with a decrease in yearly inflation. The amount of Bitcoins traded becomes less each year.
This reduction in supply pushes up scarcity which has a knock-on effect on prices as demand rises.
Dealing with your loss
What would you do if you lost Bitcoin? What would you do if you magically recovered lost Bitcoin now? How do you make sure you take care of the Bitcoin you own? Let me know in the comments :)
Previous ADSactly Crypto posts
---
---
Click the coin below to join our Discord Server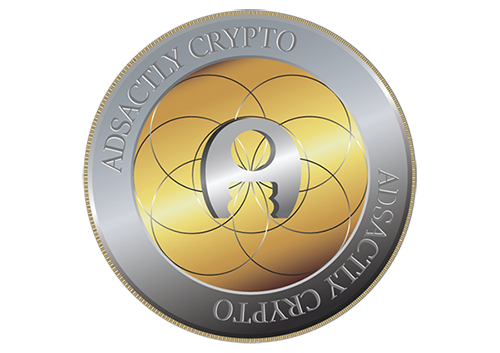 ---
We would greatly appreciate your witness vote
To vote for @adsactly-witness please click the link above, then find "adsactly-witness" and click the upvote arrow or scroll to the bottom and type "adsactly-witness" in the box
Thank You
---