INTRODUCTION
---
The explosion of Bitcoin in the cryptocurrency/blockchain industry after a consistent work of its inventor, Satoshi Nakamoto, was followed by different reactions from people and other blockchain gurus, and this has led to the creation of other coins referred to as "Altcoins," which project themselves as a better substitute of Bitcoin.
The diversification in the Crypto/Blockchain industry via the creation of "Altcoins" thus brings about the problem of converting one coin to another, although there is a history of some pre-existing exchanges which are basically centralized and many issues have been reported about them, Read here.
In this article, problems faced by pre-existing exchanges, BCIO and its solutions, features and other relevant things will be considered.


Problems Encountered By Pre-existing Exchanges
---
Pre-existing exchanges have been proven to be unreliable, unsecured, uncooperative, and incomprehensible. A good exchange is expected to provide a conducive environment for its users, however, this is not the case.
Below are some of the problems crypto exchanges face:
● Security violations: More than 1 million bitcoins have been reportedly stolen from their rightful owners by hackers and imposters. If these issues are not solved, they would surely hamper the growth of cryptocurrency networks or halt it, in the worst scenario.
● Non-compliance: A lot of blockchain users' assets were frozen because of non-compliance with national and international laws on the part of the platforms.
● Uncooperative: Many blockchain platforms operate in an uncooperative manner. They shut out their customers from lodging complaints or getting relevant data about their transactions. Such platforms with poor customer support, oftentimes, operate on disadvantageous and inappropriate ventures; thereby exposing their many risks and uncertainty.
● Outages: In times of high economic instability, many platforms experience outage because they have no foresight or backup plans for bad days. This lack of foresight, oftentimes results in unbearable losses for many dealers, users and investors.


The Next-Rated Cryptocurrency Everyone Should Buy Before October 25; BCIO.
---
Getting reliable token that is affordable is one thing most blockchain users have been anticipating all these while. In a bid to help people discover their dream token earlier, we conducted an in-depth research on the latest tokens in the global market and we stumbled upon BCIO (a dependable token with the brightest future).
BCIO –Supported By Paymium
---



BCIO is an acronym of Blockchain.io, and it is a France based cryptocurrency exchange, which aims to overcome the current shortcomings of the crypto exchange market via the application of the highest standards in security, reliability, compliance, and accountability.
The founders of BCIO envisaged the difficulties blockchain users are currently experiencing in the industry and out of their passion (BCIO team) for progressive innovations, they invented an accurate gateway into the Internet of Value.
The journey to discover BCIO started as far back as 2009, when the founders of Blockchain.io pioneered the establishment of cryptocurrencies in Europe.
Paymium
, in 2011. Since 2011, paymium team has been able to maintain
high standards of security, reliability and accountability
, which are undoubtedly the
hallmarks of Blockchain.io.
---
Highest Standards of Security
---
The centralized fraction of the exchange provides safe protection services with cold storage and cryptographic proof of reserve.
Cryptocurrencies are kept in cold storage for nothing less than 98% of reserves. Every cold wallet access needs multiple signatures and the private key is divided into different vaults in various locations.
Internal procedures secure the BCIO exchange from social engineering raids. Procedural audits and time stamped logs allow uncovering of any meddling attempts in the accounting database.
---
Thorough accounting reports are audited by unbiased experts who ensure the integrity of BCIO platform.
The exchange aspires to comply with all present feasible EU laws, ensuring that users' assets never get seized.
---
Customer remains on the liability part
---

Source
Seasonal financial audits testify that the inventory of coins (assets side) goes with the records of liabilities with cryptographic proof. If the exchange's user balances are checkered against a blockchain inventory of coins at every block period, there will be no room for a evil imposter to maneuver database records with profit.
Processing capacity in the beginning phase will not be less than 2 million orders per day.


Features/Benefits Of BCIO
---
● The use cross chain atomic swaps enable Decentralized settlement
● Availability of Peer to peer/proprietary lending for users
● Integration/implementation of advanced cryptographic protocols which leverage Lightning Network, Rootstock, Tumblebit technolo
● Liquidity services are available for traders, markets, and various projects
● It Leverages on advanced technological architecture and software of Paymium
● Maximum security of funds since about 98% is kept in a cold wallet
● The utility token ensures discount on trading fees and allows users to take surveys for new listings
● It brings New token listings and airdrops to BCIO holders
● The usability of the trading platform on Web, Mobile and Desktop devices ensures an easy trading and provides alternatives for traders.


---+
The BCIO Token is basically an ERC20 token and the native token that fuels the platform. The token which is in the exchange wallet will play vital roles in executing the services offered by the platform.
Roles of This Token Include:
● Payment of Fees: Before any operation such as; trading, borrowing, listings transfers etc, can be carried out on the platform, there is a need to pay a certain amount of fee or commisson either in BCIO token or other cryptocurrency and this will be automatically deducted from the wallet. *Without this, no operation can be successfully executed!
● Discounted trading: Any transactional fees made with the platform token, that is; BCIO token, will attract a discount on the commissions. However, disciunt sizes will be based on the amount of BCIO token held by the user and this is made possible via a tier system available on the platform. See the image below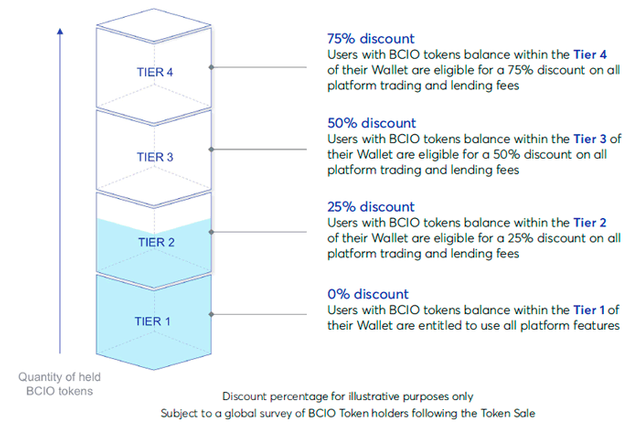 Source
● Survey participation rights: In the bid to foster a vibrant community, blockchain.io will regularly set up surveys and polls in making decisions. However, users with good BCIO tokens will be allowed to contribute to the platform via participation in surveys. Importantly, the weight of votes and rights is directly proportional to the amount of tokens held by users.
● Loyalty & rewards: BCIO Tokens serve as a means of incentivizing usage of the exchange. It also serves the function of rewarding external developers and Paymium users.
Token Sale
---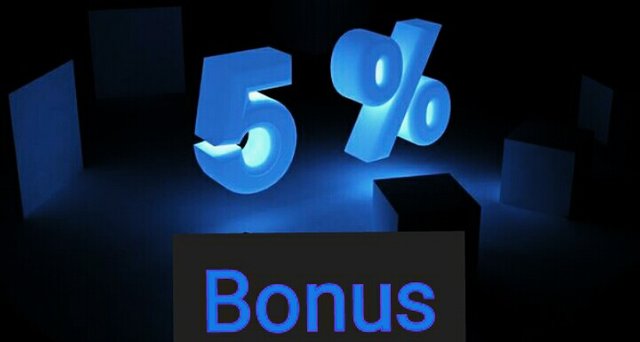 Modified image
For the token sale, a 5% bonus can be earned by any individual that makes a contribution of more than 100 Euros in the crowdsale of the BCIO platform using the code below:


emwinVWrVCzugXiWVP3z

Steps To Follow In Making Contribution
● Log in to your account on ico.blockchain.io.
● On your "Dashboard", paste the referral code that has been given to you by another Blockchain.io contributor.
● Contribute an amount equivalent to at least 100€.
● Benefit from a 5% bonus on your total contribution. Your dashboard will be updated on a regular basis with your referral bonus.
Reasons Why You Should Buy BCIO tokens Before The Crowdsale Ends
---
BICO token operates on three advantageous core values that will make sure everyone, who purchases their token is well catered for. These core values are:
● Efficient Cryptocurrency Exchange: With asset keeping services, advanced buying and selling features, and proven safety procedures to secure digital assets inventories, user's files, order reports, and the order matching machine.
● Decentralized payments: The decentralized settlement eradicates all forms of counterparty risk, thereby removing all need for need for a trusted third-party.
● Quality liquidity services: Blockchain.io provides listing services for chosen tokens, such as the planning and implementation of selected ICO promotions, and market-making services.


BCIO Crowdsale Roadmap
---
Beginning with unleash of decentralized custodial cryptocurrency exchange functionalities, blockchain.io roadmap will executed gradually over the next 18months. The inventors of BCIO, who are in charge of Paymium plan to build 100 million BCIO Tokens (ERC20) of which 55 million (55%) are presented for sale via various consecutive sale stages.
The Token Sale will start on September 27, 2018 and will halt on October 25, 2018. After the Crowdsale has come to a halt, distribution of BCIO Tokens will start in December 2018.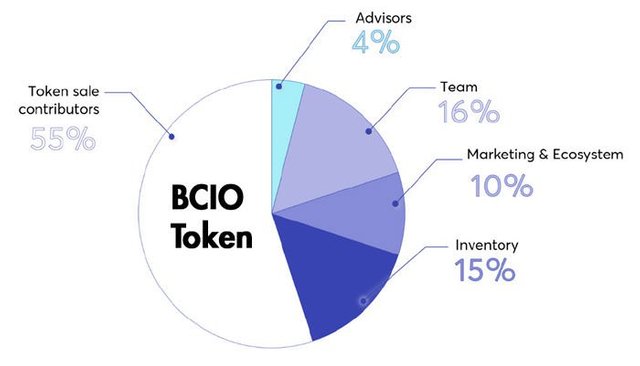 Source
The remaining 45 million will be dispersed as follows:
16% to the BCIO team associates;
4% to consultants;
10% will be kept for advertising and ecosystem; and
15% will be positioned in the Token list.
Token Funds
---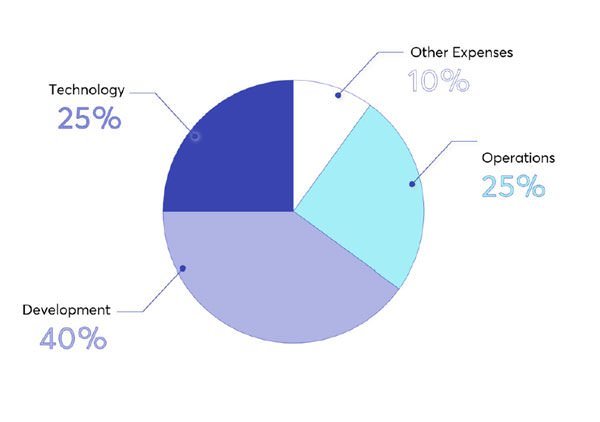 Source
Token Sale Terms
---
● Aimed Hard Cap: the amount of Cap that BCIO aims at raising via Tokens sale is 20 million Euros.
● Token Supply: Paymium is going to emit not less than 100 million ERC20 Tokens.
● Token Reference Price: a Token will cost 0.70 euros either in Bitcoin or Ether on the day of purchase.
● Approved Currencies: Only Ether and Bitcoin will be used to trade alongside BCIO Tokens.
Minimum and Maximum Buy-in
● The minimum buy-in to take part in the Token Sale is 100 euros.
● The maximum buy-in to take part in the Token Sale is 500.000 euros.
NOTE: Everyone that takes part in the Crowdsale will be incentivized with Token extras, which will be granted as follows:
Day 1 - Token Sale opens with 25% bonus;
Week 1 - Bonus decreases to 15%;
Week 2 - Bonus decreases to 10%;
Week 3 - Bonus decreases to 5%;
Week 4 - No bonus


Final Thought
---
BICO token has a bright future and you should consider buying before the crowdsale deadline. Don't just take our word for it; order for BCIO token today via this link.
You can also visit their website for more information.
Meet The Team
---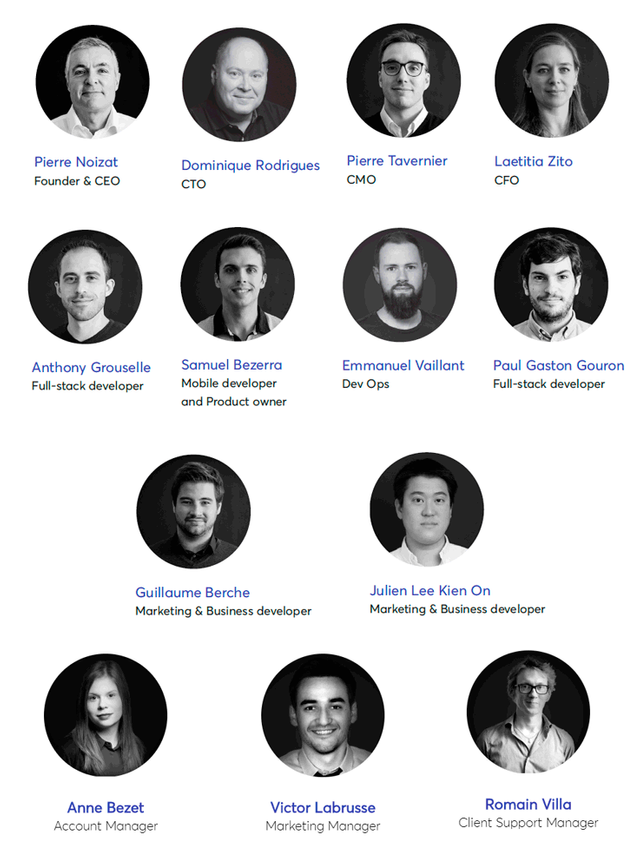 Roadmap
---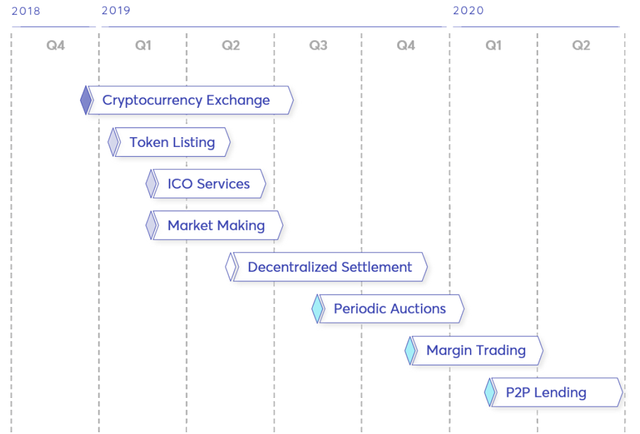 Advisors
--++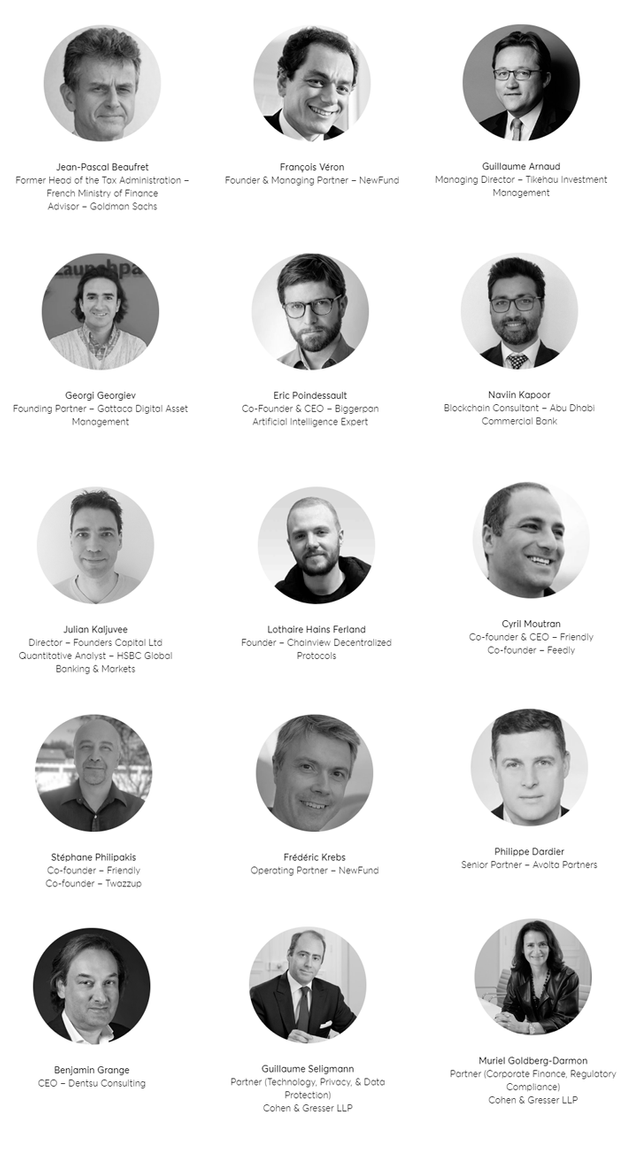 Partners
---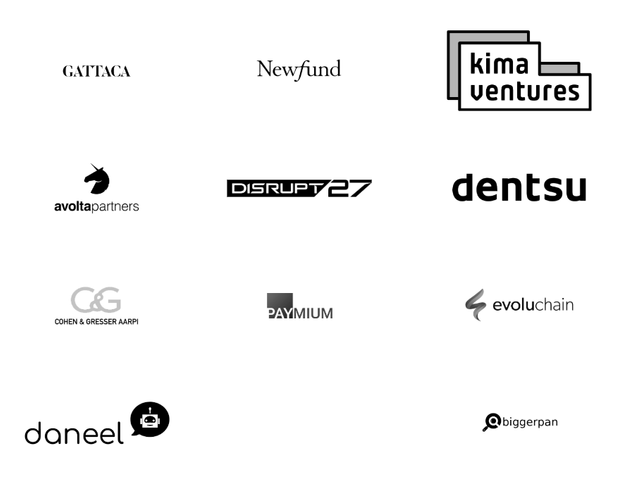 Annexes
---
BCIO Introductory Video
---