April 2018: How to withdraw funds from the new Bittrex interface to your steemit account.
As many of you may have noticed, Bittrex has a brand new interface. Needless to say things are different - especially if you want to withdraw your steem.
What's different when you withdraw?
Three things are different.
The first is a "bug". If your steemit name is less than 10 characters long. you will encounter an error message saying it must be 10 characters long. Don't worry, you can fix that by adding spaces at the end of your name.
Secondly the fields for withdrawal are named differently. There is no "Memo" or "Acct" but "Tag" and "Address".
Thirdly, you no longer need to use your memo key.
Step by Step walkthrough to withdraw steem from Bittrex to your Steemit account.
Login to https://bittrex.com in the usual way.
Click on "Wallets" on the top right of the screen

Your address bar should now show:_ https://bittrex.com/balance
Click on "Hide Zero Balances" to show only the currencies you hold. Assuming you hold some Steem, it should appear in the list.

Click on the red withdraw button.


Now you can enter your memo key in the box marked "Tag". You don't have to enter your memo key. You can write any text you like, as I have done below.

Also enter your steemit name WITHOUT the "@" sign where it says "Address". Double-check you spelt your name correctly. If you put somebody else's name in error the steem will go to them. Check and re-check the steemit name is yours.

Enter the amount you want to transfer to your steemit account. Remember, there is a fee of 0.01 for each transfer, so if you want to transfer exactly 10.00 steem, you should enter 10.01 in the Quantity box.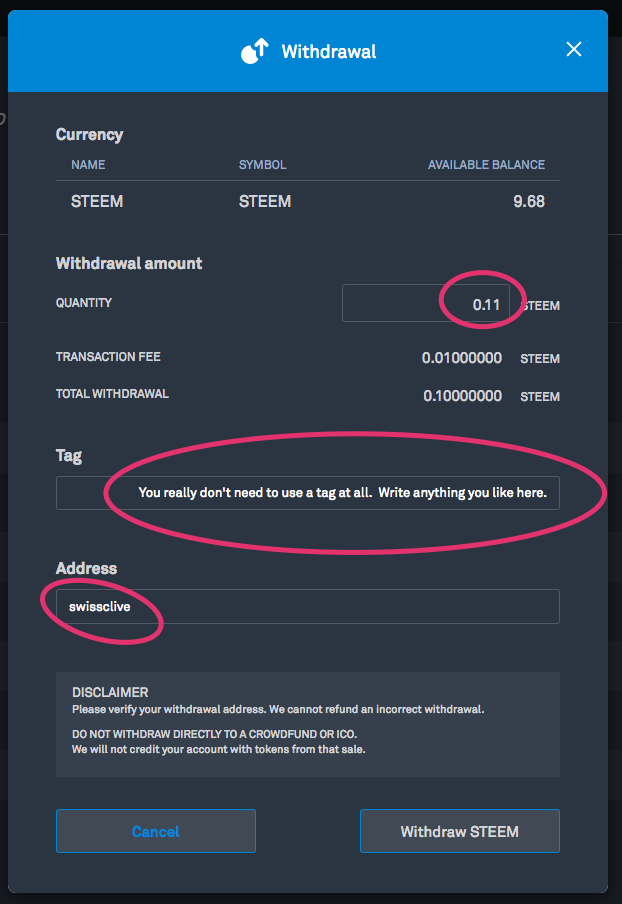 If your steemit name has less than 10 characters you will get an error message like the one below: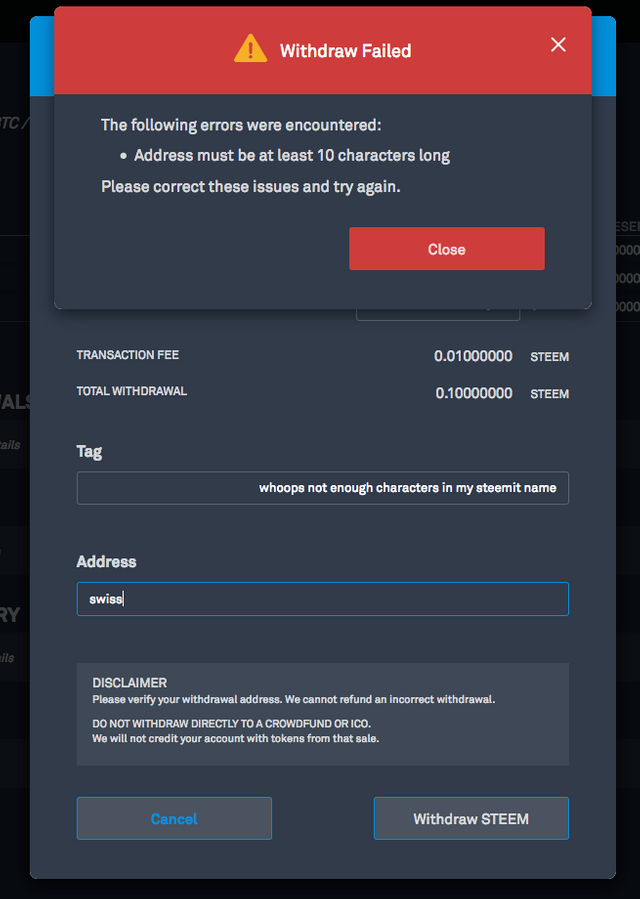 Don't worry. You can correct this simply by adding spaces to the end of your steemit name until you have 10 characters.
Click on "Withdraw Steem", and the following screen should appear.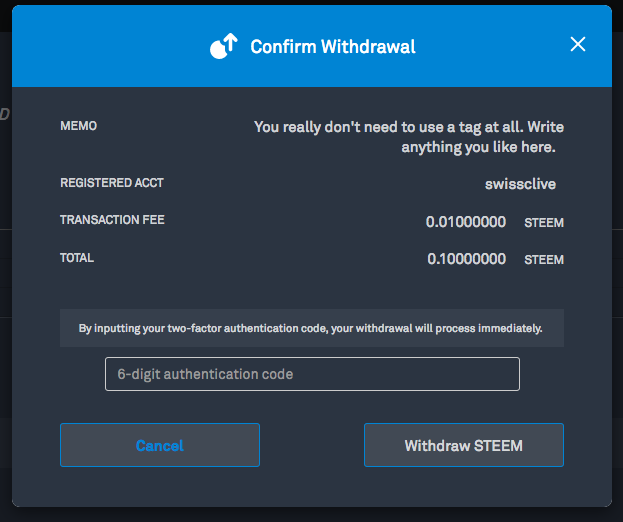 Enter the 6 digit code (On your phone in the App called "Authenticator"), and click "Withdraw Steem"

Wait a couple of minutes and the steem should appear in your steemit wallet, as below:

That's it. You are done. Don't forget to "Power-up" your steem if you want to use it for voting.
The more steem power you own, the more people will look at your blogs. It's like having a Lamborghini parked in your drive.