---
Hello steemitians !!
Hope you all are all well and enjoying your life!
---
This is an IMPORTANT message to all of my friends and fellow steemians here.
We all know that together we were able to put our steem in netcoins list....
And now, It's Bittrex Time!
Currently, Bittrex is asking it's users to drop their recommendations about the next coin to be paired with stable coin usd. People of lesser known communities have been commenting heavily on that tweet.
So friends, I think It is time to let them know what Steem community is capable of.
Just like before, We can surely make this happen too if all of us unite again and take their tweet by storm with our replies. I have done my part pal, now it's your turn.
---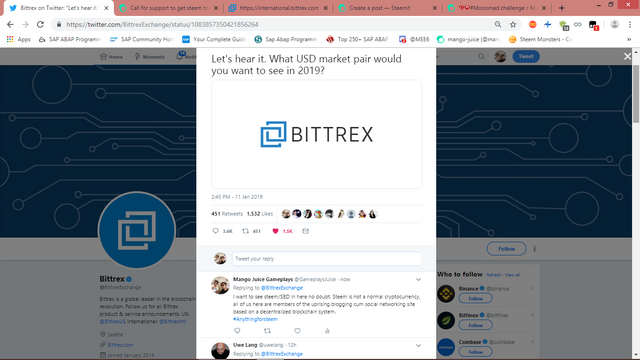 ---
What you have to do?
Dont Think ...it's just a 2 minutes task. Just follow the points below.
Go to this tweet created by bittrex.

Reply this tweet and let them know that you want to see steem/SBD in there... it will be better if you talk something about our steem.

That's it friends.... You have done a great job by helping steem.
What does this mean for steem?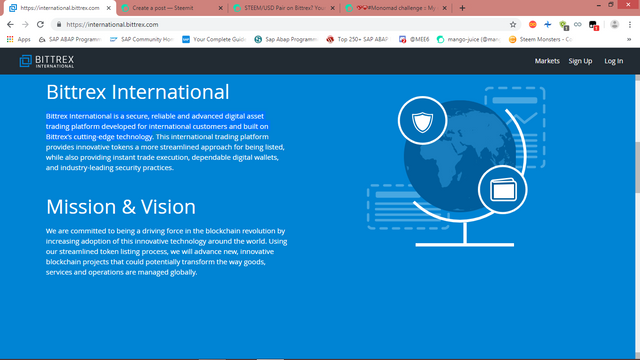 Normally, We lose a lot of our money while performing conversions from one coin to another until we finally reached our desired ones. Because, We have never had a USD pair before with any exchange thus till now we have faced many difficulties in converting our usd to steem and vice-versa. Addition of this pair will mean that we will be easily able to convert our steem into usd and the other way around as well.
SO, It will help all of us steemians !!!
So, what are you waiting for??? Do it and make steem a better place!
I would like to ask my fellow steemian friends to join this comment game and let the world know about steem. I invite @ferrate, @fixedbydoc, @acidyo, @nuthman and @minhaz007 to the party!
Thank you for visiting!!
You are awesome!
---

Posted using Partiko Android