[WARNING] NuBits - The price stable currency... until it's NOT!!
The walls are broken - Market opportunity for Bitshares to fill a need!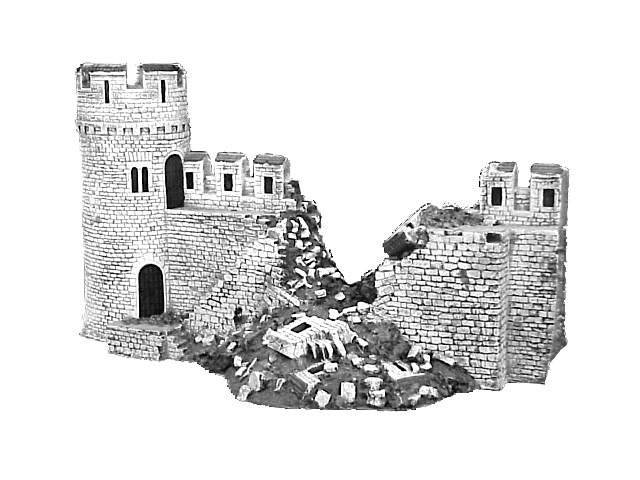 Update 9-June-2016 - Updated chart at the bottom of this post for a picture of the current market in comparison to the original content
Disclaimer: I am not a NuBit Expert but this is what I see from my research
Seems like the rise in Bitcoin price as put some big pressure on the NuBits network; i shouldn't even say network its more like a bunch of people acting independently with a common goal and the network facilitates transaction.
Nubit uses 6 Tier's of Liquidity to provide a peg with the USD for their NuBIT (NBT) currency; this peg has been maintained for the last 20 months relatively well.
The current supply in circulation of NuBits is 757,084 and at current price that means a total market cap of 757,084 USD; problem is that this 757,084 dollars' worth of NBT is being backed by only less than 5000 USD worth of bitcoin at the moment and the peg is being broken to the down side!
Tiers of Liquidity
Tier 1: Liquidity on the Markets orderbooks seen as Buy and Sell Walls
Tier 2: Liquidity on Exchange but not in Orderbooks
Tier 3: Liquidity held in private wallets
Tier 4: liquidity can be provided by custodians not dedicated to liquidity operations.. ?
Tier 5: Manipulate intrest rates for Liquity providers to incentivse individuals to support the peg (via proposals)
Tier 6: Create and/or Sell Nushares at market and uses the BTC received to support the NuBIT peg
Historically before this week Tier 6 liquidity has never been required; NuBIT is currently using Tier 6 (Selling NuShares at market to recover BTC) in an attempt to save their NBT:USD peg
Tier 6 in action : selling NuShares (NSR) to gain BTC to support the wall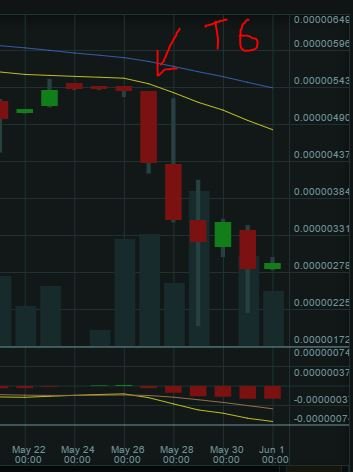 Coinmarketcap chart showing USD value of NBT over 1 Month
Current Liquidity of Nubits BTC:NBT PoloniEX

Current Liquidity of Nubits BTC:NBT Bittrex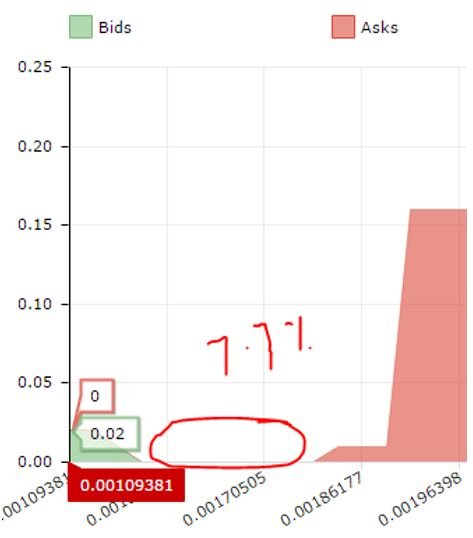 Liquidity measured in NBT

Walls are not sufficently supported and have broken already; given they are at their last Tier of liquidity and they are struggling to recover; I think it maybe to late already but if BTC move's up further in the next week I am calling game over for NuBits and I think the whole system will collapse.
Resources:
NuBits Liquidity monitor: https://alix.coinerella.com
NuBits Liquidity Forum: https://discuss.nubits.com/t/current-liquidity/1239/1830
Good call by Dan months ago: http://bitsharesblog.com/nubits-vs-nxt-vs-bitshares/
Update - 09-June-2016
NBT is currently selling for 84cents per NBT 16% less than the pegged value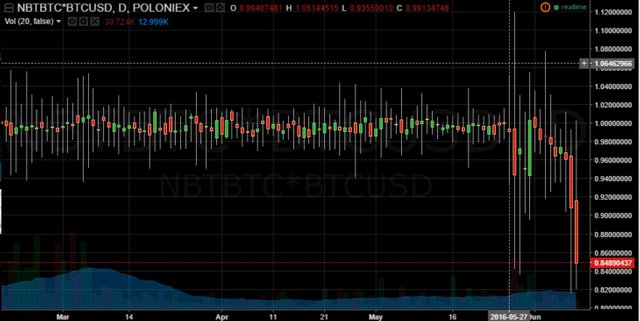 Even at this low price the market depth on PoloniEX (their biggest liquidity) is very low



if price moved to where my crosshair is it would be worth 58 cents per NBT! - only $680 USD protecting this level
NuShares NSR price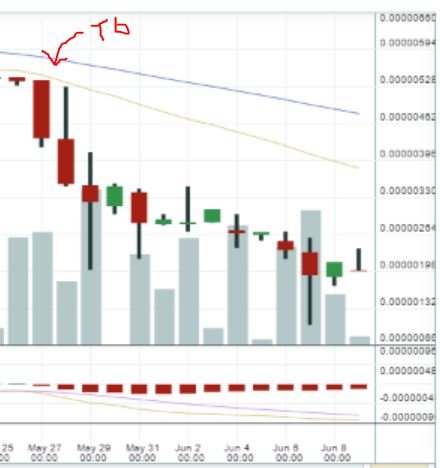 Update 9-june-2016 - later that day
Seems like the 680USD didn't go very far; NBT is now trading at 63 cents and the candle low was 50 cent