Bitnation's June 30 Pangea Upgrade: Chat-Based Smart Contract Agreements
Bitnation's June 30 Pangea Upgrade: Chat-Based Smart Contract Agreements
Written by @infinitechaos
With the previous development sprint having yielded XPAT integration into the Pangea app on June 8, the Bitnation engineering squad is now steamrolling towards its next major Pangea update scheduled for release on June 29. The most significant addition to the app this development sprint will be that of smart contract functionality embedded within Pangea's chat interface.
This feature will allow Citizens to create smart contract-based agreements with each other within a private encrypted chat interface. The chat's encryption is based off of the Signal encryption protocol. This addition is the basis for financial transactions within the Pangea app as well as the foundation upon which governance services will soon be provided.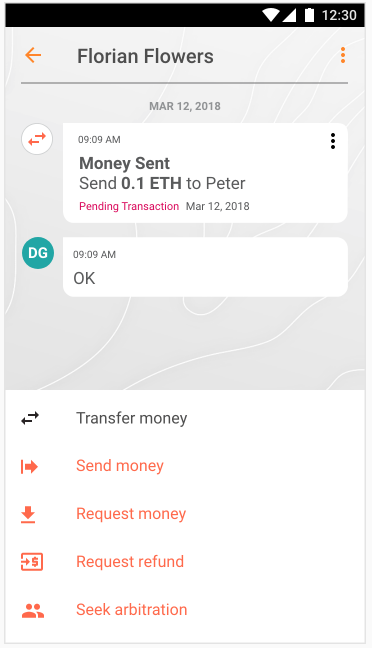 Preliminary UI/UX design mockup
Smart Contract-Based Financial Transactions
The most essential use case scenario for smart contract-based agreements within the chat interface is that of financial transactions with integrated and customizable escrow. Whereas traditional blockchain-based financial transactions are irreversible once submitted, smart contracts allow for a range of dimension and flexibility to be added to transactions.
Payment for goods or services can be submitted to the smart contract and held there until a predetermined and mutually-agreed-upon dispute and arbitration period has transpired or until other specified criteria has been met before being released to the provider of the goods or services.
Using the example from the above mockup design, let's say that you want to hire Florian Flowers to provide all of the flowers for your wedding. You use the chat interface to place an order. You and Florian Flowers discuss and agree that 25% of the total invoice payment will be made available to Florian Flowers immediately upon payment and that the other 75% will be released 3 days after the wedding to allow for any disputes and arbitration requests to be made. Florian Flowers generates and embeds an invoice into the smart contract, you submit the appropriate payment, and the smart contract-based agreement is finalized.
Florian Flowers exceeds your expectations for the flower arrangements they provide the day of the wedding and, because you have no disputes regarding the agreement, the entirety of your payment is released to them 3 days thereafter.
This functionality allows the parameters of financial transactions between individuals and businesses to be customized, permits the removal of elements of trust from transactions, and lays the foundation for disputes and arbitration to be handled outside of the traditional Nation State mechanisms for such actions.