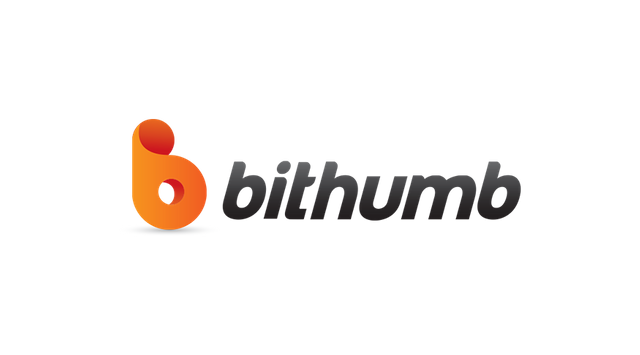 ---
As a lot of people have been asking me lately and wondering about the price of Steem on Bithumb, I thought it would be a good time to write a post about things we know and wonder what could be the cause of these massive volumes and fluctuations of the Steem price on one of the biggest Korean exchanges.
Here is what we do know so far.
Bithumb has been one of the leading exchanges in a long time with prices of many cryptocurrencies often being at a premium on it
Bithumb recently experienced a hack and lost over $30 million, Steem was not one of the hacked coins and unaffected
Korean authorities found nothing wrong with the exchanges at a recent audit and are working on legitimizing crypto markets ASAP to prevent hacks
Shortly after the hack Bithumb transferred 1.5 million Steem to Binance for safekeeping(?)
After the blockchain freeze, exchanges disabled deposits and withdrawals until they upgraded to 19.5, Poloniex, Bittrex, Binance and Upbit are now back at allowing transfers, Bithumb still not
Although the Steem price has remained quite stable ranging between $1,20 and $1,80 on most exchanges in the past month, on Bithumb it has been going wild!
Price on most exchanges in USD the past month: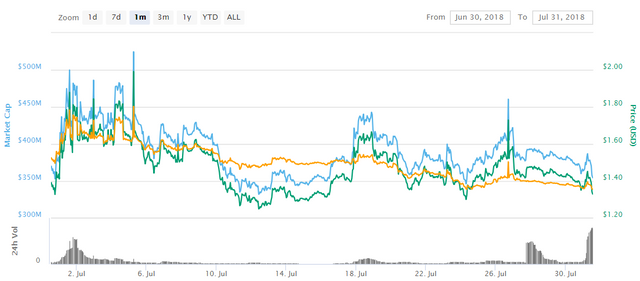 On Bithumb its been looking like this, prices in KRW (last night it went up to almost $9 per STEEM):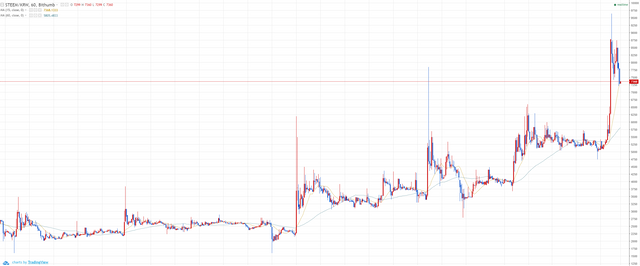 Coinmarketcap has removed Bithumb from the average price of Steem displayed on their site due to the big difference, volume has lately remained displayed as it costs to trade Steem on Bithumb
Questions that arise when looking through all of this.
Are the traders aware that Bithumb has Steem transfers disabled?
Are they speculating based on knowing there is no arbitration possible?
What will happen with the price once transfers are enabled again? Will it put pressure on the price to go up due to the big demand on Bithumb or will the "pumpers" stop once that happens?
A last thing that I noticed recently when checking out @penguinpablo's Weekly Steem Stats Report was these big transfers of a total of 1.5 million Steem to @bithumb.sunshine recently.
Is Bithumb about to re-enable transfers?
Moon soon?
:)
---

In case you've missed them: