Who is Satoshi Nakamoto? The name is genuinely Japanese: Nakamoto (中本) is a common family name and Satoshi (in Japan usually written as two characters 哲史, but Chinese people prefer a single character 聰) is his given name, but most experts believe it is a pseudonym (fake name).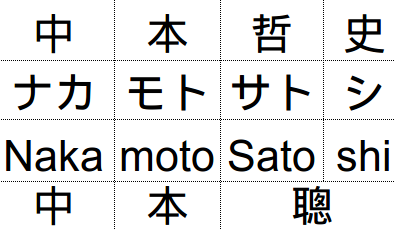 Based on forensic evidence, Satoshi Nakamoto, the creator of Bitcoin, is probably not a Japanese person:
(1) All of his posts and comments use British spellings, British word choices and are completely free of grammar errors. He could of course be perfectly bilingual, but there is other evidence pointing to his being either British or a commonwealth citizen.
(2) Satoshi Nakamoto always posted during UK daylight hours, even on weekends. This would indicate that he was probably living in the UK.
(3) It is even possible that "Satoshi Nakamoto" is not a single person, but a group of ingenious programmers.
In the final analysis, does his identity really matter that much? The important thing is that his creation has taken on a life of its own and brought about a host of innovations. Apart from bankers, all of us should all be grateful for the creation of such useful cryptocurrencies.