🗞 Daily Crypto News, July, 26th💰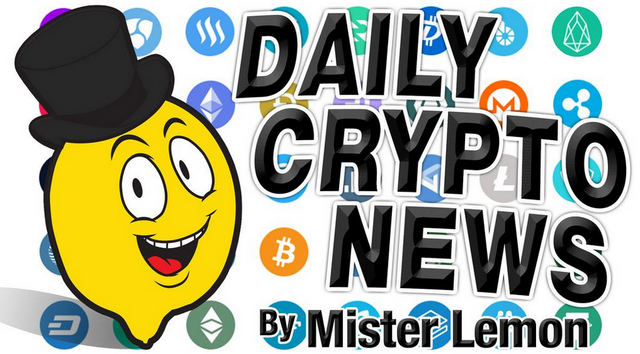 Welcome to the Daily Crypto News: A complete Press Review, Coin Calendar and Trading Analysis. Enjoy!
Facebook co-founder and CEO Mark Zuckerberg said that the company will work as long as it takes to appease regulators' concerns over its Libra stablecoin. Zuckerberg delivered his statements during the firms Q2 results conference call on July 24.


During the call, Zuckerberg said that — some years ago — Facebook would have just released a new product without prior warning, but now the company has changed. More precisely, he stated:


"We've opened a period of - however long it takes to address regulators and different experts and constituents' questions about this and then figure out what the best way to move forward is."


He also noted that — when Facebook was working on the white paper with the 27 other members of the Libra Association — they expected that, since finance is heavily regulated, there were going to be a lot of questions asked about the project.
The U.S. Securities and Exchange Commission has issued a no-action letter to Pocketful of Quarters (PoQ), a gaming startup looking to issue tokens on the ethereum blockchain.


PoQ may legally sell its Quarters tokens to consumers without registering them as securities, the SEC Division of Corporation Finance wrote in its second no-action letter to a company seeking to launch a token sale. (The first was granted in April to TurnKey Jet, a business-travel startup.)


Quarters are built according to the ERC-20 standard – the first such token to receive U.S. regulatory approval.
In the July 25 letter, Jonathan Ingram, chief legal officer for the SEC's FinHub wing, wrote:

cointele
"Based on the facts presented, the Division will not recommend enforcement action to the Commission if, in reliance on your opinion as counsel that the Quarters are not securities, PoQ offers and sells the Quarters without registration under Section 5 of the Securities Act and does not register Quarters as a class of equity securities under Section 12(g) of the Exchange Act."
The cryptocurrency industry is still grappling with the legal implications of the initial coin offering (ICO) trend of 2017.
Two years after the token boom, the value of Bancor's BNT token is in the dumps – sinking from $4.49 in July 2017 to an all-time low last week of $0.44, according to CoinMarketCap.


Yet, the project's main investors are still holding.


For example, Yoni Assia, CEO of the crypto exchange eToro, described the $153 million Bancor ICO as a "pivotal" moment for the industry and told CoinDesk he is holding BNT because he believes in the team.


The Bancor platform, which provides quick liquidity for niche ERC-20 tokens by using BNT as a market-making reserve currency for all assets on the network, has routinely attracted 100-250 traders a week, according to Etherscan's tally of BNT token transactions.
The Nigeria Deposit Insurance Corporation (NDIC), a federal insurance overseer and safety net provider, has issued a public warning about relying on cryptocurrency transactions in a press release on July 25.


According to the press release, managing director and CEO of NDIC Umaru Ibrahim said that relying on cryptocurrencies is very risky, because they are unregulated and unbacked by central banks in most financial jurisdictions.


Much like the United States's Federal Deposit Insurance Corporation, the NDIC provides a safety net for depositors and aims to protect the banking system from instability caused by bank runs or loss of confidence.
U.S. investors have been able to purchase Bitfinex's LEO exchange tokens, if only indirectly.


Seattle-based Arrington XRP Capital and Los Angeles-based Arca both said they invested in LEO tokens, despite Bitfinex's stated policy of refusing to sell them to U.S. residents or entities.


Both investment management firms told CoinDesk that, rather than purchasing the tokens from Bitfinex, they acquired them, legally, from third parties.


The distinction is important because, in an ongoing court battle with the New York Attorney General (NYAG), Bitfinex maintains that it banned U.S. individuals from its platform in August 2017 and U.S. corporates a year later.


In arguing that it has jurisdiction in the case, the NYAG claims the exchange did business with New York entities as recently as early 2019.
📑 Daily Crypto Calendar, July, 26th💰
"#TRON will be listed on the daily contract (20X leverage) with the global innovative exchange – @OnTrade1 on 26th of July 2019(SGT)."
"It is with great excitement that we would like to announce that we are going to release Conceal Mobile Beta on July 28!"
This first public release of the Dusk Network protocol implementation gives a chance to participate in the testing alongside our team.
"Starting August 26th, ICONists will be able to vote for P-Reps and earn $ICX rewards!"
"Thrilled to announce that our first-ever Developer Community Call will take place Friday 26 July @ 9 AM."
STEEM Trading Update by my friend @cryptopassion
Here is the chart of yersterday :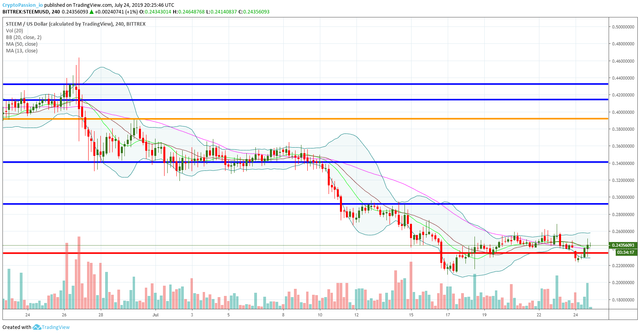 Here is the current chart :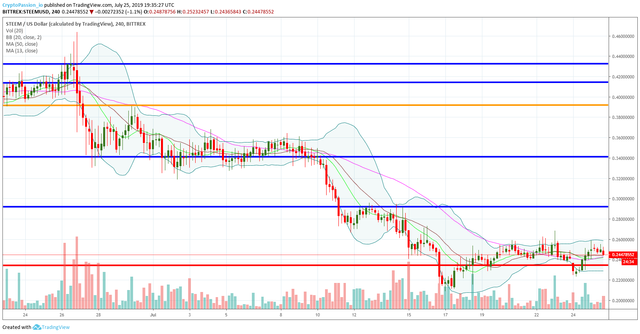 The false break of the support line yesterday triggered a bounce on the STEEM but we are already consolidating from it now. The positive point is that we are now back upper than this support line and that we are waiting for the next move. Till now it looks like that the support line at 0.24$ start to be considered as temporary low. A Up break out on the BTC could help us to validate that but let's see what the market has planned.
Last Updates
Join this new Free To Play on the STEEM Platform !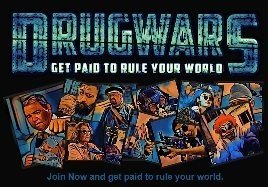 You don't want to miss a Crypto news?
Join SteemFollower and get Upvotes back !
---
Posted from my blog with <a

---
Posted from my blog with SteemPress : https://scrips.io/blog/mr-cryptolemon/%f0%9f%97%9e-daily-crypto-news-july-26th%f0%9f%92%b0/
---