🗞 Daily Crypto News, July, 18th💰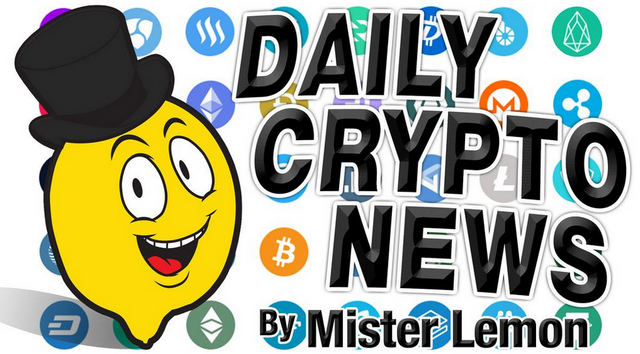 Welcome to the Daily Crypto News: A complete Press Review, Coin Calendar and Trading Analysis. Enjoy!
Amidst a decline in the price of bitcoin, the world's most valuable cryptocurrency could find support at $7,500 – that is if it follows past patterns on the charts.


Bitcoin has faced selling pressure over the last few days, despite an impending golden crossover on the three-day chart – a bullish crossover of the 50- and 200-candle moving averages, as discussed last week. As of writing, the 50-candle moving average (MA) is on an upward trajectory and looks set to cross above the 200-candle MA in the next few days.


It is worth noting, however, that a similar golden crossover on the three-day chart was observed in early February 2016, when a bitcoin bull market was then in its nascent stages.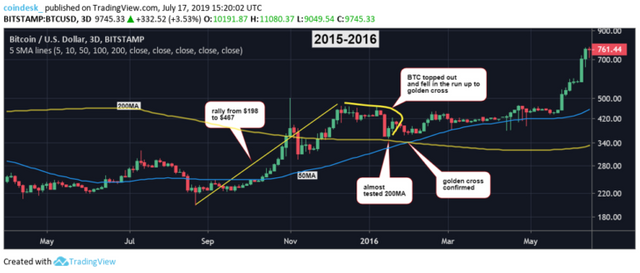 The Japanese government is attempting to spearhead the creation of a new, global cryptocurrency payments network that would be similar to SWIFT.


Replace SWIFT with a global crypto payments network?


Citing an anonymous source, a Reuters report published on July 18 claimed that the country's push for the network is motivated by a resolve to combat money laundering more effectively.


While plans are being kept firmly under wraps, the source alleged that Tokyo hopes to have the network established within the next few years.


Cuban expat Claudia Rodriguez of the Brazilian startup Fusyona, the sole bitcoin exchange proactively serving Cubans, told CoinDesk the exchange has nearly 700 accounts since launching in 2018. She said up to 60 users purchase a total of one or two bitcoins every week.


U.S. lawmakers repeatedly pressed Facebook's top blockchain executive to halt development of the Libra cryptocurrency during a contentious hearing on the project Wednesday.


They didn't get far.


David Marcus, the CEO of Facebook's subsidiary Calibra, reiterated his promise that Libra would not launch until regulators' concerns were fully addressed. But he stopped short of committing to freezing technical work on the project, much to the chagrin of House Financial Services Committee members.


The committee's chairwoman, Rep. Maxine Waters (D-Calif.), had previously called for a moratorium, and it was one of the first things she brought up in the hearing, asking the Facebook executive:


"Will you stop dancing around this question and commit here in this committee … to a moratorium until Congress enacts an appropriate legal framework to ensure that Libra and Calibra do what you claim it will do?"
Jamie Dimon, CEO of global financial services firm JPMorgan Chase, argued that Facebook's cryptocurrency project Libra does not pose a threat in the foreseeable future.


As reported by CNBC, Dimon delivered his comments during a conference call with analysts on Tuesday, July 16. Dimon said that he would not spend too much time on Libra, specifying that "to put it in perspective, we have been talking about blockchain for seven years and very little has happened. We are going to be talking about Libra three years from now."


Dimon continued saying that any new effort will have to comply with the industry's Anti-Money Laundering provisions.

Dimon said:

Bitcoin Suisse, a crypto-broker and pioneer of Switzerland's "Crypto Valley," has taken anticipatory steps to comply with a "maturing" regulatory environment.


The firm announced on Tuesday that it has applied for a banking license with Swiss Financial Markets Supervision Authority (FINMA), as well as a security dealer's license, mandated by the Stock Exchange and Securities Trading Act (SESTA). In the past, financial authorities at the Swiss Federal Council said blockchain and distributed ledger technology will be governed by existing regulatory schemes.


However, a Suisse company representative said:


"We believe that in the long-term, more regulation will follow, as soon as the legislation catches up with the technological developments of the space. We believe that within this new regulatory environment, companies without the necessary licenses will have a limited ability to serve clients with the full spectrum of high quality, innovative crypto-financial products and solutions."
📑 Daily Crypto Calendar, July, 18th💰
YCash, the first "friendly fork" of the ZCash blockchain, forks at block height 570,000 (expected July 18).
"We are hosting a Ask Me Anything (AMA) with SWIPE on Tokenomy's English and Indonesia Telegram Groups!"
HarmonyAsia China from July 18 - 22.
"Join us for our cross-community office hours with Hedera @hashgraph this Thursday on Telegram!"
"Sia will be hosting its congressional hearing..oops..#AMA tomorrow, July 18th from 12 pm EST on @reddit and twitter!"
STEEM Trading Update by my friend @cryptopassion
Here is the chart of yesterday :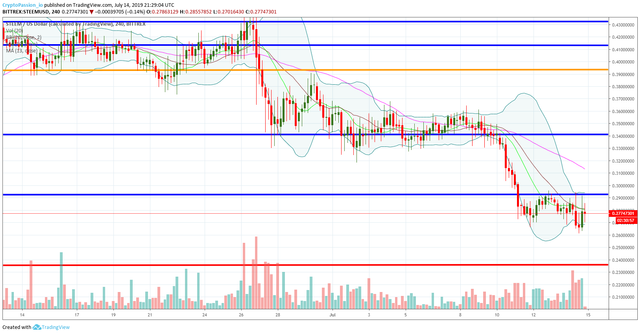 Here is the current chart :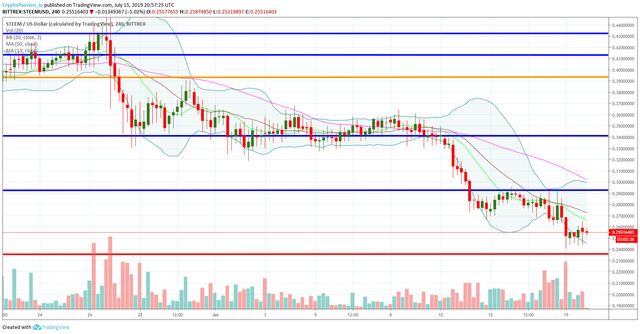 We are currently consolidating just upper the major resistance line at 0.24$ while the BTC is having a very nice bounce. It is becoming hard for all the altcoins and STEEM is not better than other and is sometimes even worst. What to say, we have to wait for better days, the market doesn't really care currently for the altcoin market and I really don't know how many time it will last like that. Courage and perhaps focus on the BTC if you want do short term trades.
Last Updates
Play on a fair STEEM CryptoGaming website !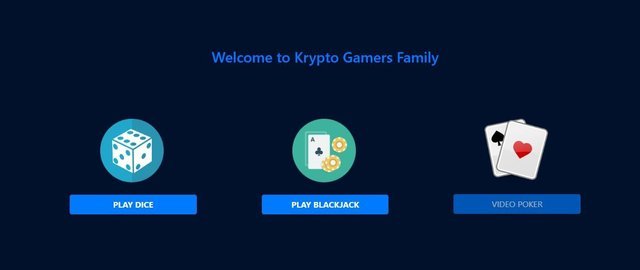 Join this new Free To Play on the STEEM Platform !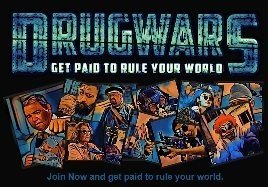 You don't want to miss a Crypto news?
Join SteemFollower and get Upvotes back !
---
Posted from my blog with <a

---
Posted from my blog with SteemPress : https://scrips.io/blog/mr-cryptolemon/%f0%9f%97%9e-daily-crypto-news-july-18th%f0%9f%92%b0/
---