🗞 Daily Crypto News, August, 2nd💰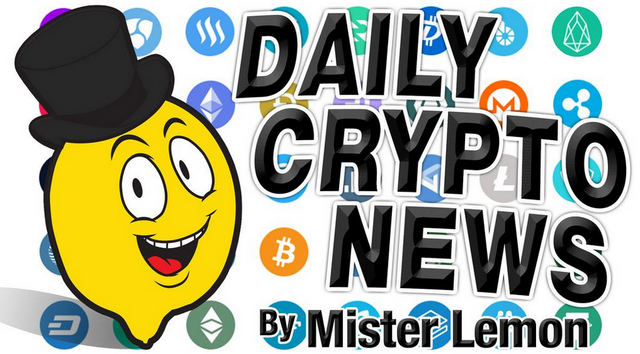 Welcome to the Daily Crypto News: A complete Press Review, Coin Calendar and Trading Analysis. Enjoy!
Payments company Square reported its second-quarter earnings Thursday, revealing $125 million in bitcoin sales through its Cash App, nearly doubling a record first quarter.


"During the quarter, bitcoin revenue benefited from increased volume as a result of the increase in the price of bitcoin, and generated $2 million of gross profit," the earnings report explains.


Founded by Twitter co-founder Jack Dorsey, Square reported that bitcoin represented very nearly half of the total revenue on its Cash App, at $260 million, for the second quarter of 2019. Bitcoin costs, however, are listed at $122.9 million in the unaudited quarterly report, yielding the aforementioned $2 million in profit.



A new patent filing suggests that United States retail giant Walmart may be developing its own U.S. dollar-backed digital currency similar to Facebook's Libra cryptocurrency.


Walmart filed patent for "Digital Currency via Blockchain"


Patent filing number 20190236564, "System and Method for Digital Currency via Blockchain," was published by the U.S. Patent and Trademark Office (USPTO) on Aug. 1. The document outlines a method for:


"Generating one digital currency unit by tying the one digital currency unit to a regular currency; storing information of the one digital currency unit into a block of a blockchain; buying or paying the one digital currency unit."
Eric Conner, founder of information site ETHHub and product researcher at blockchain startup Gnosis, said:

"I think in four years, Ethereum will be moving past the hardest parts of its ambitious goals around proof-of-stake and scaling. At that point, the network will be able to onboard more users and we'll start to grow beyond the use cases we are seeing today."
LedgerX admitted Thursday it has not launched bitcoin futures, as the firm had previously claimed, after the U.S. Commodity Futures Trading Commission (CFTC) said it had not approved the exchange to do so.

The company previously told CoinDesk it was planning to launch the product on Wednesday. LedgerX would have been the first venue in the U.S. to offer physically-settled bitcoin futures, which are contracts that pay out in the underlying cryptocurrency rather than in cash.


"Not only are they delivered physically in the sense that our customers can get bitcoin after the futures expires, but also they can deposit bitcoin to trade in the first place," LedgerX CEO Paul Chou told CoinDesk on Monday.ring connections to external services like the crypto exchange ZigZag, the blog Yalls and games like Lightning Roulette, facilitates nearly 10,000 referrals a month. So far, BlueWallet users have completed more than 100,000 lightning transactions.
The New York Office of the Attorney General (NYAG) has submitted a letter to Justice Joel M. Cohen, arguing that cryptocurrency exchange Bitfinex and affiliated Stablecoin firm Tether should not be granted a continuing stay of demands.
The NYAG submitted its letter on Aug. 1 — the latest chapter in the New York Attorney General's ongoing case against Bitfinex, parent company iFinex and Tether, in which the state alleges a multimillion loss coverup took place.
The motivation for NYAG's letter
The court initially issued a stay of document demands in May at the defendants' request. This means that the court currently only requires the defendants to produce documents and information pertinent to the issue of whether or not New York is the appropriate jurisdiction for the NYAG's complaint, as opposed to a wholesale disclosure of complaint-pertinent documentation.

Bitfinex's lawyers recently wrote that it had spent over $500,000 responding to NYAG's document requests, adding that they would appeal for a continued stay of demands even if a dismissal motion does not go through.
"Scarcity is about to kick in," the crypto trading account known as Rhythm on Twitter commented on the event. 

The current Bitcoin supply means only a maximum of 17,850,000 people can own an entire coin. In reality, however, some of the existing mined supply is not in circulation and never will be, as users lose access to private keys. 
Bitcoin (BTC) price climbed back over $10,000 to nearly $10,500 on the morning of August 2 as the market has shown a surprising bounce defying earlier calls by some traders for more downside.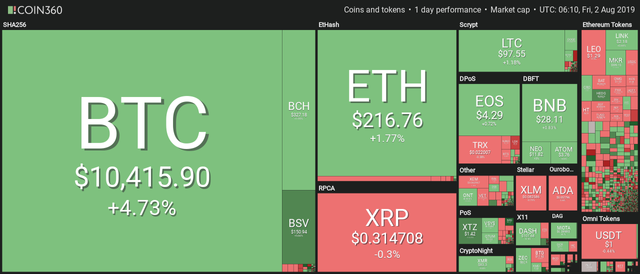 "August could turn out to be a good month"
Trader and market analyst Josh Rager said that BTC/USD moving back above $10,000 is finally showing some nice follow through.

"A close above previous 4hr resistance is a nice sign," he continued. "The good news about the death cross is that it leads to a golden cross as the 50MA is already starting to turn up."

Rager concludes that:
"August could turn out to be a good month for price, IMO"
📑 Daily Crypto Calendar, August, 2nd💰
ETHIndia, "Asia's biggest Ethereum Hackathon", from Aug 2-4 in Bangalore.
"On Friday 2 August We Will Announce Strategic Partnership. Till Then Stay Tuned."
Indodax lists ATOM. Deposits start on Aug 1st at 12 PM (UTC+7). Trading starts on Aug 2nd at 12 PM (UTC+7).
"Submit your questions here or on YouTube before the AMA on Thursday, August 1st @ 6PM UTC (2PM EST)."
"Join us in Geneva on August 2nd for a "Workshop on #DLT Scalability and Interoperability" hosted by the @ITU FG on DLT #Standardization."
STEEM Trading Update by my friend @cryptopassion
Here is the chart of yersterday :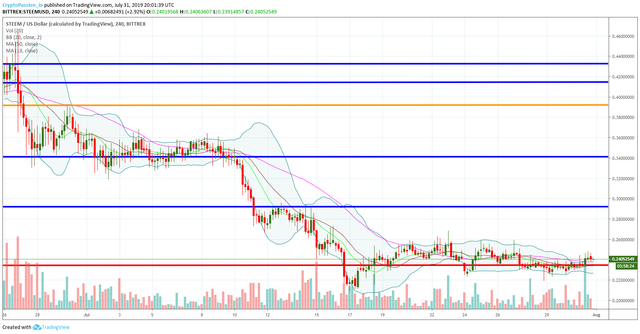 Here is the current chart :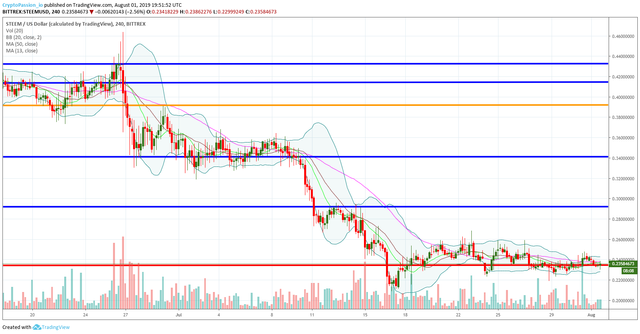 The STEEM is still stitting exactly on the support line. I think we should have a decision from the market quiet soon. Let's hope it will be a good news. The current pattern could indicate that the market is not able to go lower anymore and if this is the case, a sudden UP should appear suddenly. However, this kind of support line can finish also to be broken so we must stay all very carefull.
Last Updates
Join this new Free To Play on the STEEM Platform !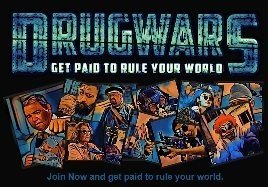 You don't want to miss a Crypto news?
Join SteemFollower and get Upvotes back !
---
Posted from my blog with <a

---
Posted from my blog with SteemPress : https://scrips.io/blog/mr-cryptolemon/%f0%9f%97%9e-daily-crypto-news-august-2nd%f0%9f%92%b0/
---