🗞 Daily Crypto News, August, 1st💰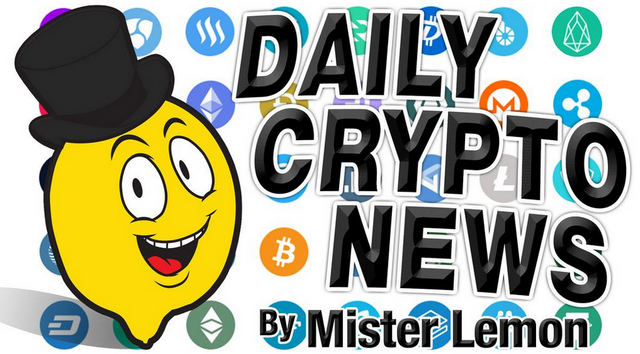 Welcome to the Daily Crypto News: A complete Press Review, Coin Calendar and Trading Analysis. Enjoy!
A rule embedded within litecoin's (LTC) code is set to soon reduce rewards for the miners who today ensure transaction processing on the world's fourth-largest blockchain by total value.

In approximately five days, litecoin will undergo a scheduled reward halving – a process aimed at preserving cryptocurrency's purchasing power. The mining reward is currently set at 25 litecoins ($2,500) per block and will drop to 12.5 litecoins ($1,200) per block on Aug. 5.


With that transition, the protocol will be adding significantly fewer litecoins to the market after Aug. 5.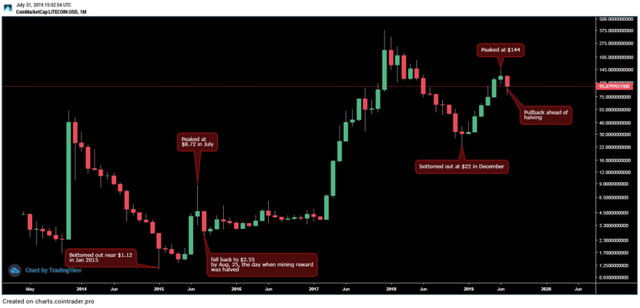 Yesterday, ethereum celebrated its fourth birthday.


Four years ago, on July 30, 2015, the world's first general-purpose blockchain platform went live. Called ethereum, the platform was the first of its kind to feature a Turing-complete virtual machine and native programming language able to deploy code of any algorithmic complexity.


"Before ethereum, developers had to design and write extremely complex software," blockchain researcher Mihailo Bjelic told CoinDesk. "Ethereum introduced a generic programmable layer which abstracted this whole process and enabled developers to build decentralized applications by only writing their applications' core logic."


There are roughly 800 monthly active developers building on the ethereum blockchain, according to new data from investment firm Electric Capital.
Eric Conner, founder of information site ETHHub and product researcher at blockchain startup Gnosis, said:

"I think in four years, Ethereum will be moving past the hardest parts of its ambitious goals around proof-of-stake and scaling. At that point, the network will be able to onboard more users and we'll start to grow beyond the use cases we are seeing today."
Lightning-centric bitcoin wallets are gaining traction in 2019 and making small transactions affordable by reducing network fees.


The bootstrapped Spanish startup Bluewallet garnered 35,000 downloads so far this year, according to co-founder Nuno Coelho, a significant jump from the 5,000 users it had in 2018.


Coelho told CoinDesk the wallet's built-in lightning marketplace, offering connections to external services like the crypto exchange ZigZag, the blog Yalls and games like Lightning Roulette, facilitates nearly 10,000 referrals a month. So far, BlueWallet users have completed more than 100,000 lightning transactions.
Bitcoin (BTC) now has 85% of its supply in circulation as of August 1, leaving just 3.15 million new coins for the next 120 years.


3.15 million bitcoins, 120 years


According to data from monitoring resource Blockchain, Thursday saw Bitcoin miners extract the 17,850,000th unit as part of the transaction validation process.


As a result, due to the number of coins awarded to miners per block decreasing over time, the remaining supply will only be unlocked in the year 2140. Bitcoin has a total fixed supply of 21 million units.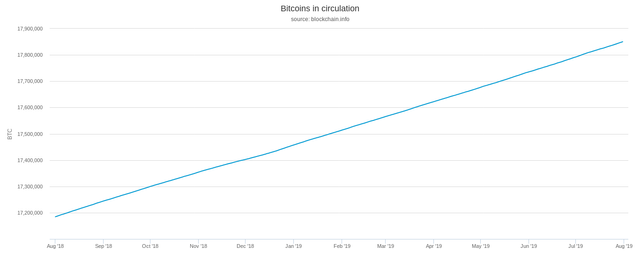 "Scarcity is about to kick in," the crypto trading account known as Rhythm on Twitter commented on the event.

The current Bitcoin supply means only a maximum of 17,850,000 people can own an entire coin. In reality, however, some of the existing mined supply is not in circulation and never will be, as users lose access to private keys.
Because of its pseudo-anonymous, censorship-resistant nature, cryptocurrency has become a popular payment method in the adult entertainment industry. Porn sites, webcam sites and online sex shops have been using crypto to reduce their dependence on traditional payment services, which often impose restrictions and high transaction fees on these kinds of businesses — which are considered to be high risk.


Sex performers, who often struggle to set up regular bank accounts, can receive crypto payments directly from their clients, counting on the immutability and censorship resistance of blockchain technology.
📑 Daily Crypto Calendar, August, 1st💰
"Our GCR to TRO Token Conversion Event (TCE) will commence August 1st, 2019."
AUN releases alpha versions of A-ID mobile apps for iOS & Android.
"We are happy to announce that $PAC (PACcoin) will officially be re-named PAC Global as of the 1st August 2019."
"Submit your questions here or on YouTube before the AMA on Thursday, August 1st @ 6PM UTC (2PM EST)."
Monthly interest distribution by Auxilium Interest Distribution Platform for coinholders. Also supports charity.
STEEM Trading Update by my friend @cryptopassion
Here is the chart of yersterday :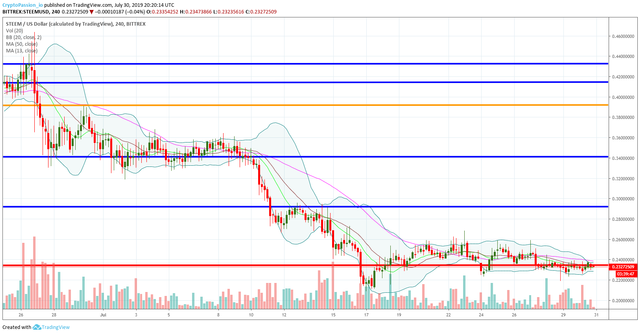 Here is the current chart :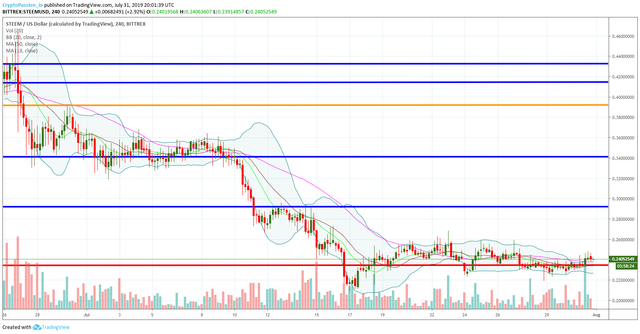 The STEEM that we know since months now is back. The BTC is having a nice UP but the STEEM is not really following, even we had a little UP move which has been now cancelled. However, the more important is to don't break our support line around 0.24$. If we continue like that, the UP will come back at one moment.
Last Updates
Join this new Free To Play on the STEEM Platform !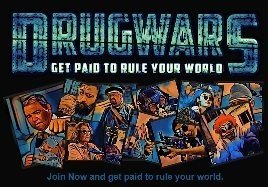 You don't want to miss a Crypto news?
Join SteemFollower and get Upvotes back !
---
Posted from my blog with <a

---
Posted from my blog with SteemPress : https://scrips.io/blog/mr-cryptolemon/%f0%9f%97%9e-daily-crypto-news-august-1st%f0%9f%92%b0/
---