Do you hate bitcoin?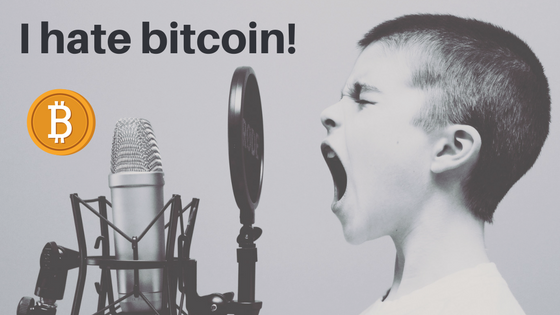 I can understand why Wall Street is furious at the crypto boom. They like nothing more than a nice big frothy bubble to cash in and make huge profits. You only have to look at the great recession, caused by banks and the dot-com boom preceding it. This time, they have NOT got their cut, and they are mad as hell. The VC rent collectors cannot accept the wrong people are getting rich. It is no surprise to watch these talking heads try to discredit anything to do with crypto and then in the same sentence say, "well, I believe in the technology." It is mind-blowing.
However, I do not understand why the average person is joining the Wall Street PR game. They jump on social media calling it a massive bubble and write blog posts and tweets about how they think bitcoin is stupid. I do not care about the price of real estate in San Francisco as I live in Tokyo. Complaining about the high cost of an apartment in Hong Kong or London would not be an interesting use of my time. I don't care about that, too.
Why do we see people who are not interested in bitcoin or blockchain technology spend their valuable time complaining about it? I agree the current situation looks like a big bubble. The disruptive change will never be smooth or clean with this technology. It will be a fight to the death. The over-enthusiastic negative response from some observers is a surprise. If they do not care for it, why make such a fuss? I assume it is a subconscious defense mechanism. Change is coming to how we live and money is often the number one worry. People love certainty. Shock, denial, anger, and fear are typical early responses to change.
Do you hate bitcoin or do you fear change?
Full Disclosure:
At the time of writing, I hold modest investments in crypto assets, and I am not paid to promote cryptocurrencies or ICOs. My company helps technology organizations hire talent that builds exciting projects. I am completing an Executive Master Degree in Coaching and Consulting for Change at INSEAD.