The Daily Dood for 2- 18 -18
Today's bitcoin high was about $10,894 USD on BitFinex
Today's bitcoin high was around $10,894 USD. It's looking like we're seeing some nice consolidation beginning to form. We're currently in a channel between $10,300 and $10,600 USD. Current bitcoin market cap is over $178,000,000,000 Altcoin market cap is around $482,000,000,000 Bitcoin dominance is rising slightly and currently around 36.93%. Looks like a little resistance around $10,630 USD, then $10,820 USD and the next serious level of resistance is around $11,600 USD. Current levels of support look to be $10,360 USD & $10,200 USD.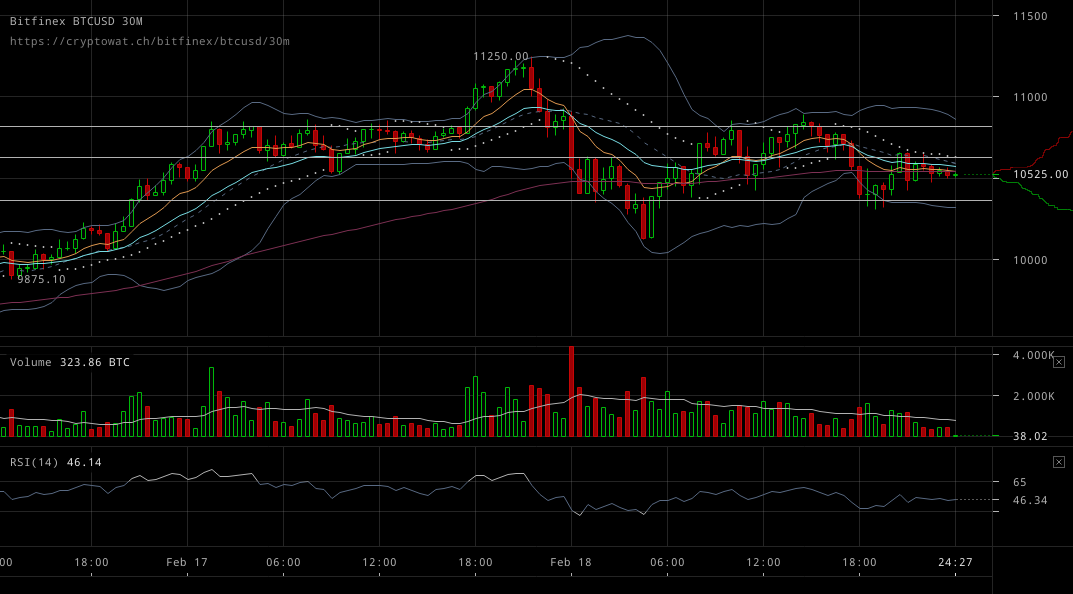 Today's Headlines
Chicago-Based Trader Stole $2M Worth of Crypto to Cover Bad Decisions https://themerkle.com/chicago-based-trader-stole-2m-worth-of-crypto-to-cover-bad-decisions/
Anonymous Cryptocurrency Trader Purchases Nearly Half-a-Billion in Bitcoin https://bitsonline.com/anonymous-crypto-trader-half-billion-bitcoin/
Polish Financial Authorities Paid Youtuber to Smear Cryptocurrency https://news.bitcoin.com/polish-financial-authorities-paid-youtuber-smear-cryptocurrency/
George Soros Criticizes Bitcoin but Still Invests His Money in Crypto https://coinidol.com/george-soros-criticizes-bitcoin/
NEM Price Keeps Taking Hits as Value Drops Below $0.54 https://themerkle.com/nem-price-keeps-taking-hits-as-value-drops-below-0-54/
Cryptocurrencies Surging in Africa as Alternatives to Traditional Banking https://www.newsbtc.com/2018/02/18/cryptocurrencies-surging-in-africa-as-alternatives-to-traditional-banking/
American ATM Network Athena Bitcoin Adds Bitcoin Cash Support https://news.bitcoin.com/american-atm-network-athena-bitcoin-adds-bitcoin-cash-support/
A Beginner's Guide to Counterparty https://themerkle.com/a-beginners-guide-to-counterparty/
Powerhouse IBM Nudges U.S. Congress Toward the Blockchain Craze https://bitsonline.com/ibm-nudges-congress-blockchain/
Venezuela's National Cryptocurrency 'Petro' Expected to Go Global http://bitcoinist.com/venezuelas-national-cryptocurrency-petro-attracts-global-investors/
Switzerland Enacts ICO Guidelines https://news.bitcoin.com/switzerland-enacts-ico-guidelines/
Australian Juice Company Doing An Bitcoin Giveaway.
https://www.cnet.com/news/bitcoin-boost-australia-cryptocurrency-competition-boost/
Youtube, Podcasts, Media
I really enjoyed this video. Great debate on BitcoinCash, BitcoinCore and a lot of issues affecting the "bitcoin" ecosystem. Stayed classy and lots of topics addressed.
Tweet of The Day
Simplicity must be the core of your investment process.

Remove all of the noise and focus on the substance.

Crypto de' Medici cryptodemedici February 18, 2018
STEEMIT
Your Bitcoin is no good here—Steam stops accepting cryptocurrency...$20 transactions and quickly changing valuation make the currency "untenable" — Via @raybox Steemit https://steemit.com/steemit/@raybox/your-bitcoin-is-no-good-here-steam-stops-accepting-cryptocurrency-usd20-transactions-and-quickly-changing-valuation-make-the
Welcome to the Moon . Sykochica & JacobTS talk Bitcoin, Steem, Communities, & Smart Media Tokens — Via @jacobts Steemit https://steemit.com/dsound/@jacobts/welcome-to-the-moon-sykochica--jacobts-talk-bitcoin-steem-communities--smart-media-tokens
Top 1000 for Steemit soon... — Via @steevc Steemit https://steemit.com/steemit/@steevc/top-1000-for-steemit-soon
Links
How To Become A Blockchain Developer: Crash Course!
https://blockgeeks.com/guides/blockchain-developer/
H.R.3708 - To amend the Internal Revenue Code of 1986 to exclude from gross income de minimis gains from certain sales or exchanges of virtual currency, and for other purposes.
https://www.congress.gov/bill/115th-congress/house-bill/3708
Music and cryptocurrency commentary http://radiocrypto.com/
So many people ask me about TA or technical analysis and where to start. Tone Vays just put together a real great educational page covering the basics of TA. http://www.libertylifetrail.com/education/learntrading/
LiveCoinWatch is similar to CoinMarketCap. Check it out if you like researching coins, trade volume, and who's in the top 10.
https://www.livecoinwatch.com/
It's looking like Binance is taking on new traders again. Sign up while you can, and find out why over 3,000,000 active cryptocurrency traders call Binance home!
https://www.binance.com/?ref=11560333
The End
The Daily Dood is a review of my daily Twitter feed and some of the interesting articles I find here on Steemit. If you're on Twitter hope you decide to join me here:
https://twitter.com/BitcoinDood
That's it for todays edition of The Daily Dood. If you found the information in this post useful I hope you decide to follow for the daily headlines and events happening in the altcoin & cryptocurrency space. Nothing here is meant as investment or financial advice. Please seek a duly licensed professional for investment advice, not some guy on the internets who refers to himself as The Dood. Thanks for reading and happy trading!