If you thought Bitcoin Cash (BCH) , Bitcoin Gold (BTG), and Bitcoin Diamond (BCD), BitcoinX (BCX), Super Bitcoin (SBTC), Lightning Bitcoin (LBTC), Bitcoin Platinum (BTP) & Bitcoin God (GOD) were excessive, think again. As Bitcoin continues its rapid journey to unprecedented heights, the plot thickens: at least Two Bitcoin forks lined up going into the new year and with more to follow in January, February, and March of 2018.
For those that don't know, a hard fork is a method for developers to update and alter Bitcoin's software. Once Bitcoin reaches a certain block height, miners switch from Bitcoin's core software to the fork's version. After this split, miners begin mining the new currency's blocks, creating a new chain entirely and a currency to go with it.
Bitcoin Cash was the first hard fork to occur on Bitcoin's blockchain, followed by Bitcoin Gold and Bitcoin Diamond. As you can probably imagine, hard forks have become a hot topic within the crypto community. Many believe that they are necessary for improving the network and solving Bitcoin's scalability issue, as with Bitcoin Cash. Others have criticized them as money making schemes, as anyone holding Bitcoin at the time of a fork receives an equal share of the new currency.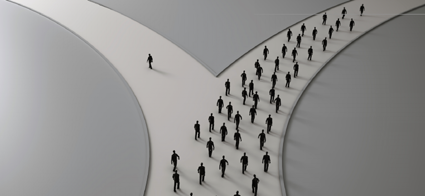 Whether you love 'em or hate 'em, it's important to understand what each fork is and what it wants to accomplish, and given the number coming up, there's a lot of information to digest.
Upcoming Bitcoin Fork
Those Bitcoin's name are : Bitcoin Uranium (BUM) , Bitcoin Cash Plus (BCP), Bitcoin Silver (BTCS), Bitcoin Interest (BCI), and Bitcoin Atom (BCA) are slated to launch & leaving the market with more than 10 total Bitcoin derivatives to choose from.
Each of these coins claims in its own way to solve the issues of scalability and centralization that have plagued the Bitcoin network, although none of them really seem to have proven that they have the technological basis to do so.
Bitcoin Uranium (BUM) : According to a BitcoinTalk forum, the coin aims to "Make Bitcoin Great Again." Apparently it occurs in December 31st,2017. https://bitcointalk.org/index.php?topic=2316506
Bitcoin Cash Plus (BCP) : According to the site, "fulfilling the original promise of Bitcoin." Around January 2nd, 2018. Block 501407. https://www.bitcoincashplus.org/
Bitcoin Silver (BTCS) : According to a BitcoinTalk forum, the coin aims to "Make Bitcoin Decentralized Again." https://bitcointalk.org/index.php?topic=2311582.0
Bitcoin Interest (BCI) : A proof of stake Bitcoin fork (it pays you interest for holding BCI essentially). January 22nd, 2018 11:59 PM GMT, or at Block 505083. See: https://bitcoininterest.io/.
Bitcoin Atom (BCA): Bitcoin Atom is a SegWit enabled Bitcoin fork with atomic swaps, hybrid consensus, and lightning network. Exact fork block/date TBA. See: https://bitcoinatom.io/.
Bitcoin United is another potential Bitcoin product (of sorts). It isn't clear if this project is a fork or is an attempt to create another coin. It seems to have two associated URLs https://united-bitcoin.com/ and https://www.ub.com/. It is unclear which if any is "the official link." The problem with this project is that it has been in the works for a while, and it hasn't become any clearer if it is legit or not.
Differences of each Coin
Super Bitcoin and BitcoinX are Ethereum competitors of sorts (as they use smart contracts like the Ethereum network), Bitcoin Platinum and Bitcoin Cash Plus are both essentially Bitcoin Cash competitors (competitors for Bitcoin as a currency), Lightening Bitcoin is like a mix of Super Bitcoin / BitcoinX and Bitcoin Platinum / Bitcoin Cash Plus (as it is both meant to be competitive as a currency and it uses smart contracts), Bitcoin Interest is a proof of stake Bitcoin (a not often used alternative to proof of work that essentially pays interest to holders), and Bitcoin Silver and Bitcoin Uranium are both Bitcoin Gold competitors (competitors for Bitcoin as a value store that is profitable to mine), and lastly Bitcoin God is a Christmas present from 'Chandler Guo' (simply meant to reward people for holding Bitcoin).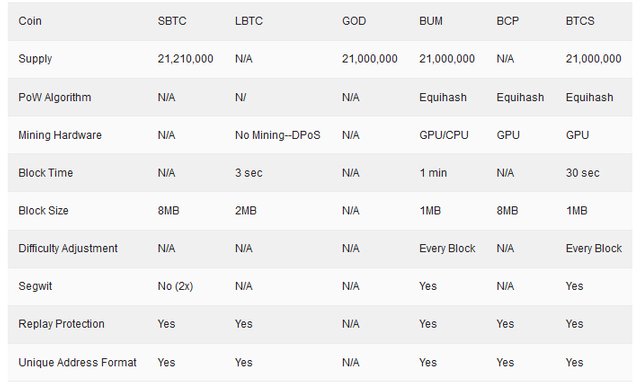 What Should We Think of All This ?
Many in the crypto community are concerned that an overabundance of Bitcoin forks could ultimately fragment the market and therefore weaken the Bitcoin ecosystem. Others are concerned that the rise of suspicion of centralization and scams that surround these new coins could attribute to cryptocurrency's reputation of being volatile and insecure.
While BTC holders may stand to gain from the free coins that they will receive as a result of the forks, it is imperative to keep a clear head and to take care when trying to retrieve new coins. Bitcoin is on fire, and there are plenty of people who are trying to get ahold of BTC in any way they can. If you are trying to retrieve your new coins, be sure to you protect yourself and your tokens.