Shapeshift.io Review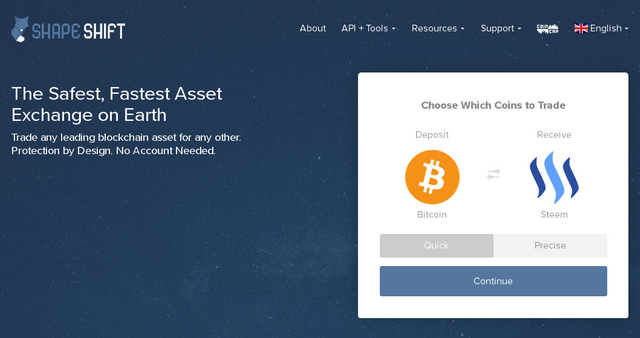 I have been using Shapeshift.io for over a year now, and I like this exchange, so I will post here my review about it, and let me know in the comments if you agree or not with it.
NOTICE:
This review is not endorsed by Shapeshift.io
I am not affiliated in any way with Shapeshift.io
This is just my opinion about Shapeshift.io as a happy customer
---
Shapeshift.io is a cryptocurrency exchange that started up in August 2014. It was founded by Erik Voorhees, a famous and reputable person in the Bitcoin community. Voorhes is also known from Satoshi Dice, he founded that too, but it was sold since. Shapeshift.io seems to be in good hands.
Their goal is:
ShapeShift's goal is to be the fastest, most private, and most convenient way
to swap digital currencies, and the exchange rate will always remain
competitive.
This seems to be true since the exchange is pretty quick, the fees are low, and no account is needed, therefore the amount of personal information collected is minimal, much less than for other exchanges. For this privilege, it also has a drawback since they operate with a "No Fiat" policy, this means that you can't trade cryprocurrencies into fiat money here, probably for regulatory reasons. But I think its a good compromize, since you can atleast keep your privacy.
They claim that they can:
ShapeShift can change currencies in under ten seconds, no account
required.
This is certainly true in my experience, I have been trading here since 2015 and for coins that have a small confirmation time it is very fast. When I convert Bitcoins, then I think it waits for 1 confirmation, so it can take up to 15 minutes in some cases, but I have no problem with that. Certainly signup up to an exchange, verifying phone numbers, verifying e-mails, would take at least 30 minutes, so for the privilege of just exchanging your coins at the spot without further hassle, I think it's very much worth it.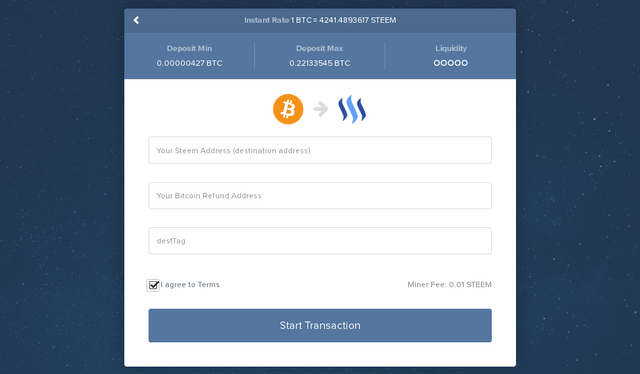 The GUI is very charming, with big buttons and a good contrast of colors. It's easy to understand, the instructions how to exchange coins are right there, so the chance of a mistake from the customer's part is pretty low. Although in some currencies you need to send a message or token with the transaction, and there it might get complicated. For example in Steem transactions you also need to send a code in a "Memo" with the transaction. So it's recommended to pay attention to the instructions there.
The best feature of Shapeshift.io is that they don't hold the customer's funds, or at least not for long. This is very advantageous since even if the website gets hacked, the damage will be minimal for the customers. It is a priority in my opinion to be in control of your money, and I don't like keeping large sums in 3rd parties hands. Shapeshift.io has resolved this issue, the exchange happens there, and the money goes to your wallet that you hold. Pretty simple and elegant.
I have been using it since 2015 and I'm pretty happy with their services, I have had a few issues occasionally, but their support is very good, and helped me resolve it in less than 24 hours, in all cases. In other exchanges you sometimes have to wait 1 week until the support gets to you, but here any issue is resolved very fast.
Shapeshift.io is definitely an easy way to trade STEEM, although they don't support SBD currently, so for that you need other exchanges. Or you can trade the SBD in the Steem internal market, and trade the STEEM at Shapeshift.io. However you choose, it's your choice. My STEEM trades are smooth.
So if you want to trade STEEM, you can probably do it through Shapeshift.io very quickly and smoothly. They also have a Steemit account, and they wrote a few blog entries here too.
Website: https://shapeshift.io
Overview: https://info.shapeshift.io/site/sites/default/files/ShapeShift_2016_Press_Kit.pdf
About: https://info.shapeshift.io/about
Customer Support: https://shapeshift.zendesk.com/hc/en-us/requests/new
---