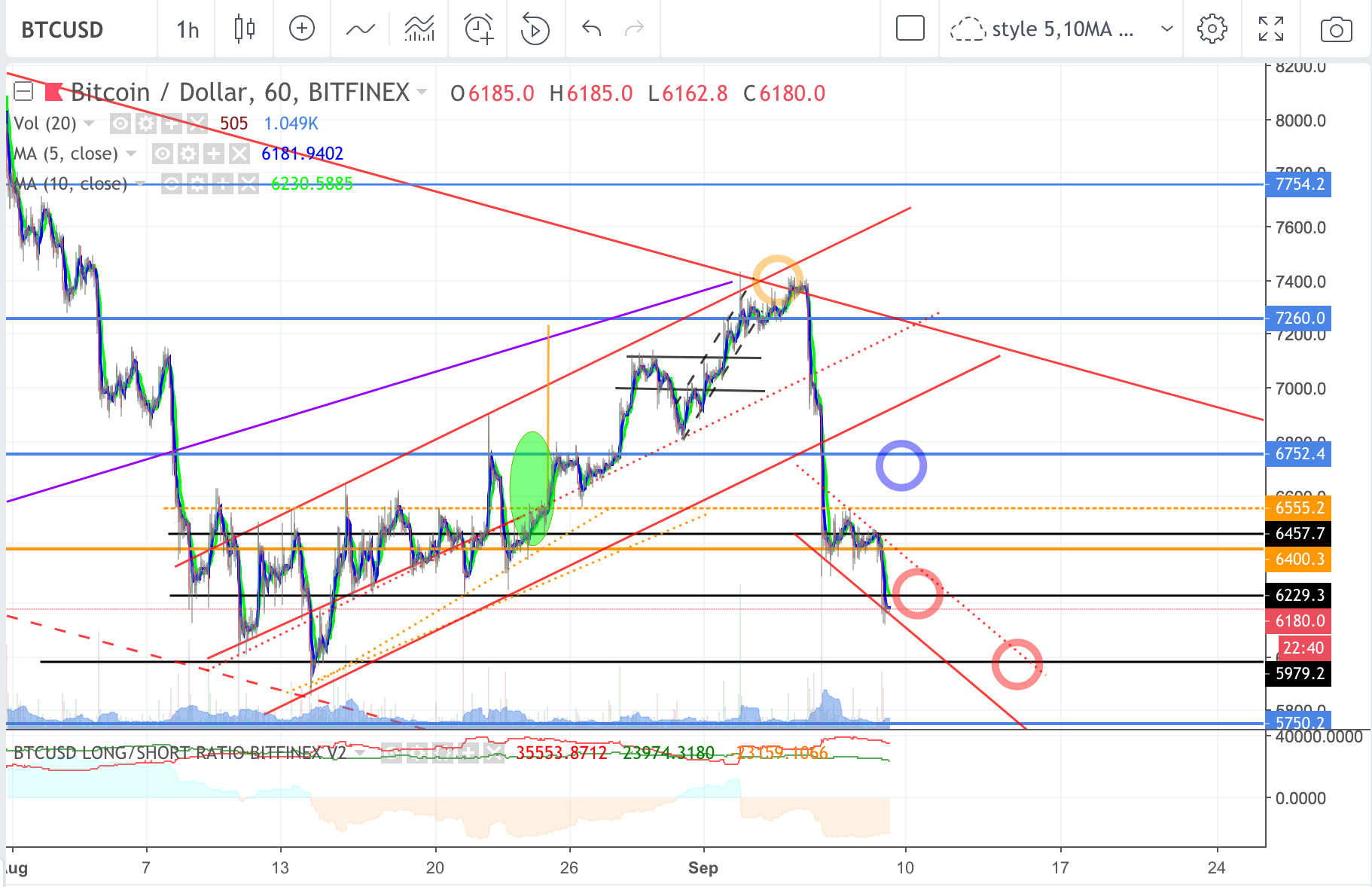 3rd leg of the staircase pattern down. On hourly chart, possible IHS for yesterday dip forming the head or just the left shoulder if the pattern repeat 3 weeks ago. Possible small bearish channel, possible for short bounce to channel top around 6400~6500 zone which intersect with resistance level follow by consolidation.
Likely to retest 6000 or lower lows until whale buy volume want to support the price level which happened 3 weeks ago, let see if sentiment still around that level.
On daily candle, possible test on middle zone of the big bearish channel which is around 5250 zone.
On weekly, like to close off bearish engulfing possible more bearishness in next 1-2weeks. Manage to convert back mostly to fiat on the bounce past few days leaving some. Grateful for what the market has given. Prepare position for next discount levels.
Ultimately all depends on the whale volume sentiment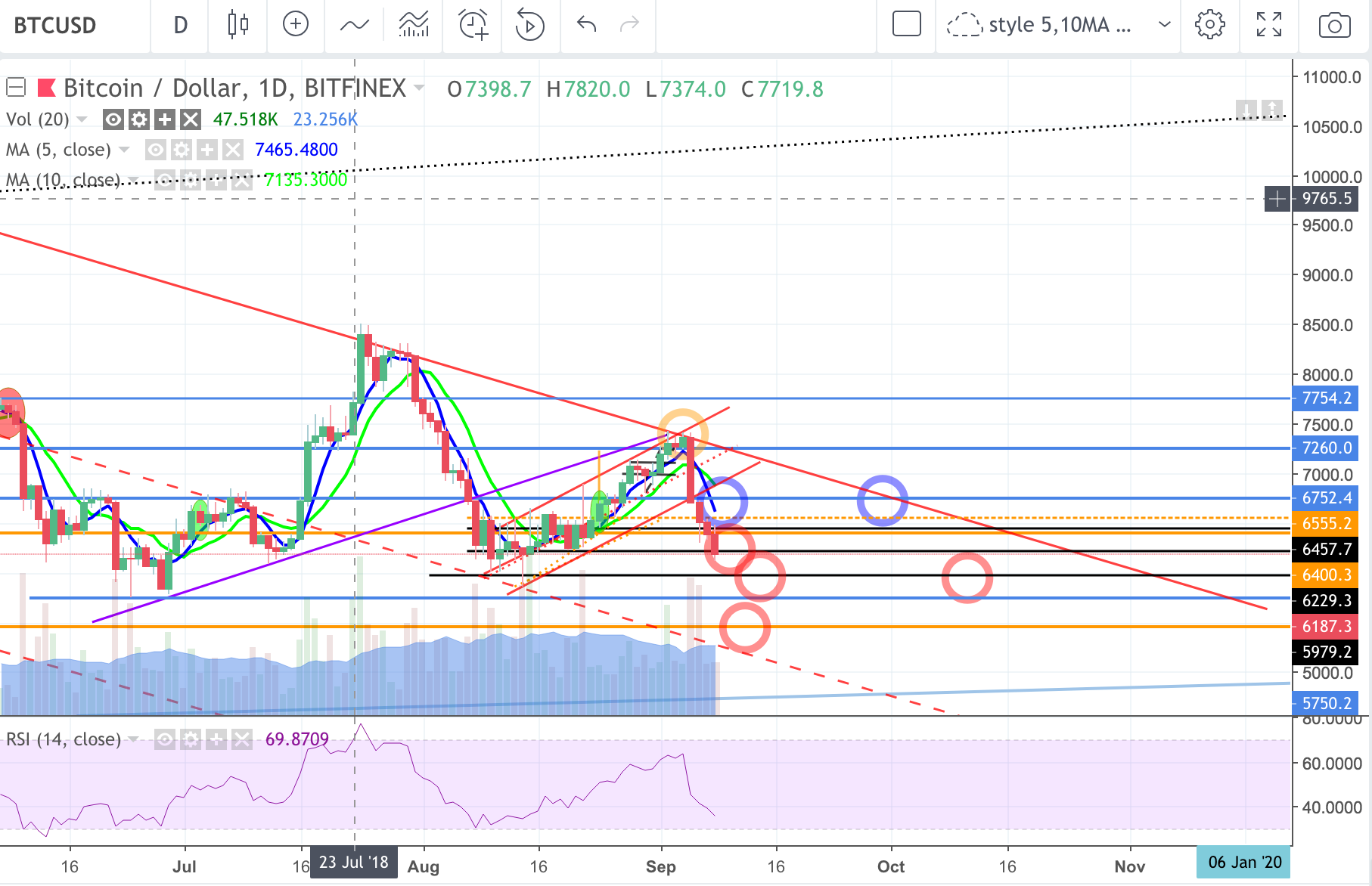 News: (Current) | (Upcoming) CBOE BITCOIN ETF, 30 Sep 2018 (may be extended again up to 240days) | G20 FATF, Oct 2018
Short term moving average (day candle) : downtrend gap wide
RSI : still room before oversold zone
Network Value to Transactions Ratio : 170+
Bitfinex Margin Long/Short Volume Ratio : 0.673
Depth Chart : (S) | (R) -
Weekly Timeframe : -

Introducing Team ( Together Everyone Achieve More) upvote account ( @Raydalio )
Get daily upvote up to $0.05 once every 24hr for content creators posting on btc/crypto market
8 slots left. Come in discord channel for details.
Become 1PercentBetterToday discord - https://discord.gg/T5f2Gpu
Disclaimer : This is not financial advice, it's all based on my personal biased opinion. Do your own research and put in the amount you can afford to lose.

3 Ways to earn on steemit platform passively
Sell your upvotes or lease/rent your SP from DLM market and earn passively with Minnowbooster service
Steemit Value Post
Beginner : One of the most common problem you will encounter when you just started out on steemit platform - Bandwidth Issue
https://steemit.com/steemit/@onepercentbetter/steemit-tutorial-out-of-bandwidth-agony-arghh-took-me-5-times-to-learn-or-how-to-get-some-bandwidth-back-workaround
Why you want to use steemit via busy.org platform
https://steemit.com/busy/@onepercentbetter/finally-notifications-bell-for-steemit-via-busy-platform

Buy/Sell/Trade Altcoins
http://bit.ly/Binance-GetAltcoins
http://bit.ly/kucoin-GetAltcoins
Buy bitcoin easily, go for coinbase (you get $10 bonus) :
http://bit.ly/Coinbase-BuyBitcoinFastEasy
Earn Free bitcoin/satoshi and lottery ticket (it's kinda of slow, well it's free though and bonus if you win the lottery) : https://freebitco.in/?r=11267717
Earn Free bitcoin/satoshi from watching ads : https://ref.adbtc.top/637835
Get your free byteball airdrop only for steemit account created before 12 Jul 2018 : https://busy.org/@onepercentbetter/15-30minutes-work-for-byteball-airdrop-steemit-users-only

Social Media
Steemit ► https://steemit.com/@onepercentbetter
Youtube ► https://www.youtube.com/c/1PercentBetterToday
Facebook ► https://www.facebook.com/1percentbettertoday/
Instagram ► https://www.instagram.com/1percentbettertoday/