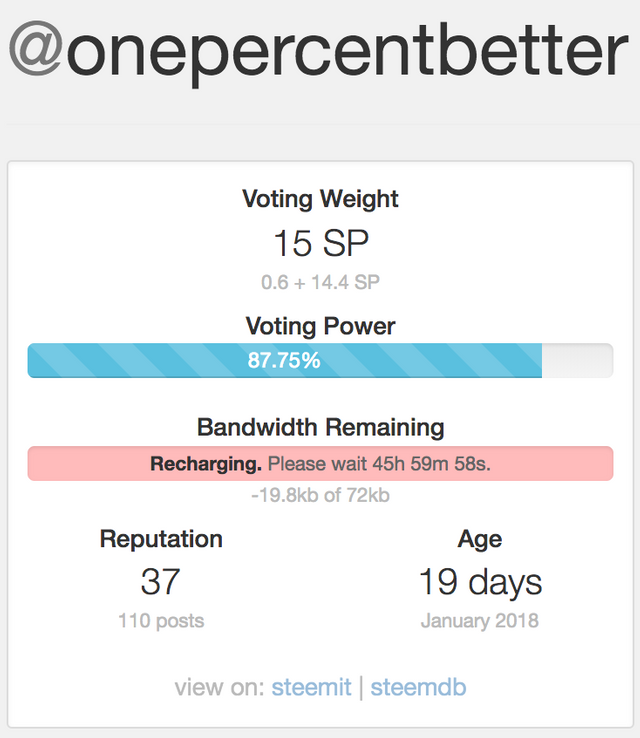 this one take 45hrs to recover !!! but actually it's not tat long.
It's the third or fourth times it happened ! ARGHHHHHH, I was typing my comment (and a long valuable one!) on someone else post and clicked comment . . . wait for it to load and hmm where's the comment, thought it's lagging and did a refresh on the browser, still don't see it ! OMG then i realised, "man don't tell me it's the bandwidth limit again ? i just rest for almost the entire day and never do anything on steemit how can it happen again ? Went to steemd.com to check my bandwidth usage and suxxx it's the bandwidth limit problem, i had negative something bandwidth. It happened to me not once, not twice, thrice, i think it's the fourth times argghhhh.
i encountered with the message "bandwidth limit exceeded. please wait to transact or power up steem."
i want to attached a screenshot to a comment , it finished upload and i comment but the comment didn't appear.
I missed out something on my post and went to edit my comment ! @@ and WTF that eat bandwidth too.
I think i posted a few related images to a contest and arghh - control the amount of images you upload and the length of your comment.
same thing with a thoughtful lengthy comment and arghhh i didn't save it ( which drive me to create this article and video)
This probably the most commonly faced problem by new users starting out on steemit especially you're very active in voting, commenting/interacting with others. It's a system mechanics to prevent spam and post abuse. But legit users fall victims to this restriction too. Well I can cry, whine about it and it's still there. Let's be more resourceful and find out about it and it's workaround.
The bandwidth maximum capacity will increase when you have more steem power to your account. Right now i only have the basic of 0.5 steem power with (+14.5 SP for newbie) which give me a total of 15 SP. This 15 SP after 16 days on steemit, my maximum bandwidth capacity at full charge is about 4.2mb
You can check your steemit bandwidth limit and current bandwidth here - steemd.com/@username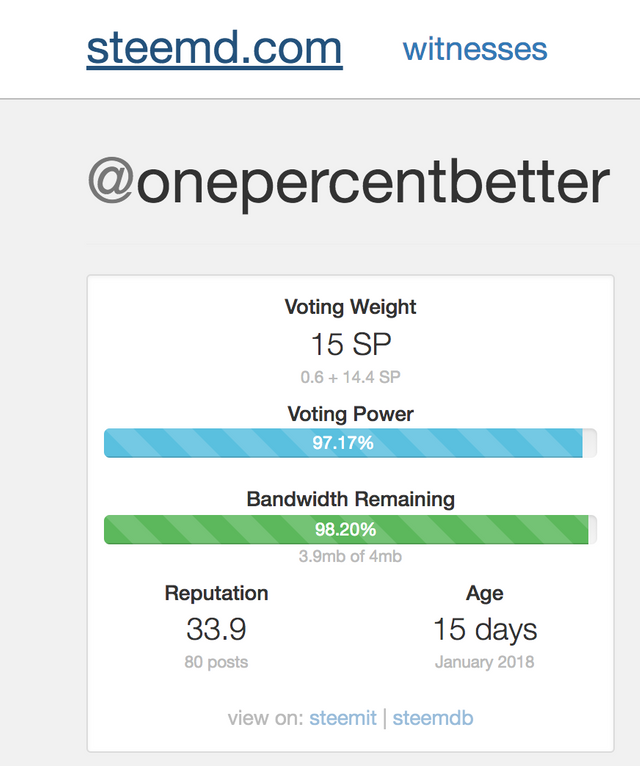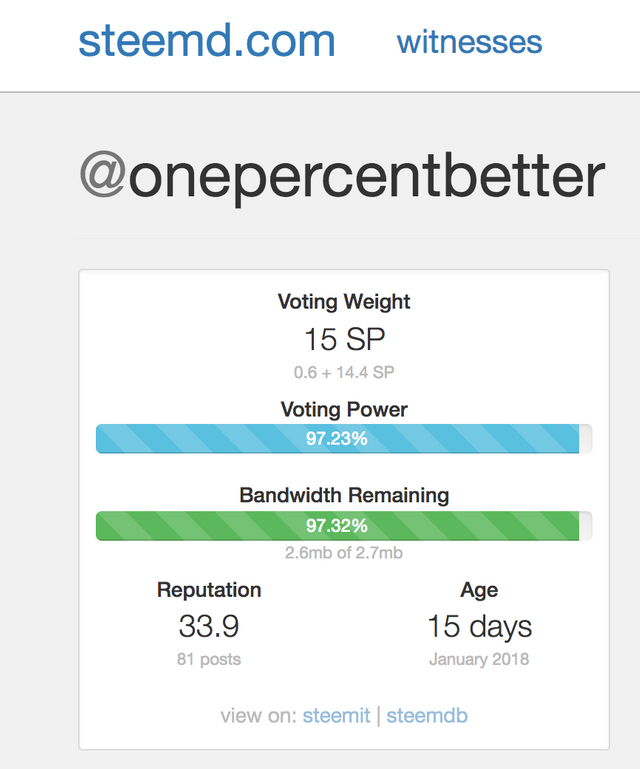 even posting this image eat up bandwidth !!! (alternatively you can upload image somewhere and link them here)
Here's the screenshot showing that after doing about 4 lines of comment on one of the post, my bandwidth went from 4.2mb to 2.6mb.
Then i went to do another test to see how much bandwidth it takes for voting,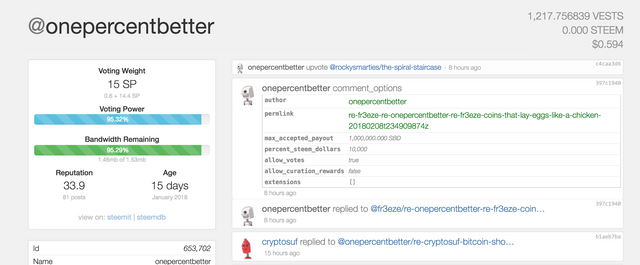 After voting, it went down to 1.46mb
In steemit, to do anything you need bandwidth to execute, without bandwidth, these will happen :
can't upvote
can't comment
can't post
can't resteem
can't power up with steem
can't buy steem with SBD
can't claim rewards [updated 15 feb 2018]
How to get bandwidth back ?
FREE WAY
Patience - go take a break, do some other stuffs. wait for the bandwidth to recharge by itself.
[update : 16 feb 2018]
After resting for the night, i woke up in the morning and check my steemit account bandwidth bar at steemd.com it show 95.05% and the bar looks full (CAREFUL of the high percentage as even at 98% if the available bandwidth is only 10kbps, you will be out of bandwidth again next instant) you gonna look carefully the actual number below (for my case "used 95kb of 1.87mb)

Without doing anything i just open another tab to refresh the steemd.com of my account and look at the bandwidth decrease, now my bar show 90.47%, "used 95kb of 997kb" my usable bandwidth ACTUALLY DROP AGAIN without me doing anything from 1.87mb it went down to 997kb even though the bar showing me 90% over but the actual usable bandwidth dropped by half !!


After waiting for about 30 minutes or so, my usable bandwidth recharged and SUPER RECHARGED ! without me doing anything, from the 997kb to 20.4mb @_@ /feeling awesome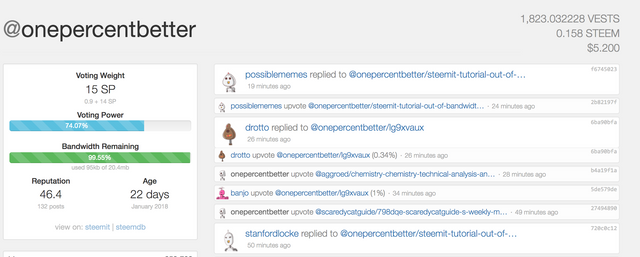 Claim steem power (SP) reward (2 conditions : first you need to set reward to 50%SBD and 50% steem power ; second you need to leave your rewards in the claim wallet and use it only when you're about to be out of bandwidth [updated : 15 feb 2018 claim before you totally run out of bandwidth else you will be in the can't do anything state])

PAID
Transfer Steem power (SP) to your steemit account, use https://blocktrades.us/ exchange bitcoin, ether, litecoin, bitcoin cash, steem, dogecoin, dash for some steem power to your steemit account.
TIPS : For new steemit user before you click that "comment" or "post" button for your content, do a quick alt+c to copy just incase you hit the out of bandwidth issue, you still have a copied of what you spent time and brain juice to type !
##How to prevent this bandwidth issue in future ?
FREE : SLOW AND STEADY
Usable max bandwidth will go up as you use your account on steemit.com, when i first write about this post my max bandwidth was around 4.2mb, 7 days later my max bandwidth is about 20mb. (not sure how it will scale ie maybe the more time and frequent you hit out of bandwidth on steemit, it scale up more ? haha not sure though but it does increase for me over time)
As we all startout with a free new account on steemit, our default steem power (SP) is 0.5 + 14.5 (steem power delegation from steem account). As I claim/redeem SP from posting, commenting, curation reward, the SP delegation from steem is reduce in proportion to match total SP at 15. As of this writing, i have 0.892 SP i guess this the real reason why my max bandwidth went up to 20mb.
PAID : FAST AND POWER OF MONEY
Exchange for steem power and power up your steemit account. How much to SP power up , so i don't get this out of bandwidth issue anymore? I saw some article sometime back, think it's around 500 SP.
OUCH that's alot for new user and those new to crypto. Actually it still depend on your usage on steemit i think, the more activities you do like post, comment, vote, you will use more bandwidth. Probably you don't need power up that much, use steemd.com to check out your usage probably powerup by 5 to 10 SP to see if it's sufficient and do consider the crypto exchange and transfer cost.
If you have any tips on this bandwidth issue on steemit, do share with us here. =)