Bitcoin Trend Series / EP. 599 / The Bulls Stay In Control
Time: 8.48 A.M. / GM+2 / 21th May 2018 – Mon.
The Selloff Looks Tired and bitcoin price starts to show bullish move, from the support 7.925K ( 50% Retracement of pre april rally low of 6.425K ) which marks its lowest level since April 18, and as we excpected, the 7.925k hold and pushed the price to recover above 8.4K, Forming A Bullish Pattern, the reason why we believe the bulls are able to stay in control, to push bitcoin price up to the next station at 8.643K followed by 9.279K ( 38.2% extension ).

As our forecast in our post / 587 / the retracement on waves got start on May 5, from 9.990K, and the targets was met, as expected, supported by weekly bearish stop grabber, to tested the 7.925K level on May 18, to form the right arm of our Inverse Head & Shoulders Pattern as our forecast in our post / 576 /.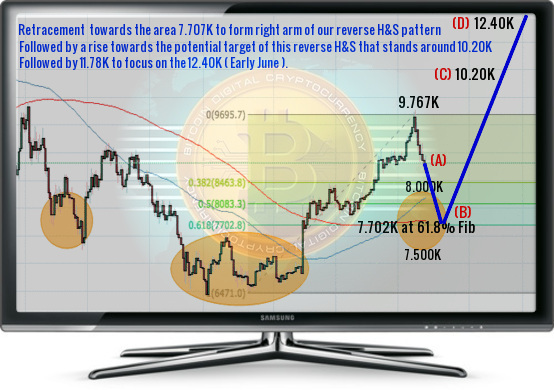 Market Factors
Bitcoin Market players are paying close attention to the Energy Costs related to mining bitcoin.

A return in Geopolitical Risk could weigh on the riskier asset.

Bitcoin price is most likely ready for a rally at this stage, and The Downside Risks Are Limited. Considering that bitcoin acceptance continues to grow, and more institutional investors engage in this industry, following a possible deeper retreat, bitcoin market will attract decent demand.
Technical
In our previous post / 598 / we had forecast the trading range will be between 7.770K and 8.643K. The intraday high was 8.597K and the low was 8.229K.

Bitcoin price try to test 8.643K, but technical indicators still suggest Mixed Signals. MACD is stable in the bullish zone, but Stochastic and EMA50 continuous forming for negative pressure on the price.
Sentiment
Bulls raised bitcoin price above daily SMA50 and Fibonacci levels, and are now fixed at 8400-8500 ( Daily EMA10 and weekly EMA5 ) - so the Chances for Bears Are Gradually Decreasing. This jump is associated with the breakdown of the downward channel.
Based on the above, we will still suggest / The Slighty Bullish Trend /
Support 1: 7770.000 level.
Resistance1 : 8643.00 level.
Support 2: 7614.000 level.
Resistance2 : 9050.000 level.
Expected trading for today:
is between 7614.00 and 8643.00.
Expected trend for today :
Slighty Bullish.
Medium Term:
Neutral.
Long Term:
Bullish.
The low of 2018:
5947.00.
The high of 2018 (BitcoinTrader's Year):
16046.00 / Expected.
The low of 2019: ???
The high of 2019 (Bitcoin Holder's Year):
36000.00 level / Expected.
YOU SHOULD NOT TAKE ANY MATERIAL POSTED ON THIS BLOG AS RECOMMENDATIONS. TO BUY OR SELL BITCOIN OR ANY OTHER INVESTMENT VEHICLE LISTED.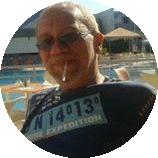 Writing a series means playing a long game,
investing considerable time and effort up front in
hopes of considerable returns down the road.
I'm so proud of my little blog, and so grateful to all of you
for support to keep it going.

If You are New in Trading  --> Read Trading Education Center / Volume I.
What You Know About --> Fibonacci Retracement in Trending Market.
If You Like To Read About Syrian War --> Click Here!