First of all for everyone who has been affected by the binance (I call it binance scam) please join ->
https://www.facebook.com/groups/1663012687055932/
I don't know if some of you saw it but they announced a refund plan and some coins in my case yoyow are really making millions of profit offering a buy back price for 0,015 which equals the BTC price of 4 months ago. That should not be accepted. If they really transferred all the funds they raised into USD they should have proof otherwise they just make millions by just paying back 50% of the funds. So for everyone affected please join the group and share it everywhere possible. Otherwise, they will just go through with it. We should let them know that if this kind of refund plan they won't be able to use their name again because they will be remembered as scammers!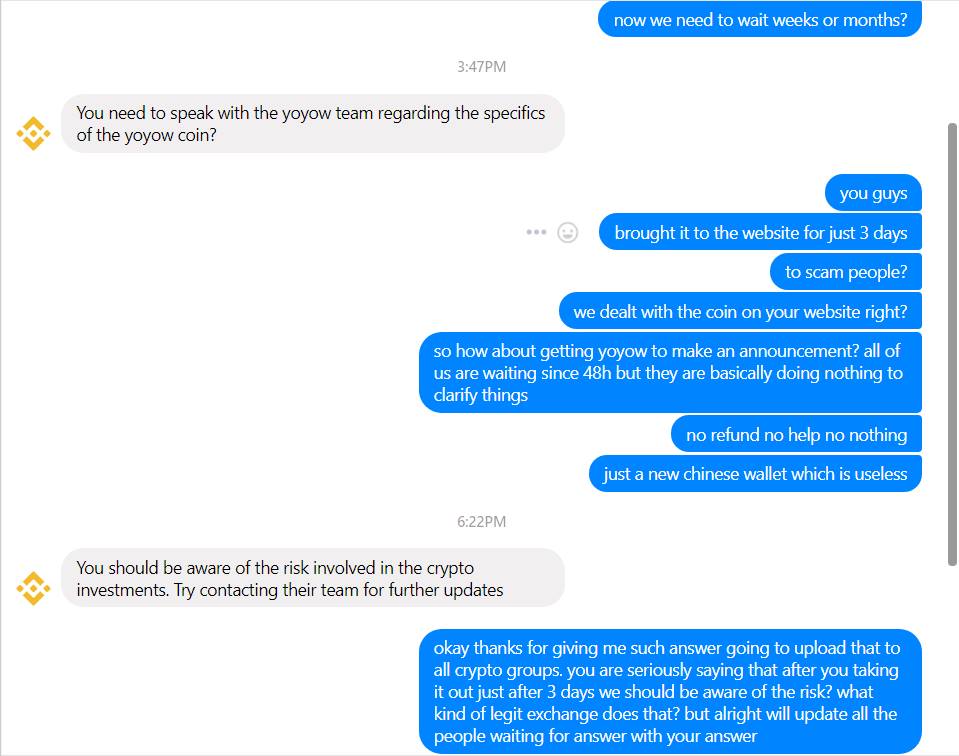 Here the refund details for those affected ->
Refund Plan for LLT, ELC, BTM, YOYO, WTC
LLT: https://www.lltoken.com/
e-mail:[email protected], [email protected]
LLT refund plan
https://www.IItoken.com/welcome/news/1
LLT latest refund plan progress in currency
https://www/IItoken.com/welcome/news/6
First, ICO repay plan for participants
a. ICOINFO, ICO6688, EBTCBANK, the three platforms that took part in this ICO, will repay the LLT that remain the ICO platform and in the accounts at the original currency and exchange rate. ICOINFO has completed full repay of the coin.
b. Participants in Binance platform who invested in LLT and have not use it for trading, will get repay with original currency and original exchange ratio. In the case of occurred transactions will deal with secondary trading market situation.
Second, repaying plan for secondary market
In order to protect the interests of supporter, in accordance with the principle of voluntariness, LLT holders enjoy the following rights to refund:
Refund by the method of 4150 LLT exchange to 1 ETH
Official website (IItoken.com) will open function of repaying application in September 11th, please apply application before 24:00 September 24th.
Please prepare the ETH cash receive address.
The specific operation process will be announced on September 11th.
ELC:https://www.electionchain.com/
Email: [email protected]
Announcement--- ELC ICO rufund plan and follow up work
https://www.electionchain.com/
a. ICO participant's refund plan
Tutorial of the ELC refund plan
Https://www.electionchain.com/statics/guide.pdf
Tutorial for participants of ICO refund plan
The Election Chain had their ICO launched at their website and at ICO365, btc9.com, Bitcoinworld, Ebtcbank, 51ico and Renrenico on July 1th, 2017. The ELC will be refunded following these rules:
Original ELC that remains on ICO platform including ICO365, bitcoinworld and renrenico, will be repay at the original rate and amount.

Ebtcbank, 51ico are connected with trade house. Non traded ELC will be repay in the original rate and amount. Regarding traded ELC will deal according to the secondary trading market.

Users who crowdfunded the project using DNC at ELC website, can get refund their DNC at the original rate(1DNC=4.5ELC) contacting [email protected]
Second, repaying plan for secondary market
The scheduled of pricing recycling by 0.016RMB at Jubi tomorrow is currently suspended. Jubi will start trade ELC at 12:00 Sep 8th tomorrow, and won't open charging channel, end at 24:00, secondary market user can trade freely.
Reason of suspension, on one hand, communication by blockchain and e-mail is convenient to retain evidence, on the other hand, the implementation of policies and measures of financial office are not the same everywhere, we must comply with local finance office.
After Jubi trade end at 24:00, ELC trading will be close for good, please withdraw all ELC you have from Jubi to your wallet.
Or it might possibly be reset.
Election Chain will go online on an international platform on Tuesday
All secondary usera will be repay by the following rules:
Repay will be 13.1 thousands equals 1 ETH
All ELC holders please request repay before 6:00pm Sep 25th
Official repay address: EayssrQJu5zbCAEsRPiz3FmTx129LytdZs
Be sure to send your own wallet address to get the repay, otherwise it won't pass the official verify.
Procedure of ELC repay
(1) Download ELC wallet
(2) Receive ELC wallet address
(3) Withdraw ELC from trade house to local wallet address
(4) Send ELC to officially ELC repaying address
(5) Get transaction ID
(6) Send e-mail to [email protected], with your name, ID number, phone number, e-mail, total ELC amount, trade ID, receiving ELC address. All the aforementioned are need please pay attention.
(7) Authority will verify in short time, and send out ETH after 3 days, please turn on your phone and mail during this time.
BTM , http://8btc.com/bytom
Email: [email protected]
Bytom refund anncement for BTM ICO participants
http://bytom.io/
For those involved in this ICO via ICO official channels including; bizhongchou.com, ICO365, btc9.com, 91ICO. Please go to the appropriate coin platforms for refunding procedure. In accordance with the situation when you participated in ICO, after we received BTM, will return you the original ratio of BTC, ETH or ETC. The amount of ratio is as following:
1 BTC = 75000
1 ETH = 10900 BTM
1 ETC = 610 BTM
For more details, please refer to the announcement of each platform. Participants in this project ICO, please contact the platforms before 24 o'clock on 2September 28, 2017.
YOYO, https://yoyow.org/
Email: [email protected]
Refund announcement
https://yoyow.org/files/announcement.pdf
For those ICO platform: (ICOAGE, ICO365, btc9.com), according to policy, ICO platform will return those tokens, fundamental investor did not release the coin, the team will return all funds.
For the YOYOW tokens in the exchange and trading in BIT shares within the secondary market, the team will repurchase this part of the tokens in the trading market at the issued price. At the moment, BNB tokens can be withdrawn to the IMtoken wallet waiting for the exchange of the main network YOYOW coin. All ICO participants can contact [email protected] to finalize refund before September 30.2017.
WTC:http://www.waltonchain.org/
Email: [email protected]
WTC Repurchase Announcement
http://www.waltonchain.org/notice
Waltonchain Refund Annoucement
http://www.waltonchain.org/notice
For users who have not traded yet, we will repay WTC according to the original proportion of ICO;
a. Official website ICO refund ratio:
Pre - sale Stage 1010 WTC = 1 ETH
Early Bird Stage 823 WTC = 1 ETH
b. ICO platform Refund ratio:
6996 WTC = 1 BTC;
823 WTC = 1 ETH
For users who have been trading, please wait for the announcement.