IRS has been tracking Bitcoin usage since 2015 & List of Coins that Can Save You from Spies.
Apparently, IRS was using tracking software from Chainalysis since 2 years mostly to mark movement of money around the economy.


Whole contract you can read at https://www.documentcloud.org/documents/3935924-IRS-Chainalysis-Contract.html
but mostly IRS thinks not enough people fill for taxes from crypto ie in 2015 only 802 people declared anything in USA (!).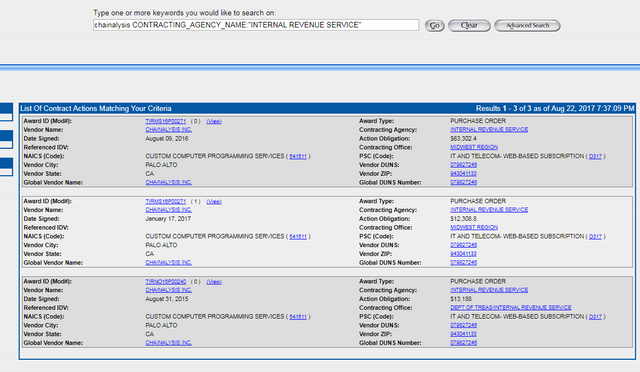 This is not unexpected but means soon some random people with a few tools will be able to fully track your money record, doesn't matter if it will be IRS for taxes or ie mobsters. This is one of the reasons anonymous currencies are currently raising in values.
Worth also to use VPN when you send anything from wallets, this will mix up things a little too.
Top Anonymous Currencies
This is my list if ive missed something that you think matters, leave it in comments.
ZEC Zcash - fully untraceable (as long as we believe it was launched properly).
DASH - mineable on x11 coin with masternodes and coin mixing.
XZC Zcoin - uses zerocash protocol and was launched before ZEC
EXCL ExclusiveCoin - proof of stake fork of DASH with same options
ZCL ZClassic - fork of ZEC but without founders fee (all you mine goes to you)
HUSH - another fork of ZEC with small premine for development
XMR Monero - cryptonote algo
Notice that actually despite 7 coins chosen here, its mainly just 3 technologies which seem most safe. Each of the technologies has more forks and different coins but those listed here are the ones i own and see good future in.