As was noted yesterday, Bitcoin continued it's impressive run. 
On the way to record high after record high. 
However, something happened today that changed things for Bitcoin, at least in the short term.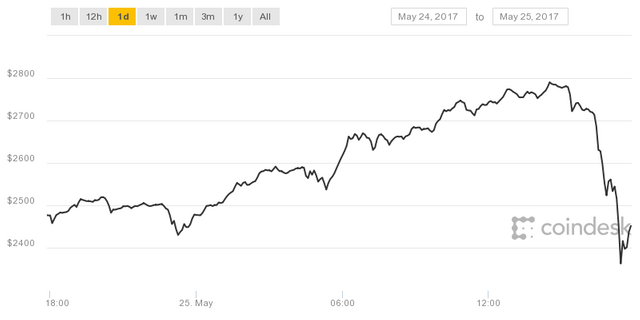 This morning Bitcoin surged yet again, climbing all the way to just under $2800 per Bitcoin. 
Soon after, the price rolled over and then the bottom fell out. The price dropped more than $400 in a matter of hours. 
Briefly breaking the $2400 mark and trading down in the $2300's.
Right now the price is clinging to the $2400 price point undecided on where it wants to go next. 
Drops like this are scary for anyone, and reminds me of some of the things we witnessed in the late 90's as part of the Tech bubble.
Brock Pierce (managing partner of Blockchain Capital) agreed with my thoughts and had this to say:
"It feels like 1999 right now. We may end up having a similar outcome. We could really see a big correction here."
I think a lot of people feel that way, but the question has always been from what level will that correction take place?
That comparison to 1999 was very interesting and got me looking at a couple of charts to help better understand what part of the bubble we might currently find ourselves in.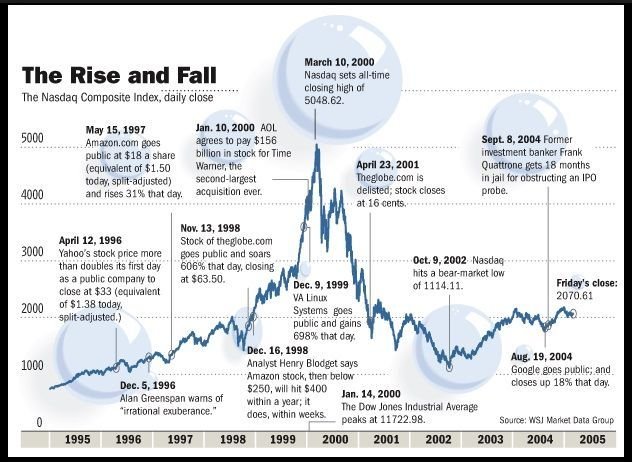 This is a good timeline of some of the major events during the Tech boom.
Comparing this with a chart of Bitcoin, what price point might we be at today?
After looking at the charts a bit, my best guess is that we are somewhere around the 1998 pullback. I circled it in red to help highlight it: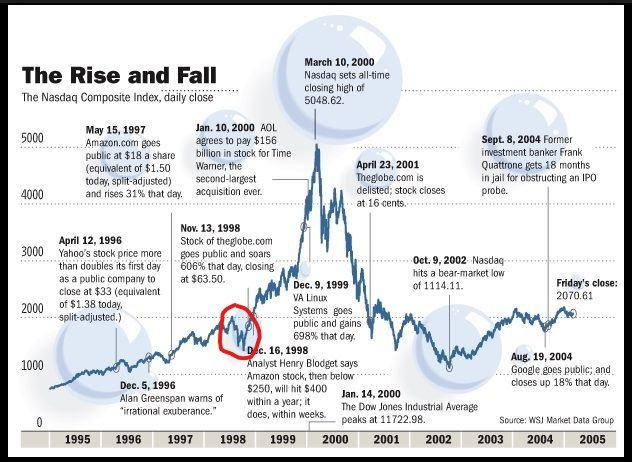 As you can see it was a pretty significant pullback that happened after a pronounced move up. However, take a look at what the price did afterwards. 
It continued to make higher highs and the entire index eventually went on to more than double from that level. 
So, yes this dip is scary and it very well might not be done yet, however, my best guess is that the moon shot in Bitcoin and the crypto space is far from over. 
Brian Kelly of BKCM (and CNBC) had this to add:
"There is no question we are in the middle of a price frenzy. There will be a correction and it could be severe, but it's unclear if that correction will start from current prices of $2700 of from some place much higher."
I think he shares the thoughts of just about every cryptocurrency investor I have talked to out there. 
The traders all think we are due for a correction and the technology geeks think we have much much higher to go. 
The truth probably lies somewhere in between.
Which part of the cycle do you think we are in?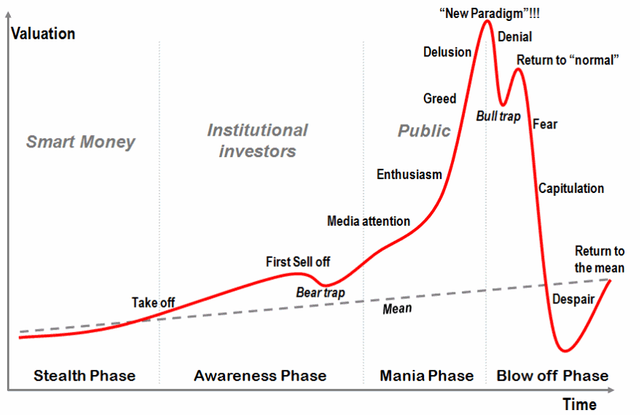 Is this the "Bear Trap" or the "Bull Trap"?
Stay safe out there my friends!
Sources:
http://www.cnbc.com/2017/05/25/bitcoin-surges-10-percent-to-all-time-high-above-2700.html
Image Sources:
http://www.cnbc.com/2017/05/25/bitcoin-surges-10-percent-to-all-time-high-above-2700.html
http://bellaj.freehostia.com/index.php/2017/03/15/analysis-the-blockchain-mania-and-the-dot-com-bubble/
Follow me: @jrcornel